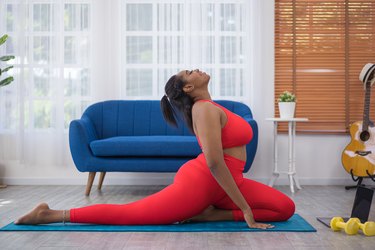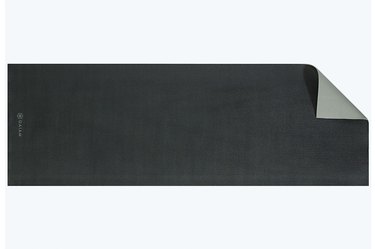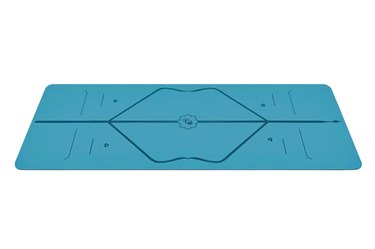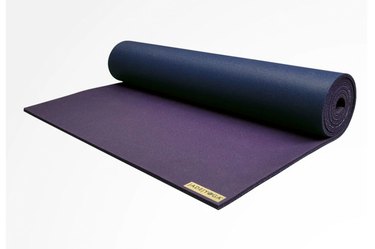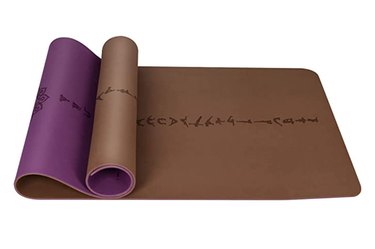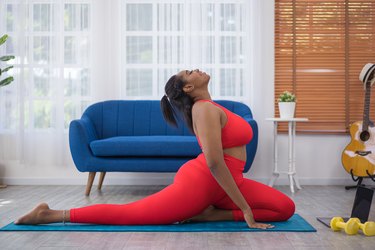 Some things are just better when they're super-sized. Take yoga mats. Sure, standard mats can do the job, but extra-large yoga mats offer ​more​ space to spread out while you ​savasana​.
Having a few extra inches can be especially helpful for yogis with tall or bigger bodies. Upgrading to a large yoga mat ensures you don't have to shrink your poses just to stay on your mat. And when you're free to move, your yoga practice will only get better.
So, if small yoga mats just aren't doing the trick, make room for one of these best large yoga mats.
To bring you the best large yoga mats, we enlisted the help of Natalia Tabilo, a body-positive yoga instructor and the founder of Yoga for All Bodies. We chose these products based on criteria including:
1. Best Overall: Gaiam Athletic Dynamat
​Dimensions: ​26" wide x 78" long
​Thickness:​ 5mm
​Materials: ​PVC
This extra-large yoga mat comes from Gaiam, one of the biggest names in the yoga biz. It offers a well-rounded list of features for yogis of any shape and size. Think: 5mm of cushioning to support your joints, a sticky surface to prevent slippage during your practice and zero (potentially) allergy-triggering latex.
Plus, this yoga mat is reversible ​and​ comes in under $50. If you're looking for a solid, extra-large mat that'll be gentle on your wallet, this one is tough to beat.
2. Best Non-Slip: Liforme Yoga Mat
​Dimensions: ​27" wide x 73" long
​Thickness: ​4.2mm
​Materials: ​natural rubber base; eco-polyurethane surface
If you struggle with slippage when you start to sweat, this is the mat for you. According to Tabilo, this is the only extra-large yoga mat that ​truly​ grips. "I have sweaty hands and I tried many mats before finding this gem," she says.
This highly-rated yoga mat from Liforme also features imprinted lines to help you align your hands and feet during your practice, a layer of super-soft felt in the center for extra cushioning "and it comes in so many beautiful colors!" Tabilo says.
Bonus: This mat will biodegrade in a landfill in 1 to 5 years.
3. Best Extra-Thick: Jade Yoga XW Fusion Mat
​Dimensions: ​28" wide x 80" long
​Thickness: ​8mm
​Materials: ​natural rubber
As the most expensive mat on our list, this Jade Yoga pick doesn't disappoint. "All Jade mats have awesome grip, and this extra-wide version allows you to take up the space your body needs during practice," Tabilo says.
At 8mm, this mat is also the thickest of the bunch. So, if you need a yoga mat that's both large ​and​ thich, you can't go wrong with this one.
Environmentally-aware yogis will also appreciate that every mat is made from natural rubber, a renewable resource. Plus, Jade plants a tree for every mat they sell.
4. Best Extra-Large: Gaiam Extra Large Yoga Mat
​Dimensions: ​48" wide x 72" thick
​Thickness: ​7mm
​Materials: ​PVC
The manufacturer claims this yoga mat has enough room for two yogis. At four-foot-wide, six-foot-long, it delivers.
In addition to the extra space, this Gaiam mat offers 7mm of joint-friendly cushioning and a textured, grippy surface designed to help you stay put. It's supportive and durable enough to handle the most advanced poses and even outdoor practice. The included straps make it easy to carry the mat anywhere your yoga practice takes you.
5. Best Budget: DAWAY Eco-Friendly TPE Yoga Mat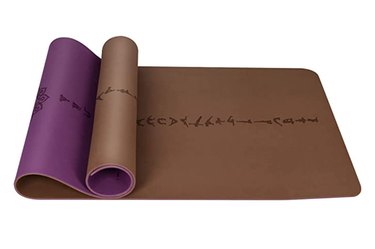 ​Dimensions: ​26" wide x 72" long
​Thickness: ​6mm
​Materials: ​Thermoplastic elastomers
This mat may be the cheapest on our list, but it doesn't compromise on quality or features. It offers a double-sided, non-slip surface complete with engraved markers to help you find the correct alignment for your hands and feet. And the cushy, 6mm-thick mat ensures your joints score plenty of support.
The eco-conscious yogi will also appreciate that this DAWAY mat is made from recyclable materials. The fact that it comes with a carrying bag doesn't hurt, either.
3 Things to Look for in Your Extra-Large Yoga Mat
Standard yoga mats measure 24 inches wide and 68 inches long. How big you go will depend on your size, preference, and how much space you have to accommodate a yoga mat.
If you're taller (at least 6 feet), you may need a mat that's 72 or 74 inches long to ensure your feet and head don't hang off the edges when you lie down.
If you feel like your sides are cramped during your flows, especially when incorporating yoga props like blocks, you may want a mat that's 26 or more inches wide.
Yoga mats are available in a range of thicknesses. There are super-thin styles designed to roll up tightly for travel and plush versions for those who crave cushion for touchy joints. Which one is right for you will depend on your needs and the types of poses you typically practice.
The standard mat is about 3mm or ⅛-inch thick and works for most yoga styles. However, you may appreciate a thicker mat if you do a lot of lying or seated poses and/or experience joint pain.
You have your pick of yoga mat materials, but Tabilo recommends prioritizing non-slip options. "Safety first, so you don't slip in downward-facing dog," she says.
Most yoga mats are made of PVC, which tends to offer plenty of grip. However, there are newer, more earth-friendly materials on the market that will help you stick, including natural and recycled rubber and thermoplastic elastomer (TPE).
More Great Yoga Accessories