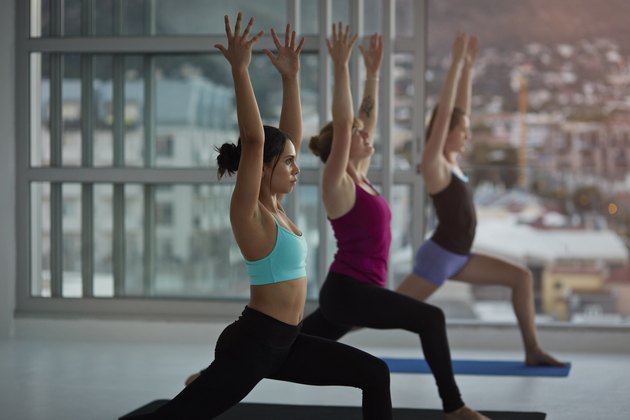 When it comes to shopping for the best yoga clothes, it isn't quite the same as picking out general workout clothes. That's because material, style and fit will all be slightly different depending on what workout you're doing. And — let's face it — style matters, too. Here's a handy guide to yoga clothes, including general tips on what to look for and a few of our favorite brands.
Tips for Picking the Best Yoga Clothes
The gear you choose can affect how well your class goes and could be the difference between moving fluidly from one pose to the next and feeling exposed during Downward-Facing Dog. Here's what to look for when searching for the best yoga clothes.
Pay Attention to Material
Michelle Dalbec, a yoga teacher and mindfulness educator on staff at Kripalu Center for Yoga & Health in Stockbridge, Mass., says when she chooses what to wear for yoga class, she pays close attention to material. "I have to wear my yoga clothes for anywhere from six to 12 hours a day, so one of the first things I look for is the feel of the fabric," she says.
"I like something that feels good against my skin, whether it's a silky nylon or spandex or something like a cotton blend. It has to feel good to me." Lycra and spandex are two materials that also get the thumbs up from Lisa Diers, a registered dietitian nutritionist and yoga therapist based in Minneapolis, Minn.
Be a Stickler About Fit
You'll also want to pay close attention to fit, so trying on before making a purchase is key. (Or picking an online retailer with a good exchange policy.) Dalbec says to assess how the yoga pants sit at the waist and hips and how much support sports bras offer.
"I spend my day bending, stretching and moving in front of lots of people," she says. "I want pants and bras to stay up and in place and not to bind or pinch. My clothes have got to move with me." So you might take a few minutes to get bendy in the dressing room to test things out.
Consider Comfort First
The two points — materials that feel good on the skin and fits that make you feel confident — combine to create the comfort quotient, which Diers says is king. She recommends prioritizing comfort over style when shopping for yoga clothes. "Yoga doesn't care what you wear," she says. "If you feel comfortable, that is all that matters."
Look for Extra Features
If you're going to a hot yoga class or are concerned about excessive perspiration, make a point to find yoga clothes featuring a couple of key details. Mesh, for instance, is more than just a stylish addition — it'll also maximize air flow and promote ventilation.
Best Yoga Clothes Brands
Luckily, many brands fulfill all of the above requirements with the added benefit of helping you looking stylish at the same time. Here's a look at seven of go-to brands for finding the best yoga clothes.
lululemon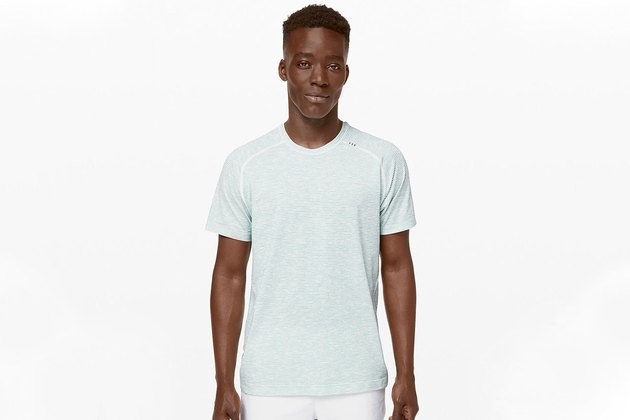 You don't need us to tell you that lululemon has gained a reputation for iconic yoga wear. The Canadian retailer offers gear for other activities, but yoga remains at its core.
You'll find technical fabrics in weights and fits that are all intentionally crafted — sports bras that take bust size into account and leggings that give you the coverage you need. The men's gear (like the Metal Vent Tech Short Sleeve) is also top-notch, with mesh liners to keep the air flowing and stretchy fabric that can stand up to the forward lunge of Warrior II.
JoyLab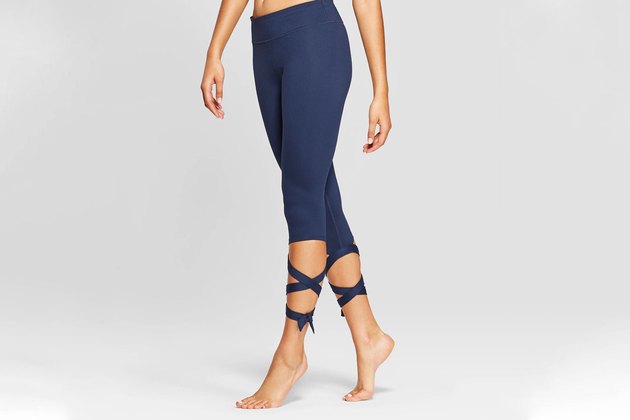 Another reason we love it? Its accessibility. It proves the best yoga picks don't need to cost a fortune (almost everything in the line costs less than $40!), and it offers plus sizes to ensure there's something for everybody.
prAna
This California-based brand is another of Diers's favorites. The brand is big on sustainability, which is something that jives with many yogis' eco-friendly outlook. "If you feel better knowing your fabric is made from recycled material and is local, then try to do your best to purchase those types of fabrics that you value," Diers says.
In this line of yoga clothes, you'll find recycled materials, organic fabrics and items that are Fair Trade Certified. Dalbec is also a fan and believes it's important to buy from retailers that take the world at large into account as they go about their manufacturing process.
"I want to buy from companies that are aware and are working toward sustainability with both their environmental impact and how they use their human resources," she says. Try their Becksa Tank for a top with a flattering, not-too-tight fit.
Outdoor Voices
This Austin-based activewear brand is all about #doingthings and keeping you on trend at the same time. The brand is known for its "kits" (a matching top and bottom set), especially in their signature heathered, chevron paneling. The Rec Kit is perfect for yoga and other low-impact workouts and delivers support without unnecessary tightness.
Beyond Yoga
Though you can't go wrong with any of the items in Beyond Yoga's collection, their Spacedye Performance fabric feels like velvet on your skin — seriously, it's that soft.
Their Spacedye Caught In The Midi High Waisted Legging features that plush softness, making it perfect for early morning yoga sessions when you need extra motivation to get yourself out of bed. (Or when you want something uber-comfortable to lounge around in afterwards.) The leggings also feature a four-way stretch, moisture-wicking properties and a high-waisted fit that keeps everything tucked in.
Alo Yoga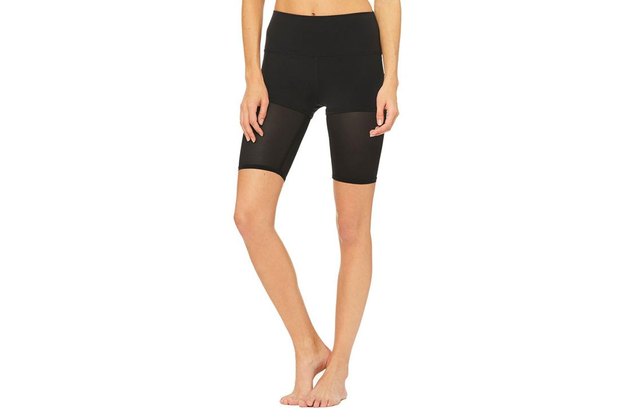 "I think most yoga and athletic clothes these days are making clothing that has great function as well as great fashion," Dalbec says. This California-based brand is definitely one of them.
The brand also maintains a "studio to street" mentality, meaning the mindfulness and connection you feel on the mat should carry through to the rest of your life and the clothes should seamlessly transition along with you.
Flexi Lexi
From avocados and pizza to sloths and mermaids, if you want your yoga leggings to make a statement, check out Flexi Lexi's selection. Or if you want something more low-key but still on-trend, opt for their side-tie dancer leggings or ombre leggings.
Not only will they garner you plenty of compliments in your favorite Vinyasa class, but they're also made with quick-dry, light-weight, four-way-stretch material that bends and twists with you. Plus, most of their leggings offer the option to be worn high-waisted or with the band rolled down. Just be aware that you may want to order a size up.