You've heard of all the benefits of yoga: increased flexibility, improvements in muscle strength, stress reduction and better concentration. However, before you can reap these very real yogic rewards, you have to deal with the basics — specifically, what to wear to class. Generally any loose-fitting, comfortable clothing will do, but a few tips will keep you down-dogging in comfort and style.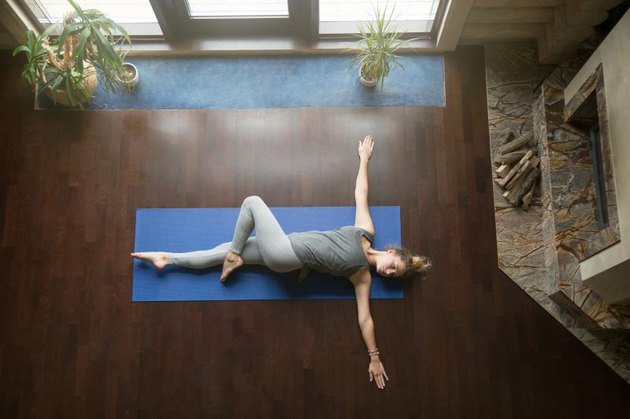 What Class Are You Taking?
The style of yoga class you attend will influence your apparel choice. Any class accepts a simple body-skimming tank and leggings or slim-fit shorts. If you're headed to restorative, Yin or another seated, meditative style of practice, however, baggier shirts and pants are also on point.
You'll want to keep buttons, zippers and snaps to a minimum in any class; they restrict your range of movement and may pinch or push into your flesh as you bend and stretch. Stick to elastic waists, movable fabric and fitted tops.
Regardless of the class style, avoid super-short shorts that ride up. Also, women should avoid low-cut tanks as they may have you revealing more than you planned when you reach and twist. Keep the girls in place during practice with a supportive bra top.
Turn up the Heat
A heated vinyasa class held in 85- to 95-degree rooms or a Bikram-style 26-posture hot yoga in 105 degrees requires cooling clothes. Long sleeves and non-breathable fabrics are a no-no.
Surprisingly, you might enjoy longer tights or capris that hug you as bare legs get slippery with sweat. Guys can wear running shorts, but compression shorts underneath make sure the class doesn't turn into a game of peek-a-boo.
In addition, you'd benefit from bringing along a specially made yoga towel made from microfiber to lay on your mat when the going gets sweaty — as it certainly will in these temps.
Upside-Down Appropriate
A class that involves standing postures and turning upside down — even in a forward fold or downward-facing dog — means you'll want to leave the oversized t-shirts and pants with loose, baggy legs at home.
Form-fitting is best as it won't flip upside down when you do, covering your face and potentially revealing more of your bare body than you expected. Even if you aren't the modest type, clothes that don't move with you in yoga are just annoying, distracting and uncomfortable.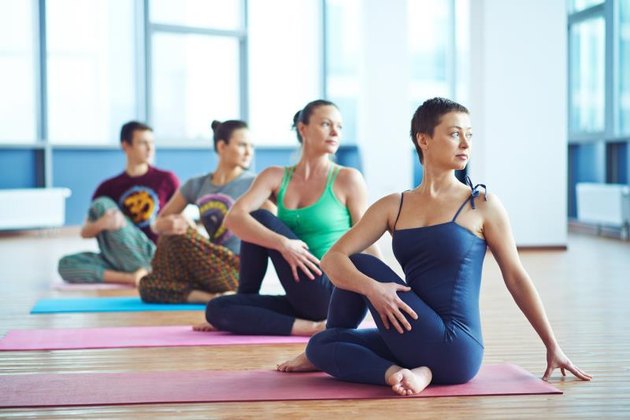 Slip-Sliding Away
If you're attending a class that includes standing poses, you'll want to benefit from the stickiness of your appropriately named "sticky" mat. Yoga is generally practiced shoeless — and sockless, too. Socks encourage your feet to slide, possibly compromising your foot grip and sliding you into yoga poses you never intended to do.
Keep your feet bare during practice, or invest in a pair of specially made toe socks that have rubber grips sewn in to help you stay strong in your Warriors and Lunges.
Fabric Choice
For most classes, synthetic fabrics made for exercise are your best bet. These fabrics, which are usually a spandex/nylon blend, move with your body so you don't feel constricted. In a very calming restorative or meditative class, you may wear loose cotton or bamboo as your movement will be minimal and it's about feeling supported.
Also, be mindful of the thickness of the pants and shirts you choose to wear. Very thick pants, such as classic sweats, do qualify as loose fitting and movable — but may leave you feeling like you're wearing a blanket as you practice poses. Thin leggings, shorts and shirts are best. If you're afraid you might be cold at the beginning or end of class, bring a fitted long-sleeve shirt along as an outer layer.