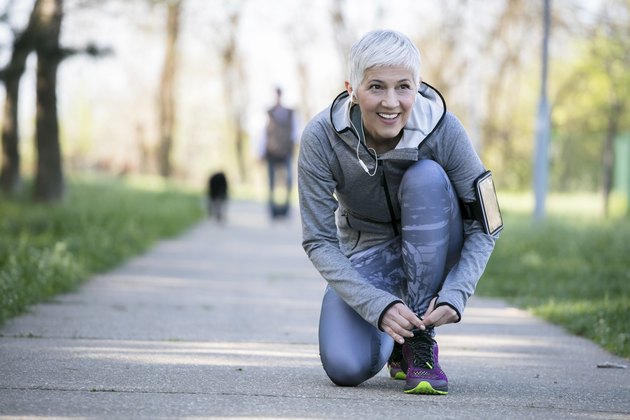 As much as we might hate to admit it, clothes matter — especially women's workout clothes. Because finding the perfect workout top, shorts or leggings can improve more than just your performance: It can also improve your confidence and motivation. When you look good, you feel good!
The trouble is, finding great workout clothes can be a challenge. With so many options out there for active women, it can be hard to find workout gear that checks all the boxes.
4 Things to Look for in Women's Workout Clothes
To help narrow your search, we've rounded up the top brands for workout clothes for women, along with expert advice for what to look for on your next shopping trip.
1. Moisture-Wicking Women's Workout Tops
Your best bet for workout tops that stay put and don't irritate your skin is to look for seamless options. And avoid cotton at all costs: "I recommend a moisture-wicking material to avoid chafing and keep cool," says running coach Nicole Gainacopulos, C.S.C.S., owner of Momentum of Milwaukee.
Some performance-enhancing, comfy materials include polyester, nylon, wool and spandex, but bamboo is another great option. "It's becoming increasing popular because it's eco-friendly, sustainable material," Gainacopulos says. Unlike synthetic materials (such as polyester and nylon), bamboo is also naturally antimicrobial, which helps minimize unwanted odors.
If you're taking your exercise outdoors, tops with UPF protection (fabric that guards against UV rays) are a great bonus. Meanwhile, reflective elements can help keep you visible and safe if you're exercising outside at dawn or dusk.
2. Snug-Fitting Sports Bras
Sports bras are very individual — what suits one woman won't necessarily suit another. In general, however, you can't go wrong with a bra that offers a snug fit and a simple design, with full coverage to avoid wardrobe malfunctions, says certified personal trainer Eliza Nelson.
As if finding the right sports bra weren't already hard enough, the search can get a bit more complicated when you're pregnant or you've just had a baby. If you're a new mom, look for sports bras with easily adjustable shoulder straps and enough compression to keep everything secure, Gainacopulos says. There are even sports bras specifically designed for nursing mothers.
3. Full-Coverage Workout Shorts for Women
If you're a shorts kind of gal, look for a pair made with sweat-wicking material to nip chafing in the bud. Pick gym shorts that offer enough coverage and feature a stretchy waistband for comfort. An inner brief can provide added coverage, Nelson says. And if you prefer tighter shorts, try a pair with a bit of grip around the thighs to keep them from riding up too much.
4. Workout Leggings With Added Features
When shopping for workout leggings, think about the type of exercise you'll be doing in them. Running in the cold? Look for thicker material and styles with pockets to stash your keys, gels and phone. Squatting, jumping and lunging? Make sure the leggings aren't see-through. "This can be checked by simply squatting in front of the dressing room mirror," Nelson says.
Also, look for leggings with a waistband that doesn't dig into your midsection or slip with every move. Few things are more frustrating than hiking up your leggings every minute or two of your workout.
The Best Gym Clothes for Women by Brand
If you need a bit more direction about where to shop for women's activewear, we've rounded up some of our favorite products from best-selling brands. Each of the following clothing brands has something great to offer runners, yogis, weight lifters and everyone in between. So, without further ado, here are our picks for the best women's workout clothes.
Target C9 Sports Bra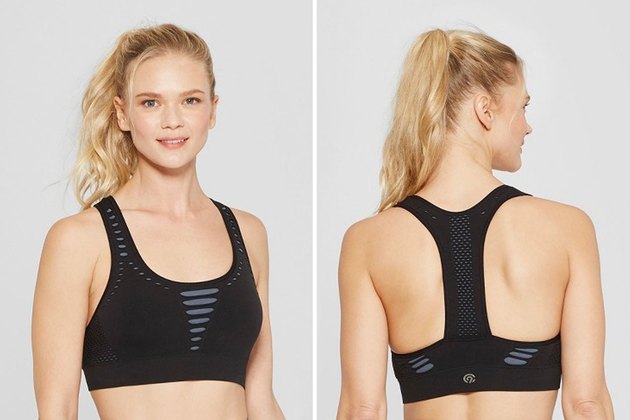 Nelson likes this sports bra for its simple (and seamless) design. It offers great coverage, sweat-wicking technology and removable cups. One reviewer who identifies as a size 38DD writes: "It fits perfectly and gives adequate support for daily activities, work and light aerobic exercise and weight lifting." That said, another reviewer warns the bra isn't high-support, so it may be best for low- or medium-impact exercise.
Old Navy Relaxed Lightweight Cross-Back Performance Tank
This classic brand offers an impressive range of women's workout clothes in both fun and basic patterns — and in regular, tall, petite and plus sizes. Old Navy gym clothes are also pretty affordable (think: $20 for a sports bra).
We love the on-trend Relaxed Lightweight Cross-Back Performance Tank for the soft jersey fabric, moisture-wicking technology, forgiving fit and cute tie-back detail. Scoop it up in a fun color like soft terracotta or filtered green.
Athleta All In Capri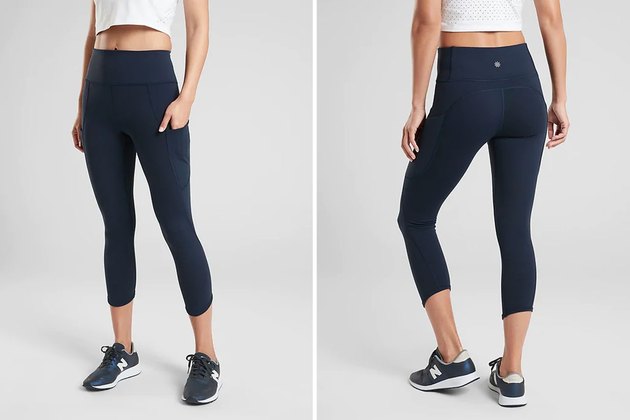 Athleta offers a wide variety of high-quality workout clothes, with sizes tailored to fit every body type, including tall, petite and plus-size. Gainacopulos loves the All In Capri for the side pocket that holds her belongings on every run.
Alo Yoga High-Waist Moto Legging and Slit Metallic Bra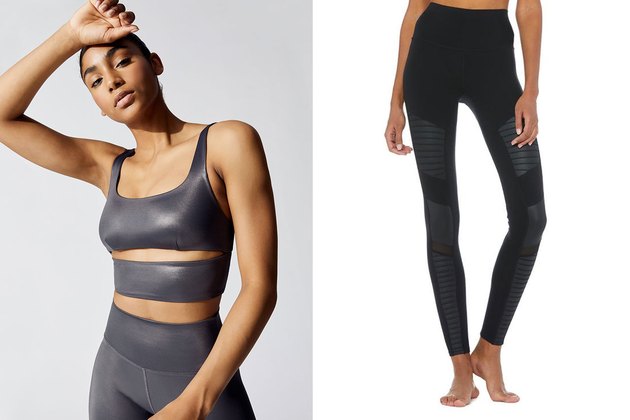 Although Alo Yoga is primarily a yoga brand, its gear is also great for high-intensity workouts. "Their stuff is so comfortable," says Danielle Pascente, a Los Angeles-based personal trainer and creator of the Kick-Ass Training Guides. "I wear their outfits for HIIT workouts and running."
She pairs the Alo Moto Legging with their Slit Metallic Bra. Just be aware that sweat may show if you opt for light-colored leggings.
CALIA by Carrie Underwood Anywhere Petal Hem Shorts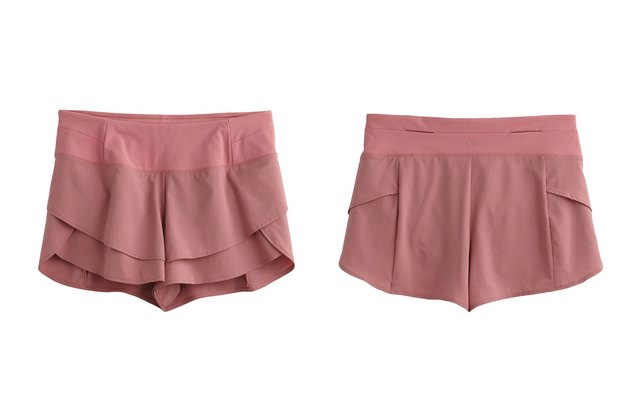 These top-selling shorts offer coverage and style in one package. They're made of lightweight, moisture-wicking, antimicrobial fabric and feature a soft and stretchy waistband. A discreet back pocket makes it a cinch to stow valuables during your workout. Bonus: They're available in a variety of pretty colors like mesa rose and rouge red.
Fabletics Mila Pocket Capri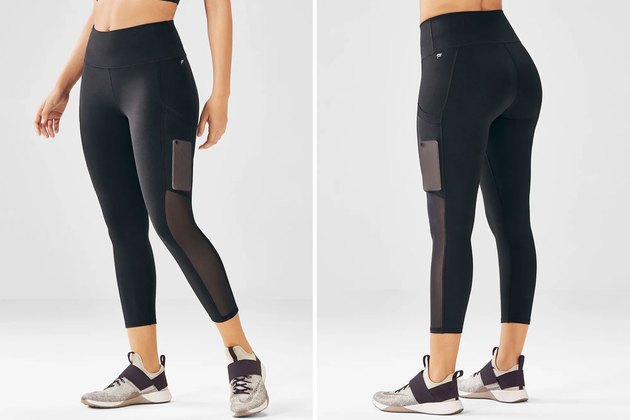 Nelson loves these capris for their superb fit. "And who doesn't love pockets?" she adds. These capris feature a slimming high-rise waistband, all-way stretch fabric and are available in a range of colors, from basic black to bright red.
Outdoor Voices Hudson Shorts
These top-selling shorts are lightweight, quick-drying and ultra-flattering. Choose from nine different regular and seasonal color options, including polka dot, and store essentials in the slim side pocket. And did we mention they're made of recycled plastic? Eco-friendly and cute is a win-win in our book.
Marika Becky Singlet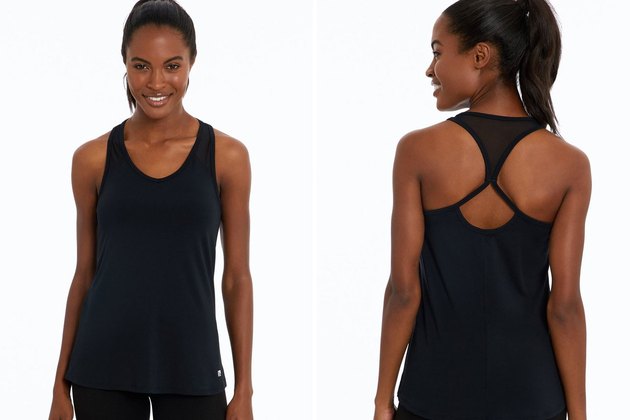 It's the details that make this relaxed tank a winner. The workout top features mesh insets, moisture-wicking fabric, a keyhole in the back and a shirttail hem for added coverage. We love the stunning color options, which include bright rose (a hot pink), violet tulip (a calm purple) and desert flower (a soft coral).
Lululemon Cool Racerback II Tank and Enlite Bra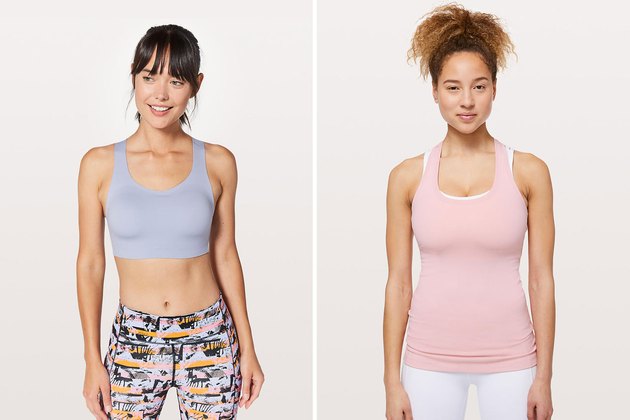 "For a tank top that will stay put whether you are in Warrior II or doing a circuit-style workout at your favorite gym, lululemon Cool Racerback II is a gem," Nelson says. She also calls out lululemon's Enlite bra for being the only bra she could comfortably run in while pregnant (and that's high praise!).
Gymshark Vital Seamless Long Sleeve T-Shirt
With a variety of coordinating tops and bottoms, you won't have any trouble putting together a cute gym outfit with this U.K.-based athletic brand. Not to mention the 10-percent student discount.
We love Gymshark's Vital Seamless Long Sleeve T-Shirt in particular. Made of nylon, polyester and elastane, this form-fitting performance top features sweat-wicking technology, thumb holes and a seamless design for zero friction.