The mind can be a tricky thing when it comes to accomplishing goals. With fitness, it can find a multitude of reasons to skip a workout. One excuse that should never win? Not having something to wear. Workout gear that fits well can fuel the fire of inspiration when it's time to get motivated and actually break a sweat. While the market has been kind to those sized XXS to XL, plus size activewear has not been as widely represented. Fortunately, brands are catching the drift: all bodies deserve options! Here are the brands that are making plus size fitness enthusiasts look amazing at the gym — and beyond.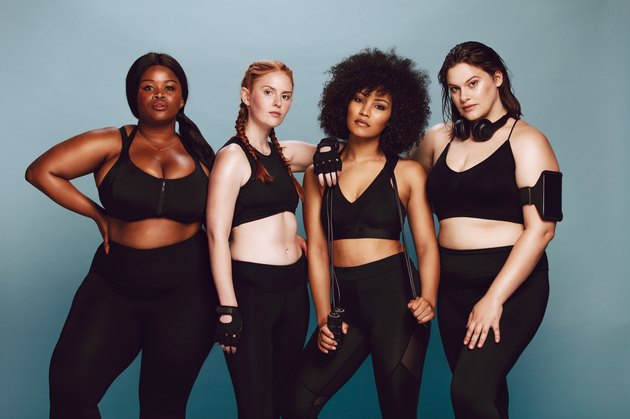 1. Rsport
One of the frontrunners of plus size activewear is Rsport. This company was created by women for women, with a unique focus on whom they call Athenas (an Athena is a female athlete weighing more than 165 pounds.) What sets them apart from most other brands is that in addition to plus size workout clothes, the brand also carries triathlons gear. And as an extra treat, they offer free domestic shipping and returns no matter the amount you spend with them.
2. Torrid
Torrid has been a staple in the plus size community since 2001. For nearly two decades, they have provided on-trend clothing catering to sizes ranging from 10 to 30. With 400 store locations and a user friendly website that takes domestic and international orders, it's incredibly easy to find your next favorite pair of plus size leggings and more.
3. Livi Active by Lane Bryant
First launched in 1904, Lane Bryant has been leading the plus size clothing industry for decades and is a trusted brand for curvy women in nearly every major American city, totaling more than 800 stores.
Their plus size line, LiviActive, caters to sizes 10 to 32 and offers options for all levels of impact, from low-impact workouts to marathons. Online, they can be found under the hashtags #PlusIsEqual, #ThisBody and #ImNoAngel.
4. DAY/WON
Looking for a brand that's fashion forward and inspirational? You have to check out DAY/WON. Created by model Candice Huffine in 2017, DAY/WON is one of the newer body-positive brands on the market. The model was inspired by the idea that anything you do in your day that makes you feel like your best self is a "day won." This motto became a lifestyle that inspired her brand — and now she is challenging others to push outside their limits and share under the hashtag #howwasyourdaywon.
The most unique item they offer is their customizable leggings. At $98, customers are able to adorn their leggings (made from sweat-wicking, antimicrobial fabric) for up to sixteen letters. Day/Won ship to the United States and internationally, but keep in mind that the team produces each order from scratch once it's placed. Allow about 10 days for the order to ship.
5. Forever 21 Plus
When it comes to trendy fast fashion, Forever 21 is a staple of every American mall. In recent years, their brand has grown beyond fun club attire into a one-stop-shop for any inexpensive clothing and accessory needs.
The Forever 21 plus size activewear section offers a variety of on-trend pieces that will make for a fun, upgraded gym look.
6. ModCloth
While they do not offer a full plus size activewear collection, ModCloth's range of plus size leggings is worth a click. With sizes up to 4x, their leggings offerings cover daily wear and activewear. The brand offers domestic and international shipping on all orders, with special offers on shipping popping up throughout the year. They also offer a personal stylist service, with the ability to schedule an appointment with an online consultant (or ModStylist.)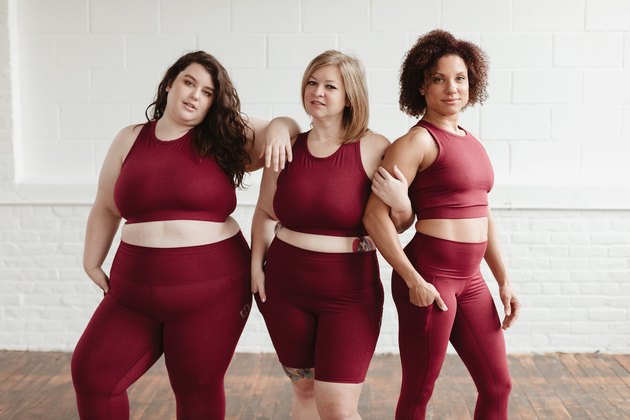 7. SuperFit Hero
Headquartered in Los Angeles where they create ethically made clothing, SuperFit Hero proclaims themselves as "the most inclusive premium activewear brand on the planet." Offering options sized XS to 5XL, the brand sings to the tune of its own slogan.
SuperFit Hero takes on a body positive approach to fitness, as evidenced by their blog. With topics like "Ditch the Scale" and "Set Performance Goals," customers can feel empowered and encouraged to get fit and strong on their terms. Another nice perk? Free shipping on all U.S. orders over $75 and international orders over $125. Time to make some purchases!
8. Universal Standard
If you're looking for a brand that focuses on plus size activewear with style as well as quality, Universal Standard may be for you. The brand's founders believed that a size 26 woman should have the option to shop the same way as a size 6 — so they decided to bring that vision to life. Universal Standard is widely accessible online and currently has store fronts in New York City and Seattle.
One of the company's most unique features? Something they call 'fit liberty:' If an item from their core collection no longer fits you due to size fluctuation, return it within a year and get a brand new item in your new size, free of charge.
9. Juno Active
Juno Active focuses on comfort and function for the plus size consumer and empowers them to find their own definition of an active lifestyle. The founder, Anne Kelly shares, "Our swim and activewear styles are custom tailored for plus size women; we focus on fabric performance and design so our customers always look and feel empowered."
This exclusively online retailer intentionally creates activewear pieces that transition from the gym to the street, keeping you looking great in every circumstance. Every item they create is made through performance tailoring, which means they measure real models up to size 6X for the closest fit, and created with high tech fabrics that are less impactful on the environment.
They also maintain the Juno Active Blog, which covers editorial articles for the active plus size woman.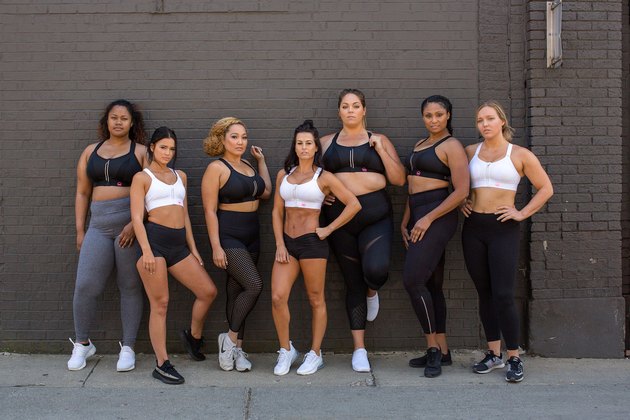 10. SheFit
Ever had to find a supportive bra? Then you must know it's quite the challenge. Sports bras are an essential for any plus size activewear wardrobe. And SheFit focuses specifically on them, with sizes ranging up to 48I.
We are fortunate to live in a time where companies are listening to the needs and wants of all bodies. However you decide to find your plus size activewear, having options is invaluable. It's time to spend less time worrying about logistics and focus on enjoying the fitness journey.