Wouldn't it be great to get stronger abs in 30 days? The LIVESTRONG.COM team created a challenge to help you do just that this summer. You'll not only look and feel amazing, but you'll also strengthen your core, which lessens your chance of back pain. Best of all, you can do it in just a few minutes each day, with no equipment — just a few videos you can follow along with pretty much anywhere.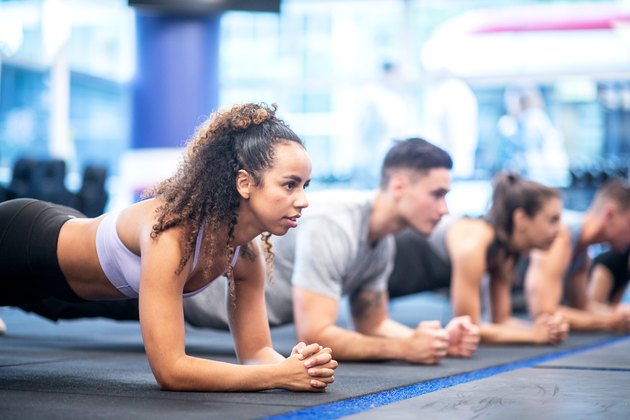 And since personal trainer PJ Striet set a two-minute plank as the benchmark for core strength for men and women, you can be there'll be plenty of planking. But don't worry if you can't do a two-minute plank yet (or even a 20-second plank). Give us 30 days, and we'll get you there!
How the Challenge Works
As you'll see below, there's a 30-day calendar that you can follow along with every day of the challenge. We're starting on Monday, July 1, 2019, but you can start it on your own at any time.
Most days, you'll do four different ab exercises — plank, Boat pose, scissor twists and leg lifts — for a given length of time or number of reps. For example, on the first day, you'll do a 15-second plank, 15-second Boat pose, 20 scissor twists and 10 leg lifts. (NOTE: For the scissor twists and leg lifts, each side/leg counts as one rep. But you can up the challenge by doing double the reps.)
A few days during the month, you'll incorporate an ab workout video, hosted by yoga teacher Elise Joan. You can find those all listed below. And on a few blessed days during the challenge (every seventh day), you'll have a rest day! Make sure to take advantage of those by doing something active but low-intensity like walking, hiking, yoga or swimming.
How to Join the Challenge
2. Share the challenge calendar below with your friends on Pinterest, Facebook and Twitter. You can also print it out and keep it somewhere you'll see it every day or save it to your phone so it's always handy.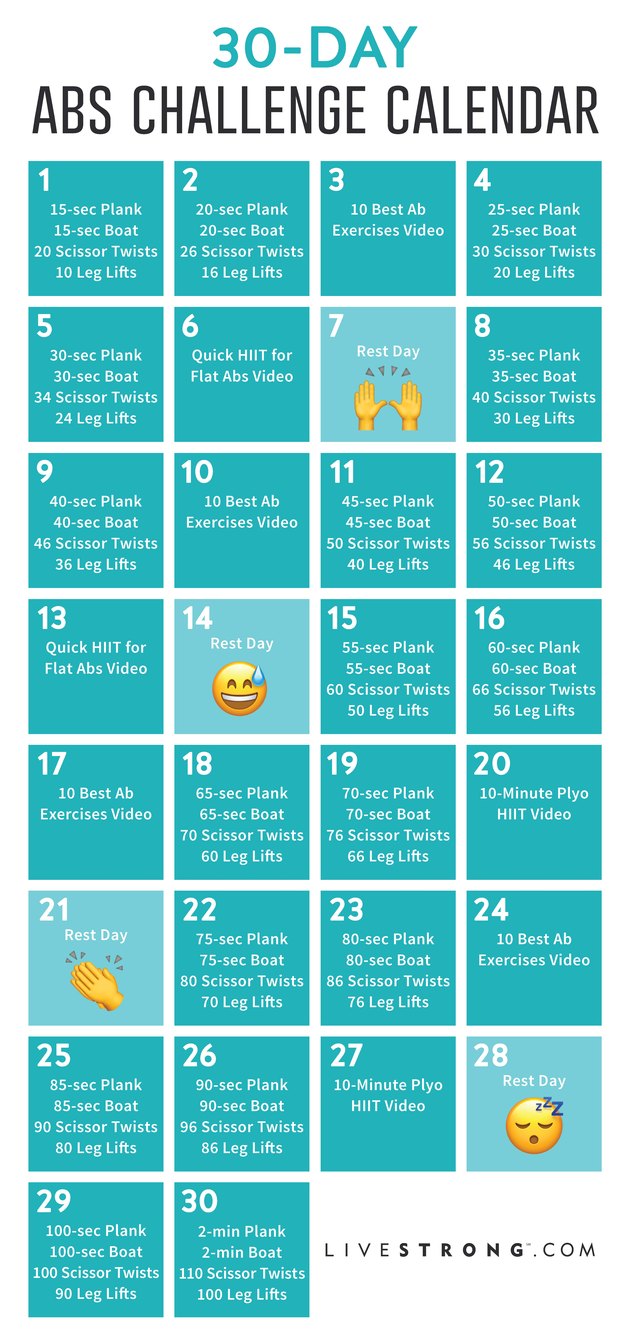 3. Follow along with the challenge each day and share your progress in the LIVESTRONG.COM Challenge Facebook group. We're rooting for you!
The Abs Challenge Videos
As you may have noticed, there are days in the challenge marked with the name of an ab workout video. All the ones listed on the schedule above are included below!
The 10 Best Ab Exercises
Here are 10 of the best exercises to rock your core!
Quick HIIT Workout for Flat Abs
High-intensity interval training is great for torching calories, so you can actually see the definition you're building in your abs.
10-Minute Plyo HITT Video
Plyometrics — or jump training — is an intense, full-body workout. And this one is specifically targeted to your abs.
How to Do the Abs Challenge Moves
Check out our tutorial on the four basic ab moves for the challenge below: