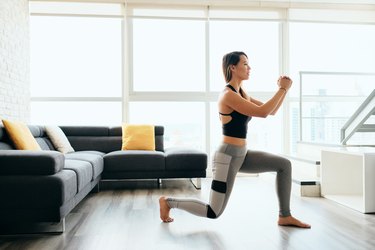 Just because the gym is closed, your schedule is packed or you just can't muster the motivation to head to your favorite studio doesn't mean you have to put your fitness routine on pause. Working out at home is the perfect solution to getting your sweat on while avoiding everyone else's germs.
That's one reason the LIVESTRONG.com team created the STRONGER Challenge — a series of FREE workout videos spread out over the course of eight weeks that's designed to get you results similar to those promised by popular DVD workout sets that you might pay more than $100 for.
What Is the STRONGER Challenge?
The STRONGER Challenge consists of 10 35-minute workouts created by former professional soccer player and celebrity trainer Nicky Holender.
You can follow along with the calendar below or sign up for the challenge by downloading the MyPlate app. Each day's workout video is listed below, and the free STRONGER meal plans, shopping lists and recipes will also be available on the app.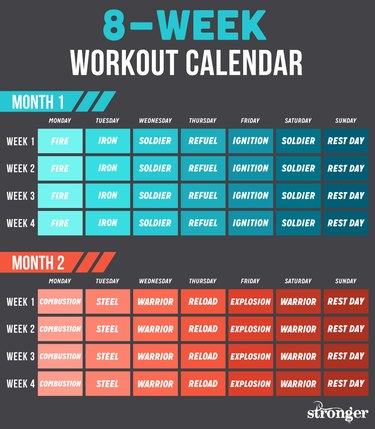 8-Week STRONGER Challenge Calendar
Before you start and/or on day 1, be sure to take your measurements and BEFORE photos (here's how). It's important to see the progress you've made — and not just on the scale!
Time to take your second set of progress photos and measurements to help you see how far you've come.
How to Sign Up for the STRONGER Challenge
Step 1: Download MyPlate
Download the MyPlate app for iOS or Android and create your account. Under "Meal Plans" on the bottom navigation, select your start date (you only have the option to start on a Monday) and dietary preference (vegan, vegetarian, gluten-free or omnivore).
On your start date, you'll be able to log into your account and have access to each day's meals as well as each week's shopping list.
Step 2: Start Tracking
For each meal and snack, track your calories by clicking the check mark next to each food or recipe. If you need to deviate from the meal plan, you can also enter foods manually from the "Track" tab on the bottom navigation. Just search for your food and click the "I Ate This" button. Also be sure to track your water intake from the "Track" tab.
Step 3: Stick to Your Workouts
Print out the STRONGER Challenge workout calendar and follow along with each day's workout video. Then track it in MyPlate. On the app's main page, click Exercise, then search STRONGER. All of the workouts will be listed below. Select the one you performed that day.
Step 4: Find Support and Motivation
Join our LIVESTRONG.com Challenge Facebook Group to get daily tips, encouragement and motivation. You can also join the conversation in our community boards in the app ("Community" on the bottom navigation) and on desktop. Do the workouts with us, cross them off the calendar and post about it. We're cheering for you!