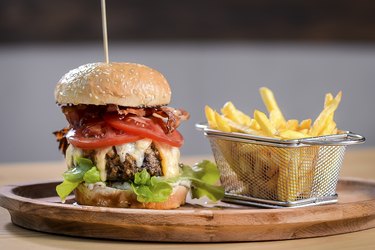 It might surprise you that cheat days aren't all that bad. In fact, these planned indulgences can actually help you reach your long-term goals and avoid weight-loss plateaus. However, moderation is key. Having a few healthy but indulgent recipes in your back pocket can help make cheat day a day of delicious moderation.
The Rules of the Cheat Day
The idea behind "cheating" is to eat clean and get your physical activity in for the majority of your week, but then allow yourself to indulge in the not-so-healthy foods you may be craving. This keeps you sane and helps control your cravings.
There are different philosophies, such as the 80/20 rule (eating healthy 80% of the time) that might be right for you. Since you know your own limits better than anyone, you need to decide which cheat strategy works for you and your goals.
When planning a cheat meal, carefully consider what option works for you to enjoy it without sacrificing your results. If you're just starting out, allow yourself a single cheat meal each week. This gives you something to look forward to while you stay focused and earn it.
How to Plan Your Cheat Strategy
Remember, "cheating" is NOT a license to binge eat junk food and totally go off the rails. It's a way to allow yourself some of the foods you're really craving on a limited basis so that you don't binge on them out of deprivation. So here are a few tips to have a successful "cheat day."
Make your cheat meal something you truly love and plan for it in advance.

Practice portion control and moderation. If you're craving pizza, have a few slices and not the whole pie.

Don't feel guilty. Even though they're not the healthiest foods in the world, they still provide macronutrients (usually carbs and fat, but hey! your body needs those) and a chance to let loose and really enjoy your food.

Enjoy your splurges, but don't lose sight of your fitness goals. It's just one meal, so savor it, and then you can also revel in returning to fueling your body with whole grains, lean protein and fresh fruits and vegetables.

Track the cheat meal with the LIVESTRONG.COM MyPlate app so you can see how it impacts your macros and make sure you don't go too crazy.

Remember: It's a part of your journey — which resumes after your cheat day.
Best Recipes for Cheat Day
Sure, you can hit up your favorite Mexican restaurant for cheese enchiladas or your go-to Indian restaurant for butter chicken. But if you're looking for a bit of a healthier (and less expensive) twist on cheat day, try one of these recipes you can make from the comfort of your own home.
Read Up on Cheat Meals
New to the idea of "cheat days"? Like we said, there's definitely an art to figuring out how to enjoy these days of indulgence without feeling gross and bloated the next day. So keep reading to learn more about these smart eating strategies,
How to Join the Get Strong in 2019 Challenge
1. Sign Up for Daily Emails
There are two main places this challenge is taking place online — your inbox and our Facebook group (more on that in a second). So first, make sure you've entered your email to sign up for the Get Strong in 2019 Challenge. (Yep, even if you're already signed up for our regular daily newsletter.)
Every day, we'll be sending you your daily workout and a healthy recipe to try, along with fun extras like workout playlists, motivational quotes, self-care tips and other fitness and nutrition information to make 2019 your best (and healthiest) year ever!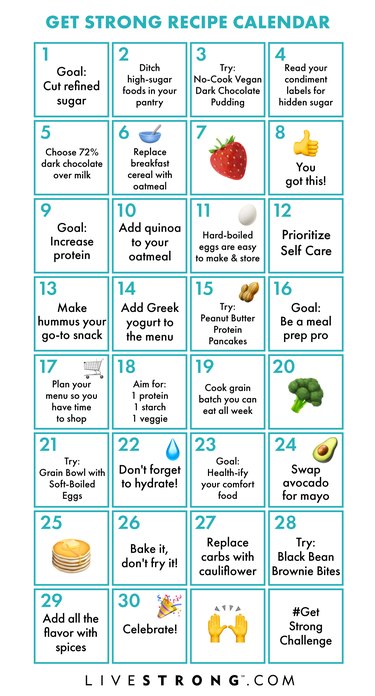 2. Print Out Your Calendars
Isn't it so satisfying to check things off of your to-do list? Each day during the Get Strong in 2019 Challenge, you're accountable for two main things: working out and eating healthy.
To help keep you on track for the entire month, we created two calendars — one with each day's workouts listed and another with each week's nutrition goal and healthy recipes. Print them out and check off each workout and day of healthy eating as you complete it.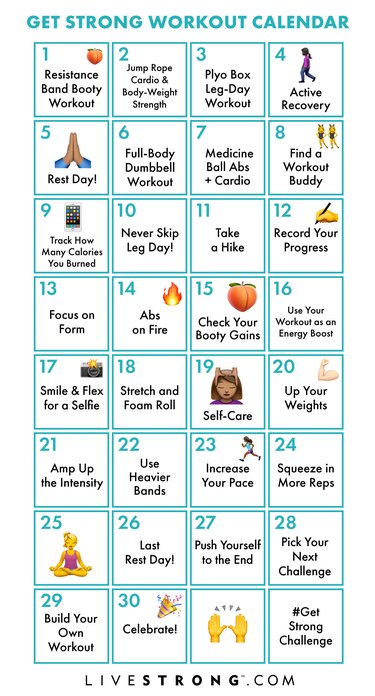 3. Join Our Challenge Facebook Group
For daily support, motivation and camaraderie with LIVESTRONG.COM team members, join our Facebook Group for the Get Strong in 2019 Challenge. We'll share recipes, tips, motivations, pictures and more! Plus, we'll answer all your questions.
4. Share Your Journey on Social Media
Are you on Instagram or Twitter? So are we! And we'd love to see photos and updates of your progress. When you post to social media, be sure to use the hashtag #GetStrongChallenge. That way, you can also connect with other Get Strong challengers!