A sculpted and well-defined butt is not something that just happens! Instead, getting this type of physique takes patience and a commitment to a proper fitness regimen. By emphasizing exercises that activate the gluteus maximus muscle, your flat butt will begin to look rounder and more toned before you know it. The following exercises activate the glute muscles and will help you with your quest for a better booty.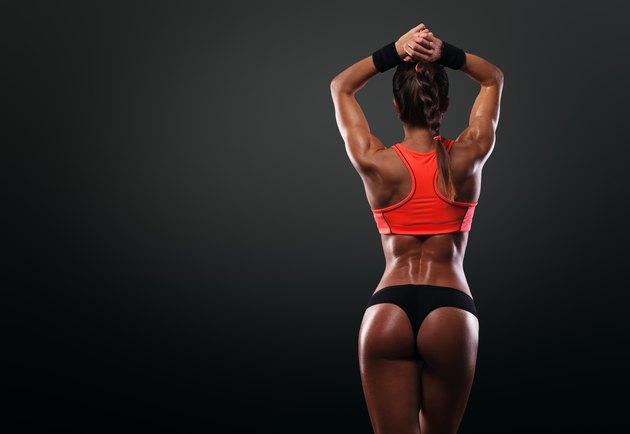 Single Leg Dead Lift
This challenging exercise activates the glutes by using the weight of your body to provide resistance.
How To: Stand with your feet shoulder-width apart and your knees slightly bent. Slowly bend at the waist as you simultaneously lift your left leg in the air behind you. When your leg and body are horizontal with the ground, like you are forming the letter "T", hold this position for a second or two before returning to standing. Make sure your left leg and your torso move together the entire time. After a set of four to eight reps, repeat the exercise on the right leg.
Single Leg Squat
Single leg squats are an intense exercise; your butt and thighs will feel the burn.
How To: Stand with your feet shoulder-width apart and a chair behind you. Begin by lifting your left leg off the ground and slightly in front of you. Then, slowly lower yourself backwards on your right leg until your buttocks touch the chair. Your arms can be extended in front of you for balance. When you make contact with the chair, raise yourself back to the initial position in a controlled manner. Repeat the exercise on each leg.
Bridge
Bridges focus on hip extension, one of the primary actions of your gluteus maximus muscle.
How To: Lie on your back with your feet on the floor and each knee bent to a 90 degree angle. Begin by squeezing your stomach muscles and then lift your butt off the ground. Hold it here for 5 to 10 seconds before lowering back down again. To make the exercise more challenging, alternately march your legs off the ground and back down again while keeping your butt in the air.
Forward Lunge
Lunges are an excellent glute-strengthening technique that can be adjusted to challenge people at any fitness level.
How to: Assume a wide, staggered stance with one foot in front of the other. Slowly drop the knee of your back leg towards the ground while keeping your upper body erect. When the thigh of your front leg is parallel to the floor, slowly rise back up again. Complete the exercise with each leg in front. To add to the challenge, hold dumbbells in each hand as you perform the lunges.
Wall Squat
While commonly thought of as a quadriceps exercise, wall squats also are a good way to work the butt muscles.
How to: Lean your back against a wall and position your feet shoulder-width apart and 12 to 18 inches away from it. Slowly slide down the wall until your knees make a 60 degree angle. Be sure your knees stay in alignment over your feet and don't pass beyond the end of your toes. After holding this position for 10 seconds, slide back up again. The depth of the squat can be increased to make the exercise more intense.
Donkey Kicks
Donkey kicks help to sculpt the butt muscles while also targeting your core stabilizers.
How To: Get onto your hands and knees and engage your stomach muscles so your back is flat, like a table-top. Without allowing your pelvis to tilt or your back to arch, kick one leg backwards as you straighten your knee. Hold the leg here for a second or two before returning to the starting position. After a set, repeat the kicks with the other leg.
Exercise Guidelines
Developing a round and sculpted butt takes time and dedication. To properly improve your glute strength, complete three to five sets of four to eight repetitions of each exercise. This should be done two to three times per week. Be sure to stop any of the exercises if they are causing pain.