Your trapezius muscle has three functional regions: superior, intermediate and inferior. The superior region, which supports the weight of your arm and is called your "upper" trapezius, typically is the portion of your trapezius muscle that becomes tight and needs to be relaxed. Your trapezius muscle can become tight for a number of reasons, such as: a muscular imbalance between your body's left and right sides or front and back sides, an acute injury or muscle strain you experienced or stress.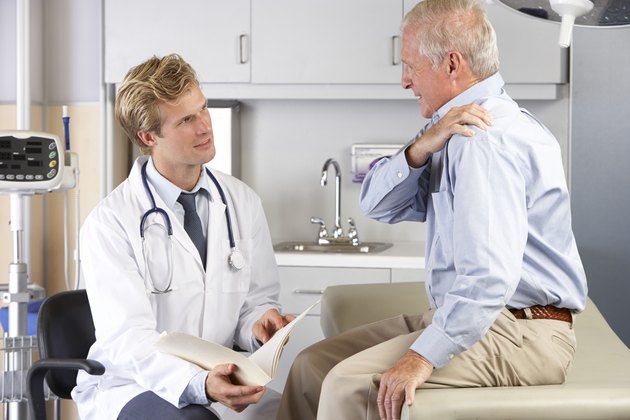 Instrument-Assisted Soft-Tissue Mobilization
Instrument-assisted soft tissue mobilization -- IASTM -- is a soft-tissue treatment technique that uses beveled-edged tools or instruments to find and treat your scar tissue, fascial restrictions and fibrotic adhesions. All of these inhibit your normal muscle function, decrease your range of motion and cause you to experience tightness or pain. An IASTM treatment typically is performed by a licensed health care provider, such as a chiropractor or a massage therapist; and according to Dr. Warren Hammer is a valuable treatment method to improve your muscular function because of "its capacity to heighten the effectiveness of human touch in diagnosing and treating soft-tissue lesions."
Gentle Stretching
Gentle stretching is another effective method of reducing your upper trapezius muscle tightness; and you can perform the stretches at home without the direct supervision of a health care professional. To stretch your upper trapezius muscle, sit on a chair and turn your head 45 degrees to the right. Gently lower your left ear toward your left thigh until you feel a light stretch on the right side of your neck and right upper shoulder. To enhance the stretch, use your left hand to reach over your head and apply gentle pressure on your right temple. After you've held the stretch for 30 seconds, reverse the directions and stretch your left upper trapezius. Perform this stretch two to three times per day.
Heat Therapy
Heat therapy involves the application of heat -- either moist or dry -- to your body to reduce pain and relax tight muscles. There are many kinds of heat therapy, including hydrocollator packs, hot water and ultrasound. Therapeutically, heat therapy helps increase blood flow to your tissues, decrease joint stiffness and reduce muscle spasms. When using heat therapy to treat your tight upper trapezius, use a sufficient barrier between the heat source and your skin so that you avoid being burned.