Push-ups are effective strength exercises for the shoulders, chest and arms, and they also can increase muscle mass in those areas. The keys to turning your push-ups from a conditioning exercise to a muscle-building movement is increasing resistance and changing body position.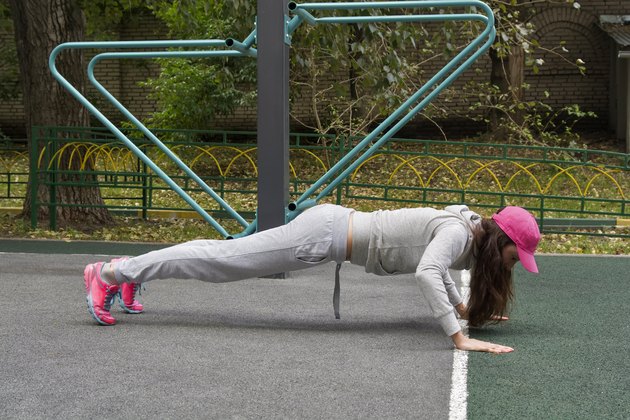 Add Static Resistance
To build more muscle, you must increase the resistance so your body is forced to adapt to the heavier workload. Your body adapts by adding muscle. The simplest method is to wear a weighted vest or a backpack loaded with weights. Increase the weight every week, or as your body adapts to the load. Aim for 12 to 15 push-ups per set for three sets, three times a week. Rest 2 or 3 minutes between sets.
Add Dynamic Resistance
Criss-cross heavy chains over your back, with the ends resting on the floor. As you push away from the floor, pick up more links, adding more weight the higher you go. You can accomplish a similar result by using resistance bands or exercise tubing.
Change Hand and Feet Positions
Changing your hand and feet positions will work your chest, shoulder and arm muscles differently. To focus more on your chest, place your hands farther apart. Bringing your hands together, underneath your sternum, shifts most of the load to your triceps. Elevating your feet on a chair or desk will put more work on your deltoids (shoulder muscles).