Meal replacement shakes are often used as a weight-loss tool because, if they are truly used in place of meals, they can help individuals lower their total caloric intake. Slim Fast is one brand of meal replacement shakes, and some people have indeed lost weight by replacing two meals a day with Slim Fast shakes. Before jumping on that weight-loss bandwagon, consider the potential side effects of the shakes. Speak to your doctor before starting the Slim Fast weight-loss system.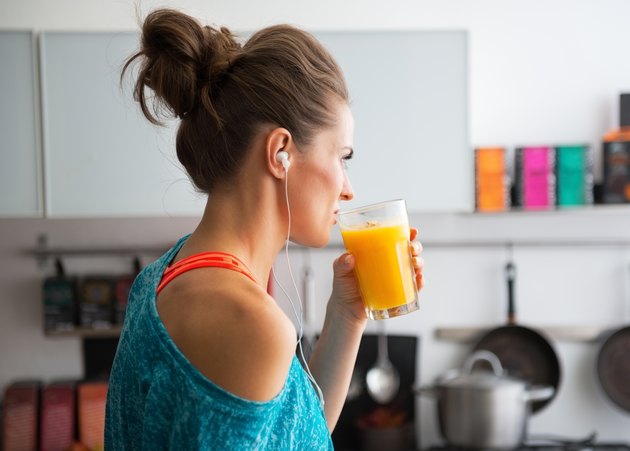 Sugar and Sweeteners -- Not So Sweet
Though some Slim Fast shakes are made with artificial sweeteners, many of the flavors contain a large dose of sugar. The Strawberries and Cream, French Vanilla or Milk Chocolate flavors, for example, each have 18 grams of sugar per serving, which translates to 4.5 teaspoons of sugar. That's three-quarters of the daily 6-teaspoon limit for women and half of the daily 9-teaspoon limit of sugar for men, as recommended by the American Heart Association. If you drink the two shakes recommended as part of the diet each day, you'll go overboard on sugar intake. High sugar intake is associated with a higher risk for heart disease. The sweeteners used in sugar-free versions can also cause side effects, like gas or diarrhea, in some people, notes Harvard Medical School.
Sodium Content
Slim Fast shakes look like rich, decadent milkshakes, but they contain a fairly high dose of added sodium. The Cappuccino Delight flavor, for example, has 210 milligrams of sodium. That's 14 percent of the 1,500 milligrams of sodium you should consider your daily upper limit, according to the American Heart Association. Too much sodium can raise your blood pressure, leaving you more susceptible to heart failure and stroke. Other flavors of Slim Fast shakes contain between 200 and 210 milligrams of sodium per serving.
Low Calorie Considerations
Following the Slim Fast meal replacement weight-loss program means you'll consume about 1,200 calories a day, which classifies it as a low-calorie diet. It can be difficult to stick to this low calorie count. It will most likely require you to keep careful track of how many calories you consume from the shakes and the snacks and one sensible meal you eat each day. Eating a low-calorie diet can leave you feeling hungry and fatigued as well.
The Shakes in Your Diet
If the daily meal replacement aspect of Slim Fast shakes seems too extreme for you, make the shakes an occasional part of your diet instead. This can also help minimize the potential side effects. If you do want Slim Fast shakes to be part of your diet, speak to your doctor first to be sure they're safe and healthy for you. When trying to lose weight, eating a diet filled with low-calorie, nutritious foods, such as fresh fruits, vegetables and whole grains, is an effective strategy to reach your goals and can be just as successful as replacing meals with shakes like Slim Fast. Your doctor can help you create a healthy meal plan.