Slim-Fast shakes are vitamin- and mineral-fortified drinks intended to help you lose weight and keep it off. Each drink is relatively low in calories and the Slim-Fast company suggests drinking two shakes per day as meal replacements in conjunction with other nutritious food. You may be able to accelerate weight loss if you only drink shakes, but it's not a healthy or balanced plan to follow.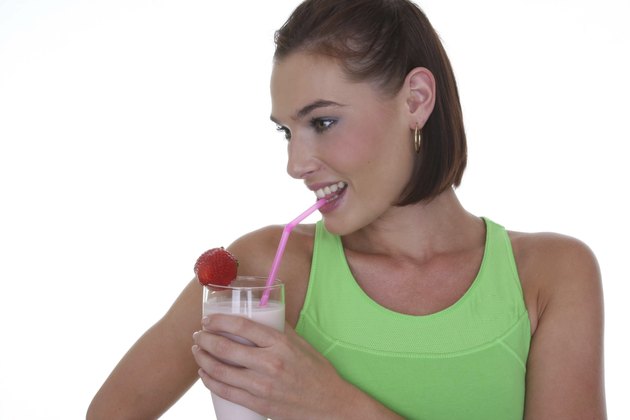 Advantages
To lose weight, you must take in fewer calories than you burn. Drinking low-calorie shakes as meal replacements is one easy way to knock down your daily calorie total, so you may lose weight quickly if you adopt that strategy. In fact, in one 2003 study led by Dr. Steven Heymsfield and published in the "Nutrition Journal," overweight and obese subjects who had one or two meal replacements each day lost more weight over a 40-week trial period than participants who followed a more typical low-calorie diet.
Balanced Diet
Limiting your diet to just one type of food carries some serious risks. Although Slim-Fast drinks are enriched and fortified with a variety of vitamins and minerals, they're not an adequate substitute for a balanced, complete diet. Dietary supplements can't replicate all of the nutrients and benefits of whole foods, such as fruits and vegetables, according to MayoClinic.com. Slim-Fast shakes may be able to meet some of your nutritional needs, but they don't contain the same beneficial micronutrients, antioxidants and phytochemicals that natural, whole foods do. Thus, having only shakes for an extended length of time could cause nutrient deficiencies or other health issues.
Weight Loss Pacing
It's also possible that drinking just Slim-Fast shakes could cause you to lose weight very rapidly, which can be dangerous and unsustainable. "A slow and steady approach is easier to maintain and beats out fast weight loss for the long term," says Donald Hensrud, preventive medicine specialist for MayoClinic.com.
Nutrition Facts
According to Slim-Fast.com, a single serving shake in the flavor of cappuccino delight has 190 calories, 6 g fat, 210 mg sodium, 25 g carbohydrates, 5 g fiber, 10 g protein and 18 g sugar. The shake is fortified with at least 35 percent of the recommended daily value of vitamin A, calcium, vitamin D, vitamin B6, vitamin C, phosphorus and several other nutrients.
Considerations
Before you make any significant adjustments to your current diet plan or attempt to use Slim-Fast shakes as weight loss aids, get your doctor's approval. A safer plan involves increasing your daily physical activity and following a low-calorie, balanced diet, as the National Institutes of Health recommends for gradual and reliable weight loss.