One of the most commonly uttered phrases in the gym (particularly among men) is, "How much do you bench?" While the bench press remains one of the best measurements of upper body strength, just training the flat bench alone can leave your overall strength and physique a little lacking. Regardless of whether you are trying to get a bigger chest, a stronger chest, or both, doing the incline bench will help you reach your goals faster.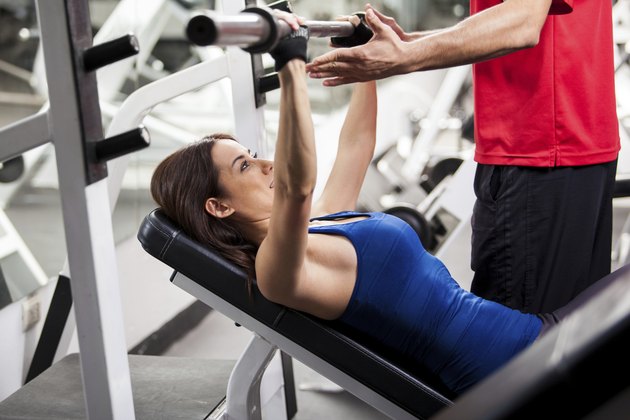 Clavicular Head
The pectoralis major (chest muscle) is actually two separate muscles: the sternal (lower) head, which is activated during flat and decline bench, and the clavicular (upper) head, which works in the incline bench. Because of the way the weight loads on the body during a flat or decline bench, the clavicular head of the pectoralis major gets little to no work. This means the clavicular head is essentially ignored resulting in no changes.
Improve Overall Strength
Muscles improve strength, size and endurance when pushed beyond their perceived limits. This is known as the S.A.I.D principle, or Specific Adaptation to Imposed Demand. Meaning the body will adapt to the demands placed upon it. In fitness terms, if you lift a heavy weight repeatedly, the muscle will get bigger, stronger, or both. Since the incline bench demands muscle activation from the upper chest, the entire muscle group will have a bigger, stronger look and feel.
Shoulder Activation
Not only does the incline bench press work a muscle easily ignored by many programs, it also improves overall strength and size of the chest. Additionally, the angle of the incline bench and the height of the seat affects recruitment of the anterior deltoids. (It is important to adjust seat height so that the exercise is impacting upper chest more than shoulders.) So, now there is even greater room for growth of strength and size due to the increased muscular demand required to finish the exercise safely and effectively.