A big, bulging chest is usually a hallmark feature of muscle-ridden, gym-going men. Women, however, also benefit from working out their chests. Functional movements such as pushing, throwing and swinging require healthy pectoral muscles. Developed pecs also support good posture and lifted breasts, sans boob job.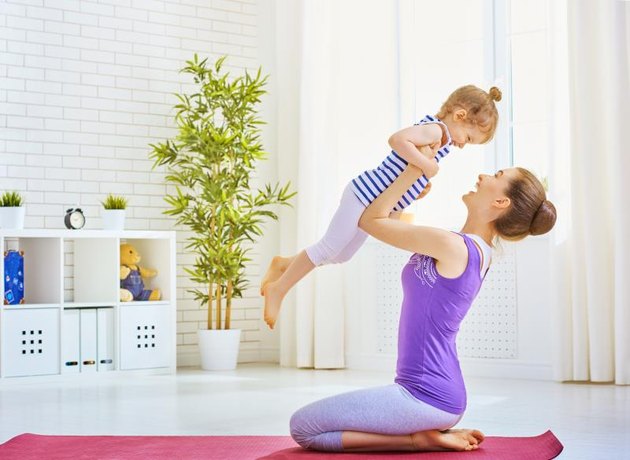 A trip to the gym to hoist barbells and use a cable cross machine isn't always possible -- especially if your tasks include a full-time job, childcare, meal prep, household chores and a social life. You may simply prefer the comforts of your own home to fighting to find a space for parking and lifting at your local gym. Your choice to work out at home doesn't have to leave you with a weak chest.
Include these moves in your routine two to three times per week when you strength train.
Push-Ups
Push-ups are sometimes the bane of women; they just don't come as easily to women as they do to men. This is because women have only 50 percent, on average, the upper-body strength of men, points out research published in the International Journal of Exercise Science in 2014.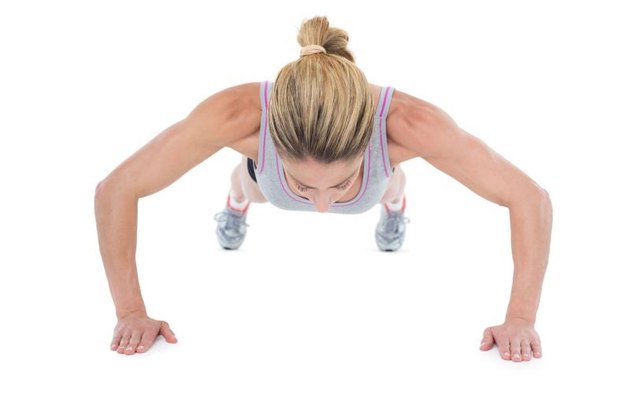 This doesn't mean a woman can't do full push-ups, but you may need to modify as you build the strength to achieve them. Start with push-ups against a wall and when that proves easy, move to push-ups off the kitchen counter. As you master one level of incline, continue to move to a lower incline -- a coffee table, ottoman and stair step are other options found in most homes -- until you're parallel to the floor.
Push-ups also offer women the benefit of toned triceps -- the muscles at the back of the upper arm you show off in strapless dresses and tanks. Your core also play an important role in a proper push-up, so keep your belly pulled in toward your spine to keep your trunk rigid as you push-up. A strong core improves your back health, posture and appearance, if your body fat is low enough to sport defined abs.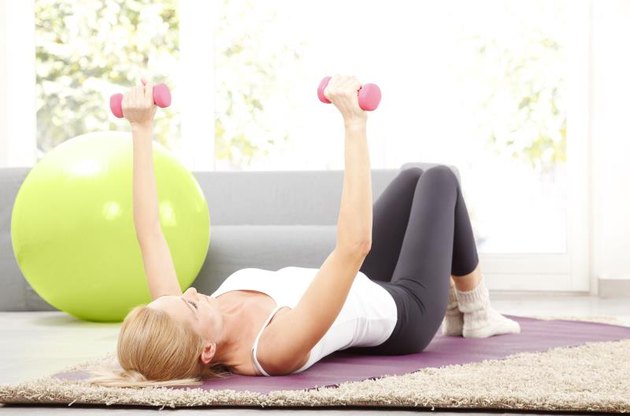 Presses and Flyes
Presses and flyes are typical gym moves, but easily adapted to home workouts. A set of moderate dumbbells are easy to stash in a closet and use the floor or an ottoman to stand in for a workout bench. If you don't have dumbbells, get creative -- two bottles of water can stand in.
Step 1
Lie down on the floor, bend your knees and plant your feet hip-distance apart. Hold a dumbbell in each hand. Alternatively, lie back on an ottoman with your head and shoulders supported -- squeeze your buttocks to keep your hips from sagging.
Step 2
Lift your hips to form a bridge from your shoulders to your knees and raise the weights straight above your chest.
Step 3
Bend your elbows to bring the heads of the weights just outside your chest, having the elbows make a 45-degree angle with your torso.
Step 4
Keep your hips lifted and extend the elbows to press the weights back up. Turn your palms to face one another and soften the elbows.
Step 5
Open your arms, elbows aiming to the floor, until you feel a stretch in your chest to perform a fly. Squeeze the arms back together. One press and one fly equals one repetition.
Step 6
Alternate between the presses and the flyes eight to 12 times. Work up to three sets with a 30-second break between them.
Resistance Band Presses
If you don't have a set of dumbbells, a resistance band is another option. These long tubes or swaths of latex stretch like a rubber band to offer challenge. Stash one in a drawer for easy access.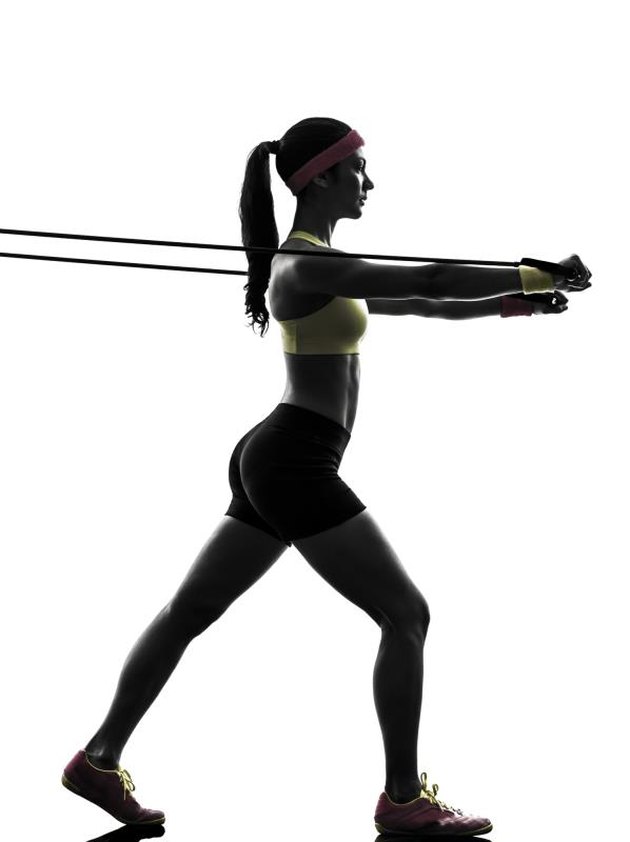 Step 1
Hook the resistance band around a door jam or other very stable anchor. Turn your back to the anchor point and hold a handle in each hand.
Step 2
Walk away from the anchor point until you feel slight tension. Bring the handles or ends of the resistance band close to your shoulders. Keep your elbows in line with your shoulders.
Step 3
Press the band forward until your elbows are straight. Use control to return it to the start position.
Step 4
Complete eight to 12 repetitions and graduate to a stiffer band once 12 reps seems doable. Work up to three sets.