If you find yourself including exercise in your workout routine to get your butt and hips looking like you want, you're not alone. In an article in "American Council on Exercise Fitness Matters," personal trainer Keli Roberts says building a better-looking butt is something most of her clients are concerned with. To get bigger muscles in your butt and hips, perform strengthening exercises that target those muscle groups.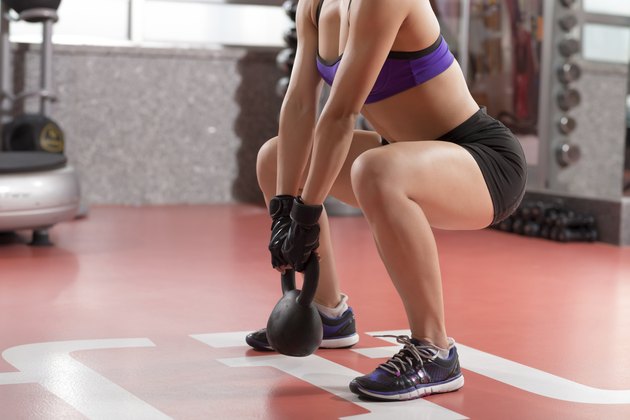 Hip Extensions
If you want to work out your butt and hips, it makes sense to focus on exercises that produce the best results. In 2006, the American Council on Exercise conducted a study to test which exercises produced the most muscle activation in the glutes. Of the exercises tested, quadruped hip extensions generated the highest muscle activation levels. From a position on your hands and knees, tighten your abs to stabilize your body. While keeping your knee bent at a 90-degree angle, lift your knee off the ground until your thigh is parallel to the floor. Lower it back down. Complete 12 reps on each leg.
Kettlebell Deadlift
If you want to get stronger hips and a bigger butt, incorporate exercise equipment, such as kettlebells, into your workout. Kettlebell deadlifts strengthen your butt and can be a way to add variety to your regular strength-training routine. Place a kettlebell to the outside of each of your feet. Contract your abs and pull your shoulder blades together to brace your body for the exercise movement. Lower yourself down by pushing your hips back and bending your knees. Grab the kettlebells, and while keeping your abs and shoulders engaged, straighten your legs to move back to a standing position. Perform 12 reps. If you don't have kettlebells, you can substitute dumbbells.
Step-ups
The ACE study also found step-ups generated high levels of muscular activity in the glutes. To perform step-ups, all you need is a stable platform about 1-1/2 feet high. Steps, weight benches or even a park bench can work for this exercise. You can do this exercise with or without added weights, depending on your strength level. Stand in front of your platform and lift your right foot up on to the top of it. Lift your body up on to the platform using only your right leg to provide the movement--don't push off the ground with your left. Tap your left foot on the bench and step back down, left foot first. Do 12 reps on your right leg before exercising your left.