Knock knees describes a condition where your knees fall in towards the midline of your body rather than staying neutrally aligned. Knock knees can be caused by tight inner thigh muscles pulling your legs inwards, or weak outer thigh muscles allowing your knees to drop in. There are a number of exercises you can perform to strengthen your abductor muscles on the outside of your thighs to minimize your knees falling inwards.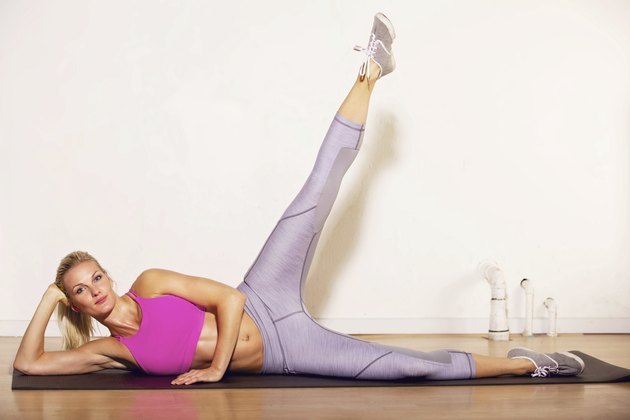 Rubber Band Squats
Place a rubber exercise band around your knees and stand with your feet hip-width apart. Keeping pressure on the band at all times by pushing your knees outward against the band, press your hips back and bend your knees until your thighs are parallel to the floor. Extend your knees and hips to lift up back into the starting position and repeat. To strengthen your knees begin by performing two to three sets of six to eight repetitions, increasing gradually to 15 reps as you become stronger. You can then make this exercise more demanding by holding dumbbells in your hands and using a stronger rubber exercise band.
Lying Side Leg Lifts
Using an exercise mat, lie on your side, making sure that your body is straight, your hips are square and your head is resting on your extended arm. Keeping your hips square and avoiding leaning forward or backward, lift your top leg up as far as your flexibility allows. Make sure you keep your leg straight and your toes turned slightly down, toward the floor. Slowly lower you leg back to the starting position before repeating. Turn over and repeat with the other leg.
Lying Hip External Rotation
Lie on your side with your back flat against a wall. Bend your legs and place your feet against the wall with your feet as close to your butt as you can manage. Make sure your head is resting on your outstretched arm. Keeping your feet together, open your legs and rotate your top leg outward and up toward the wall. Pause in the top position for one to two seconds before slowly lowering your leg and repeating. On completion, change sides and perform the same number of reps for the other leg.
One Legged Wall Push
Stand left side on to a sturdy wall. Lean your left shoulder and hip against the wall. Bend your left knee to 90 degrees. Using your right leg, push your body against the wall. Hold this position for 20 to 30 seconds. Rest for a few seconds and then repeat this exercise using the other leg. As your hip muscles become stronger, increase the duration to up to 60 seconds.