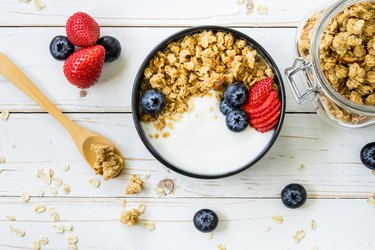 The term "probiotic" is a broad one that encompasses many different types of bacteria, while acidophilus, whose full official name is Lactobacillus acidophilus, is a specific strain of probiotic. Comparing acidophilus vs a probiotic is like comparing an orange to fruit in general.
There are many probiotic strains, each of which affects the body in different ways. The acidophilus probiotic benefits may be different from other types of probiotics. The best probiotic for you depends on why you're taking it, so it's a good idea to talk to your doctor or a qualified nutrition professional before starting a new supplement.
Probiotics are live microorganisms that help balance the body and provide various health benefits. The term "probiotic" is very general and may include a variety of different microorganisms. Lactobacillus and bifidobacterium species are the most commonly used probiotics, according to an April 2012 report in ​Clinical Gastroenterology and Hepatology​. But other bacteria and some yeasts, such as ​Saccharomyces boulardii, ​can also be used as probiotics.
The National Cancer Institute adds that acidophilus, specifically, can help improve digestion and make sure there's a proper balance of certain kinds of good bacteria in your digestive tract. Acidophilus produces lactic acid and hydrogen peroxide during fermentation, which creates an acidic environment that kills of potentially-harmful pathogens, like Candida albicans, which is responsible for yeast infections. Other acidophilus probiotic benefits include:
Help combat bacterial vaginosis
Ward off lung infections
Reduce diarrhea, bloating and cramps
Improve chronic skin conditions like eczema
You can find acidophilus in most commercial supplements, but it's also commonly found in yogurt and other fermented foods, like sauerkraut, miso and tempeh. If you want to consume acidophilus, be sure to read product labels to double check that you're getting what you think you are.
Safety of Acidophilus Probiotics
Acidophilus, and probiotics in general, are considered extremely safe for use in healthy people. But probiotics could pose a risk to people with weak immune systems or severe illnesses. Possible side effects may include infections and production of harmful waste products that can exacerbate any existing health issues. It's also possible that probiotics can transfer genes to your digestive tract that make you resistant to some antibiotics, although this is rare.
Allergic reactions may also be a concern, as acidophilus is found in many milk products and many supplements that contain acidophilus also contain milk and/or lactose. If food allergies are a concern, be diligent about reading food and supplement labels.
However, even though probiotics are safe, it's important to work with a qualified health professional to figure out the correct acidophilus dosage and probiotic blend for you.