Gastritis is the inflammation of the lining of the stomach and may be acute or chronic. Gastritis is mainly caused by a bacterium known as helicobacter pylori. Other factors may cause gastritis such as drinking corrosive substances, alcohol abuse, long-term use of non-steroidal non-inflammatory drugs and autoimmune diseases. Probiotics are live microorganisms similar to micro organisms found in the human gut that may be beneficial in suppressing the growth of helicobacter pylori, hence preventing gastritis, according to the MedlinePlus.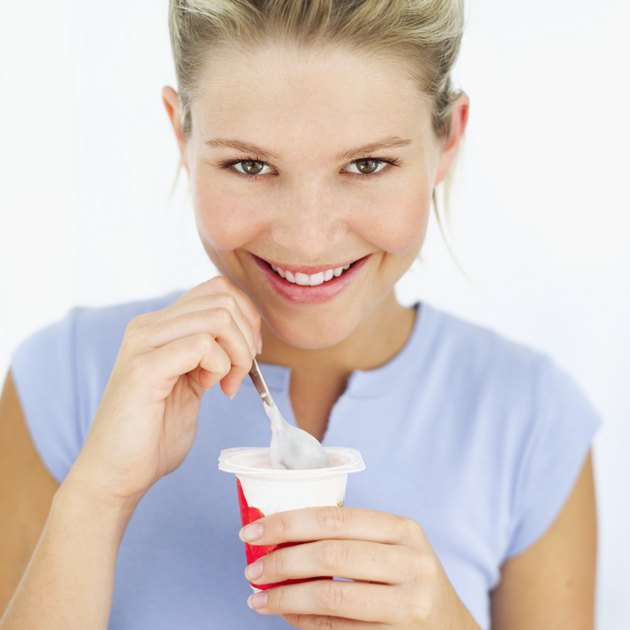 Probiotics and Gastritis
The wall of the stomach has mucus-like barrier that protects it from acid that digests foods. Gastritis usually develops when the mucus-like protective layer becomes weakened and damaged. Helicobacter pylori breaks down the protective mucus lining therefore exposing the lining of the stomach to acidic digestive juices. Probiotics are necessary because they suppress the growth and activities of helicobacter pylori bacterium, according to the university of Maryland Medical Center.
Sources of Probiotics
Probiotics are available in foods and in dietary supplements, according to the National Center for Complementary and Alternative Medicine. Probiotics capsules, tablets and powders may be purchased from pharmacies. The University of Maryland Medical Center recommends patients take probiotic supplements containing 5 to 10 billion colon-forming units a day. Probiotics may also be available in dairy products containing live bacterial cultures. Examples of food sources include yogurt, cultured buttermilk, acidophilus milk, miso, tempeh and soy beverages. Eating these foods colonizes the stomach with live bacteria cultures that may be useful in suppressing helicobacter pylori.
Side Effects of Probiotics
Most probiotics have been used for a long-time without causing illness in people, according to the National Center for Complementary and Alternative Medicine. Some probiotics may cause mild digestive symptoms, such as gas and bloating. Probiotics safety has not yet been thoroughly studied, and the supplements should therefore be used with caution in children, elderly patients and immunocompromised patients. Probiotics may cause infections in patients with damaged immune systems.
Warning
Probiotics should not replace convectional medicine in the treatment of gastritis, according to the National Center for Complementary and Alternative Medicine. Patients who are suffering from gastritis should consult a health-care provider first before taking probiotics. Gastritis is treated with antacids, antibiotics and dietary modification.
Gastritis Complications
Gastritis that is left untreated may lead into stomach ulcers and stomach bleeding. Chronic untreated gastritis may increase the risk of stomach cancer. It is important for patients with gastritis to seek immediate medical care to avoid such complications.