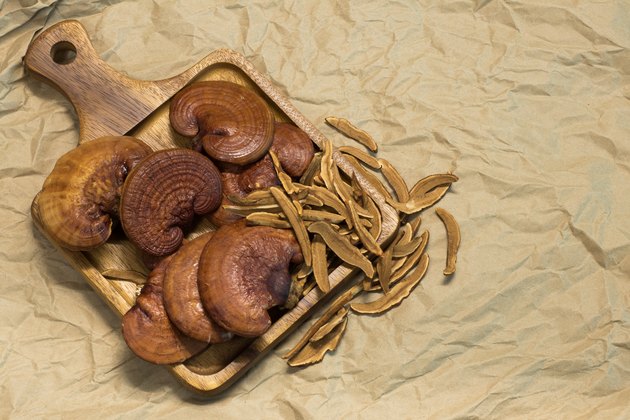 Called the "mushroom of immortality," it's an adaptogen, which assists the body in adapting to both mental and physical stress. Both the caps and the stems of ganoderma contain a substance called beta-glucans, which boosts the immune system.
What Is Ganoderma?
Ganoderma lucidum is a large, woody and tough mushroom used for various herbal remedies. More commonly known as reishi or lingzhi, this mushroom may have beneficial effects on the immune system, cardiovascular system and prostate gland.
Although ganoderma extract is generally safe and most side effects are mild, the Memorial Sloan-Kettering Cancer Center cautions that many of its claimed uses are for serious diseases. Thus, people should obtain medical attention in addition to using ganoderma extract to treat serious illness and consult with a physician about possible interactions of ganoderma with medication.
Ganoderma Uses
There are many reported uses for gandoderma. Most of the studies conducted with reishi mushrooms have been on animals or laboratory studies, but a few human studies exist.
Blood pressure
Immune system
Anti-inflammatory properties
Prostate health
Cardiovascular system
Diabetes
Hepatitis B
Clogged arteries
Chronic fatigue syndrome
Liver function
Alzheimer's Disease
Various types of cancer
Health Benefits of Ganoderma
More and more individuals are working to reduce the amount of medications they take or looking for more holistic or complementary methods of treatment. While ganoderma may not be right for every individual or every ailment, there are some health benefits worth noting.
Ganoderma Side Effects
While ganoderma has the potential to treat a wide array of ailments, check with your doctor before taking it as there can be side effects. Most side effects are reported after long term use.
If you're planning on taking ganoderma for longer than three months, consult with your doctor. In some of the studies listed above, some of the side effects of taking ganoderma include the following:
Diarrhea
Nausea
Insomnia
Constipation
Dry mouth
Rash or itching
Nosebleed
Ganoderma Precautions
As previously mentioned, taking ganoderma isn't right for everyone or every health condition. If you want to start taking it but meet one more more of the following criteria, speak to your doctor first.
You're on chemotherapy medications or immunosuppressives
You're taking blood thinning medication, such as coumadin or Warfarin, or on aspirin therapy
You're pregnant or breastfeeding.
Liver toxicity was reported in two studies with the use of powdered reishi mushroom, so use with caution.
How to Take Ganoderma
Traditionally, reishi mushrooms are made into a decoction, or boiled in water to extract their medicinal properties. The roots are boiled and then strained and drank as a tea. The extract of ganoderma is typically what you will find in supplement form.
There is no safe recommended dosage of ganoderma extract, but a 2015 Cochrane Review cited research that used 1.4 to 3 grams of ganoderma per day. As always, speak with your doctor to find a dose appropriate to your age, gender, and medical condition.
The University of Michigan recommends 1 to 1.5 grams per day of ganoderma in the powdered form, or 1 millilter per day as a tincture. Ganoderma is also available in coffee form, which is usually a mix of coffee and ganoderma powder.
Current and ongoing studies are hoping to unlock the potential of ganoderma and possibly assert more effectiveness in a recommendation for this herb. For example, they're exploring the possibility of ganoderma as an additive to yogurt and as Kombucha made with reishi mushrooms.
It's always a good reminder that that supplements are not regulated by the FDA as tightly as medications, so keep that in mind when choosing a supplement. Never choose a supplement that claims to cure or treat a specific condition.
What Do YOU Think?
Have you ever heard of ganoderma before? What about reishi mushrooms? Did you know they were the same thing? Have you ever taken it? Did you drink it in your tea or coffee? Or prepare it some other way? Did you know about all the potential health benefits and side effects? Share your thoughts in the comments below!