Many women use multivitamins like an insurance policy — that is, they take an all-in-one supplement each day to cover any deficiencies in their daily diet. It's a simple, convenient way to make sure you're getting nutrients you need. Women have special nutritional requirements: A woman's multivitamin should have adequate folic acid, calcium, iron, vitamin D, and magnesium.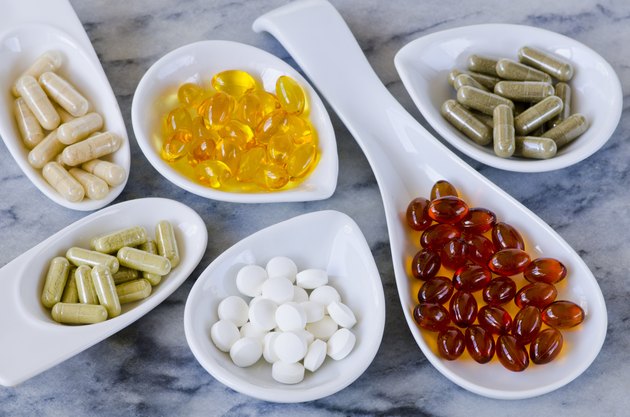 Different stages of life also require different vitamin and mineral requirements. For example, for women in childbearing years, adequate folic acid is necessary to prevent neural tube defects during pregnancy. As women age and go through menopause, the need for iron decreases. Always ask your doctor which multivitamin is right for you.
1. One-A-Day Women's
Both "Women's Health" magazine and ConsumerLab.com picked One-A-Day Women's as their top multivitamin. It has extra calcium, vitamin D, iron, and folic acid, and just enough vitamin A, which has been linked to birth defects in higher-than-recommended quantities.
2. Nature Made Multi For Her
The just-for-women offering from the widely available Nature Made brand provides optimal doses of vitamin D and folic acid, plus calcium and iron. Nature Made vitamins are USP verified, which means they contains the nutrients and the dosages claimed on the packaging.
3. Centrum Ultra Women's
ConsumerLab also gave Centrum its seal of approval for quality, as did Consumer Reports. It contains 100% of the recommended daily allowance (RDA) for folic acid and iron, and has comparable levels of calcium and magnesium to One-A-Day. Centrum has slightly lower levels of vitamin D than One-A-Day, but still provides twice the RDA.
4. GNC Women's Ultra Mega
GNC Women's Ultra Mega is a bargain alternative to the mainstream brands. It carries slightly less vitamin D, but still more than the RDA. It's comparable in levels of iron, calcium, and folic acid — and has a higher dose of magnesium than its competitors. Magnesium works with calcium and vitamin D to reduce the risk for osteoporosis.
5. Puritan's Pride Woman's One Daily
The bargain-priced caplet from Puritan's Pride provides generous doses of vitamin D, folic acid, and iron — and is gluten-, yeast- and lactose-free and does not contain GMO ingredients. It also contains 100 percent of B-vitamins, which supports a healthy metabolism.
6. Rainbow Light Just Once Natural Women's One
This vegan and gluten free once-daily multivitamins includes enhanced doses of vitamin D and folic acid, and uses a custom "women's nourishing blend" of phytonutrients including dong quai and spirulina; it also includes probiotics to support digestion. Calcium and magnesium are lacking in this vitamin, so these nutrients will need to be included in foods to get the recommended amount.
7. Alive! Once Daily Multivitamin — Women's 50+
This multivitamin is especially designed for older women. It has a good mix of B vitamins, which is important to maintain a healthy metabolism. It also contains higher than the RDA of vitamin B-12, which can decrease as women age. It contains calcium and magnesium for bone health. It does contain a mixture of herbs, so speak with a health professional if taking prescription medications to see if there might be interactions.
8. Smarty Pants Women's Complete
This multivitamin contains omega-3 fatty acids, which is important for brain health. It also contains 100 percent of many essential vitamins and minerals, such as B vitamins and antioxidant vitamins E and C. One downside is this multivitamin contains added sugar and because of its form as a gummy vitamin, it does not support iron.
9. Naturelo One Daily Multivitamin for Women
This multivitamin is very unique in that it states where the each vitamin is sourced. For example, the vitamin C is from organic acerola cherries and the vitamin E is from organic rice bran. It contains lower than recommended amounts for vitamin D and calcium, but contains an organic fruit and vegetable blend which is important for a healthy immune system.
10. Optimum Nutrition Opti-Women
This multivitamin is a powerhouse when it comes to getting in the recommended amount of many vitamins and minerals. While it falls short on calcium, it contains more than most. It also has 100 percent of iron and zinc. It does contain a combination of many herbs, so speak with your doctor if this is a vitamin that you wish to take.