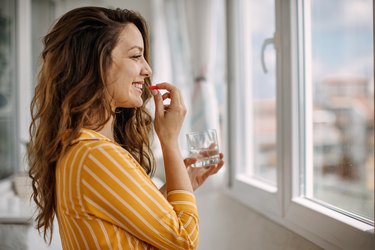 Iron is an essential mineral. If you don't get enough, you may feel tired and less focused, as one of iron's important functions is producing proteins that move oxygen throughout your body, according to the National Institutes of Health (NIH).
There are plenty of foods high in iron, and there are also many foods fortified with it. Most of us do just fine with the iron in our diet, per the NIH.
But this doesn't apply to everyone: "The most common reason for iron supplementation is to improve low iron levels," says Cristina Caro, RDN, LDN, Sodexo regional dietitian and wellness manager. This can occur for a variety of reasons, such as pregnancy or a vegan diet.
And while iron supplements are readily available, some can cause digestive issues, including constipation. It's not completely clear why iron supplements lead to constipation, says Amy Shapiro, RD, CDN, founder of Real Nutrition.
Generally, water helps move stool out of the body, Shapiro says. "But researchers believe excess iron causes water to move more quickly into the small intestine, leaving less water to move throughout the digestive tract. This can lead to constipation in the colon," Shapiro says.
Fortunately, there are some non-constipating iron supplements out there that may help you avoid the uncomfortable side effects. Check them out below.
The Best Non-Constipating Iron Supplements
Types of Iron Supplements
There isn't just one type of iron supplement available. You can choose between iron salts and amino acid chelates, the latter of which is often easier on the stomach, Caro says.
If you're looking to avoid constipation, opt for ferrous bisglycinate (an amino acid chelate), Caro says. Or, try ferrous gluconate, an iron salt formulation that absorbs well, she adds. But: "Avoid ferrous sulfate if constipation is a problem for you."
And keep in mind that what you eat plays a role if you're taking iron supplements. Make sure you're getting enough fiber and drinking plenty of water, Shapiro says. "This will help you avoid constipation."
How Long Should You Take Iron Supplements?
For people who are deficient, iron levels in the blood generally return to normal after about two months of taking supplements, and you should continue taking them for six to 12 months to build up your iron stores, according to the NLM.
Any trip down the vitamin aisle — or Google search — will reveal a slew of supplements available to buy, many with bold claims. There's no oversight to supplement safety and efficacy by the FDA, although the organization does set Current Good Manufacturing Practices (CGMPs), which include requirements for preparation and storage.
For this guide, we only selected iron supplements with CGMPs compliance or verification from one of the three main independent quality control groups that test and review supplements:
We also consulted with experts — Caro and Shapiro — for insights and recommendations, and factored in details from the ConsumerLab Iron Supplements Review.
Find more information on how we choose and cover products here.
1. NOW Supplements Non-Constipating Iron
Pros
Top pick by ConsumerLab
Good for vegetarians/vegans
Absorbs well when taken with food
Free from soy, nuts, dairy and eggs
Cons
Some reviewers say it has a weird aftertaste
This non-constipating iron supplement gets high marks from ConsumerLab.
"NOW Iron is a reputable brand with third-party testing," Caro says.
One capsule has 18 milligrams of iron, which is appropriate for people who require ongoing iron supplementation, such as vegetarians/vegans and endurance athletes, she says.
This pill contains ferrous bisglycinate, which is a form of iron often recommended for people looking to avoid constipation and other side effects iron can have on the stomach.
This form of iron absorbs well when taken with food (better than ferrous sulfate), per ConsumerLab. "It's much easier on the digestive system," Shapiro says.
The supplement is also free from soy, nuts, dairy and eggs.
2. Nature's Bounty Gentle Iron
Pros
Good for people with existing GI issues
Comes with folic acid and vitamin B12
Vegetarian
Cons
Not as potent as other iron supplements
If you already have existing stomach issues, including constipation, the last thing you need is a supplement that's going to make you even further backed up. This gentle iron variety from Nature's Bounty is easy on your digestive tract and contains a slightly lower amount of iron, which is typically more tolerable.
The supplement also comes with folic acid and vitamin B12, two essential elements that many people are low in. Plus, it's made with vegetarian cellulose, making it a good option for vegetarians.
Keep in mind, however, that because this supplement has less iron, it's also less potent than supplements with higher amounts of iron. Talk to your doctor about the amount of iron you need.
Pros
Free of additives and common allergens like wheat, soy, dairy and yeast
Vegan
Kosher-certified
Cons
Some reviewers say the pills are too large
Solgar is another reputable brand, Caro says. This pill has a "non-constipating chelated dose for everyday use."
Vitamins from Solgar are made in the United States and do not contain common additives and allergens such as gluten, wheat, dairy, soy, sugar, sodium, yeast or artificial flavors. They're also vegan and Kosher-certified.
4. Thorne Research Iron Bisglycinate
Pros
NSF Certified for Sport
Easily absorbed
ConsumerLab-approved
Potent
Cons
Some reviewers say the bottle wasn't completely full on arrival
Some reviewers say it caused acid reflux
"I like Thorne, as it is a brand known for high-quality supplements," Shapiro says. (Note that this brand also makes the LIVESTRONG.com list of top vitamin brands.)
This iron supplement from Thorne is easy on your digestive tract, Shapiro notes.
Athletes will appreciate that it is NSF Certified for Sport, Caro says. That means it's free of the substances banned by sports organizations, she explains.
"This chelate form of iron is easily absorbed and less likely to cause constipation," Caro says.
Each pill provides 25 milligrams or 139 percent of your daily value (DV) of iron.
Pros
Doesn't cause nausea
Non-constipating
Third-party tested
Can be used during pregnancy and postpartum
Cons
Some reviewers say it can leave an aftertaste
Iron is one of the most important supplements pregnant people need. If you're unsure of the amount you need based on the trimester you are in, Needed has a chart that tells you how many Prenatal Iron tablets you should take per day.
Plus, they are made with glycine, which helps with better absorption and keeps constipation (and nausea) at bay — two must-haves for many pregnant people.
The supplements are also third-party tested and can be used during pregnancy and postpartum, depending on your individual needs.
6. Garden of Life Mykind Organics Plant-Sourced Iron
Pros
Also contains vitamin C, for better absorption
Safe for children
Made in current good manufacturing practices facilities (cGMPs)
Flavored
Vegan
Cons
Often out of stock at several stores
Pricey compared to other options
If you'd prefer to avoid a pill, you might want to try this liquid iron supplement as another way to take in more of the nutrient. Shapiro says it's a great option because it also contains vitamin C, which may help improve iron absorption in the body.
That said, vitamin C is not an essential ride-along companion to iron supplements. A randomized clinical trial had participants with iron deficiency anemia take iron alone or iron with vitamin C. Both hemoglobin recovery and iron absorption were the same across both groups, suggesting that vitamin C isn't required for iron absorption, per the November 2020 study in ‌Hematology.‌
For adults and children over the age of 6, a serving size is about 2 teaspoons and has 10 milligrams of iron, which is 56 percent of the DV for adults. For kids between 6 and 8 years old, that's 100 percent of the daily value, and for kids ages 9 to 13 years, that's 125 percent of the DV, according to the Mayo Clinic.
This iron supplement also includes vitamins C, B6 and B12 (in pretty high amounts). Be sure to check the ingredient list on this food-based product to confirm there's nothing on it that you are trying to avoid.
Iron Deficiency in Children
Iron deficiency in children is common, and it can affect their growth and development, per the Mayo Clinic. Your child's iron levels should be monitored by their pediatrician to determine if supplements are necessary.
While liquid iron may be a good option for children, this particular vitamin from Garden of Life may be too high in vitamin B12. Talk to your child's pediatrician before giving them any iron supplement.
What to Know Before You Buy
Here's what you need to know before you consider adding an iron supplement to your daily routine.
1. Not Everyone Needs Extra Iron
"Try to meet your needs for iron with food first," Shapiro says. Iron-rich foods include leafy greens, meat, poultry, fish, grains and dried fruit, per ConsumerLab. Some foods are also fortified with iron, such as cereal and bread.
It's also worth noting that the form of iron found in animal-based foods is more readily absorbed by the body than plant-based forms, Shapiro says. That can make it harder for vegans and vegetarians to hit their DV for iron.
People who are pregnant or menstruating
Children and older adults
Endurance athletes
People who donate blood often or people with certain diseases (such as rheumatoid arthritis and some types of cancer) may also have low levels of iron, per the NIH.
2. Check the Elemental Iron
Before purchasing a supplement, "look for the amount of elemental iron," Shapiro says.
There may be two numbers listed on the label of an iron supplement — one is the chemical compound (e.g., the amount of iron bound to the salt) and one is the elemental iron, or the amount of bioavailable iron, per the Harvard T.H. Chan School of Public Health. Elemental iron is the one you need to pay attention to, as this is the amount available for your body to absorb.
3. Beware of Interactions
"If you have not been prescribed iron, talk with your doctor before you start taking a supplement," Caro says. "Iron can interact with other supplements and medications, such as antacids and calcium."
4. Choose Reputable Manufacturers
"Look for reputable brands with third-party testing/verification," Caro says. Typically, you can find this info on the product label or company website.
Be on the lookout for proprietary blends, because those could be made with ingredients you're looking to avoid or have allergies to, she adds. You can tell by reading the ingredients label on your product and identifying if there are other vitamins, herbs or ingredients in the supplement.
Check the dose, too, Shapiro says. High doses of iron can lead to stomach issues, per the NIH. And you definitely don't want to overdo it, because extremely high doses can lead to life-threatening concerns.
If you suspect you're iron-deficient, make sure to talk to your doctor before you start taking supplements. A blood test can help you determine whether or not iron supplements are needed.