Iron deficiency anemia is a condition in which your blood lacks adequate healthy red blood cells to carry enough oxygen to your tissues. Vitamin deficiency, a condition with similar effects, reduces the number of healthy red blood cells, so your body can't get the oxygen it needs. Both deficiency anemias require attention as they can lead to serious problems. Consult your doctor for more information.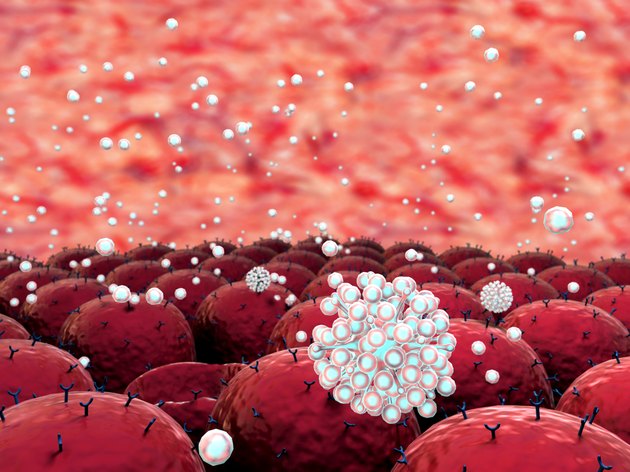 Causes
Iron deficiency anemia is due to insufficient iron, either from inadequate dietary intake or from increased iron losses. The most common cause is blood loss from heavy menstruation, intestinal bleeding or from tumors or ulcers. The underlying issue is diminished production of hemoglobin, the substance in red blood cells that enables them to carry oxygen. Vitamin deficiency anemias result from a lack of folate and/or vitamin B12, either from inadequate intake or inadequate absorption. Vitamin B12 deficiency anemia is usually due to absorption problems from intestinal surgery, abnormal bacterial growth, disease or lack of intrinsic factor, the substance that allows for absorption.
Symptoms
Initially, symptoms of both deficiencies can be very mild; however, as the body becomes more deficient and cannot produce enough hemoglobin nor carry enough oxygen, symptoms intensify. Iron deficiency anemia can lead to extreme fatigue, pale skin, weakness, shortness of breath, headache, dizziness, cold extremities, irritability, tongue inflammation or soreness, increased risk of infections, brittle nails, arrhythmia, unusual cravings, poor appetite and restless leg syndrome. The symptoms of vitamin deficiency anemia can also include weight loss, diarrhea, numbness or tingling in extremities, muscle weakness, unsteady movements and mental confusion.
Complications
Mild iron deficiency anemia can become quite severe if left untreated, leading to a rapid or irregular heartbeat, angina or chest pain, problems during pregnancy such as premature births and low birth weight babies and physical and mental growth problems in children. It is also associated with a greater incidence of lead poisoning. Vitamin deficiency anemia leads to other health problems, including birth defects and nervous system disorders like mental difficulties and tingling in the extremities.
Detection
Iron deficiency anemia is diagnosed mainly through blood tests. Your doctor will check for a smaller red blood cell size and paler color, lower red blood cell percentage in the blood and lower hemoglobin and ferritin levels. Vitamin deficiency anemias are also detected through blood tests, but doctors look at slightly different things. They check the amount of folate and vitamin B12 in addition to the level and appearance of red blood cells. Vitamin B12 deficiency may require additional testing.
Treatments
Iron deficiency anemia can usually be treated with iron supplementation typically in the form of prescription ferrous sulfate tablets in order to replenish iron reserves. Treatment lasts several months, but you will feel improvements after a few weeks. Additional treatments may be necessary if there is a more serious problem. With severe cases, blood transfusions can replace iron quickly. Vitamin deficiency anemias are treated with diet changes as well as folic acid supplements or potentially by lifelong injections of vitamin B12.