Your shoulder girdle is made up of your clavicle and scapula bones, which connect together to form a ring that sits on top of your rib cage. There are four movements that your shoulder girdle can perform -- elevation, depression, protraction and depression. Each movement is controlled by different muscles and each movement can be strengthened with some specific exercises.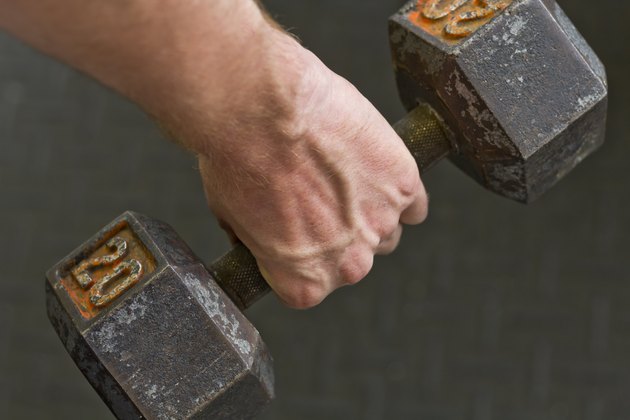 Elevation
Elevation describes the movement of shrugging your shoulders which uses your upper trapezius muscles. To strengthen this function of your shoulder girdle, try performing dumbbell shoulder shrugs. Stand with your feet shoulder-width apart and hold a dumbbell in each hand with your arms hanging down by your sides. Without bending your elbows, lift your shoulders up to your ears. Hold this top position for a second or two before lowering your shoulders back down and repeating. There is no need to rotate your shoulders backwards when performing this exercise. This common practice does nothing for the muscles that elevate your shoulders but may increase the wear and tear on the joints of the shoulder girdle.
Depression
Pushing your shoulders down is called depression and uses your lower trapezius muscles. You need to depress your shoulder girdle when pushing yourself out of a chair to stop your shoulders rising involuntarily. To strengthen this function of your shoulder girdle perform high pulley reverse shrugs. Stand sideways to a high pulley and hold a pulley handle in your nearside hand. Straighten your arm and hold it close to your body. Without leaning to the side, bending your knees or moving your arm, allow the weight to push your shoulder up before pushing it back down as if you are trying to slide your hand down your leg. Repeat for the desired number of reps and then switch sides.
Protraction
Protraction describes the action of pushing your shoulders forwards and is the job of your pectoralis minor muscles. Protraction occurs in the last part of a pushup or bench press. To strengthen this shoulder girdle function perform floor shrugs. Lie on your back on the floor. Bend your legs so your feet are flat on the floor and hold a dumbbell in each hand. Hold the dumbbells over your chest with straight arms. Without bending your elbows, push your shoulders forwards and try to reach up towards the ceiling. Hold the most contracted position for one to two seconds before lowering and repeating.
Retraction
Pulling your shoulders back is called retraction and uses your mid-trapezius and rhomboid muscles located in your middle back. Retraction is important for posture. To improve your ability to retract your shoulder girdle, try prone bench shrugs. Lie face down on an exercise bench with your arms hanging down from your shoulders. Take a dumbbell in each hand. Without bending your elbows, pull your shoulder blades back and imagine squeezing them together. Hold your shoulder blades back for one to two seconds before returning to the starting position and repeating.