In order for movement to occur, the muscles, bones, tendons and ligaments must all work together in response to signals from the brain. If there is any disease or condition that interrupts the nerves' signals or if there is any injury to any of these structures, movement can be hindered. To help keep the body healthy and active it is important to understand what tendons, ligaments and muscles are, the role they play in movement and how to prevent injury.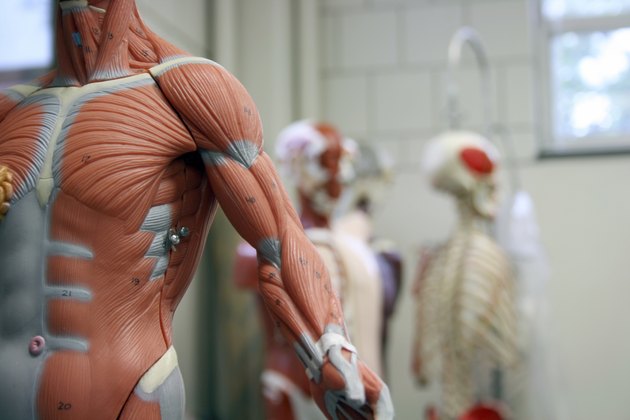 Tendons
Tendons are tough bands of connective tissue found in the joints. They connect muscles to bones. Each muscle has tendons attached at each end. Tendons are designed to only stretch a small amount. Their job is to transmit force between the bones and the muscles. For example, when the biceps muscle on the front top of the arm contracts, the tendon attached to the biceps muscle and elbow bone helps the muscle to pull on the elbow bones so the joint can bend.
Ligaments
Ligaments are made of the same material as tendons. Ligaments connect the bones to each other, and are designed to help stabilize the joints and provide a structure for the bones. Since they have limited stretching ability, they limit how far a joint moves to help protect against injury. As the elbow joint bends, the ligaments stabilize the elbow bones so the arm can move with control.
Muscles
There are three main types of muscles: skeletal muscles, which can be voluntarily controlled, involuntary smooth muscles, such as those that control breathing, digestion and other functions, and involuntary cardiac muscles, which control the function of the heart. Skeletal muscles travel across the length of joints and stretch between the bones. All muscles in the body contract or shorten when they receive nerve signals initiated by the brain.
Considerations
All voluntary movement starts with an electrical impulse in the brain. The brain sends signals via the nervous system that make the appropriate muscles respond. Some muscles contract and shorten, other muscles relax and still others stabilize the movement. As a muscle contracts, the force travels through the muscle and out through the tendon, which tightens and pulls on the bones that need to move.
Injuries
Muscles, tendons and ligaments can all suffer injuries as the result of a direct blow or or from overuse. Ligaments can be overstretched; this is called a strain. A strain can involve just partial tears to the ligament or a compete tear. Muscle and tendon injuries are called sprains and occur when they are overworked or stretched too far. A strain can be either a partial or full tear. These injuries are common in high-intensity sports and require treatment to avoid chronic problems. Tendons, ligaments and muscles can all be stretched and strengthened to help avoid injuries.