Of the several types of elder or elderberry tree, the one people typically use as an herbal health remedy is Sambucus nigra, commonly known as European elder or black elderberry. Elderberry flowers and berries are the primary parts of the plant traditionally used in herbal remedies to heal flu, colds, fever, sinus infection and constipation. Elderberry causes few side effects when used in recommended dosages for five days or less, according to the University of Maryland Medical Center.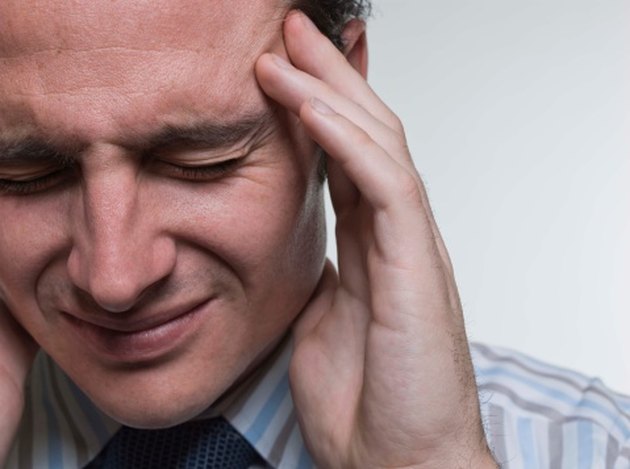 Toxic Effects
Black elderberry can be toxic because it contains a chemical related to cyanide. The leaves, seeds and bark of this tree may cause poisonous effects if consumed, and so can eating elderberries that are unripe or not cooked thoroughly. Ingesting any of these substances can lead to gastrointestinal effects including abdominal cramps, nausea, vomiting and severe diarrhea, as explained by the U.S. National Institutes of Health. Other possible toxic effects include dizziness, headache, weakness, rapid heart rate and seizures.
Diuretic Effects
Elderberry supplements may increase urination because the flower has diuretic effects, according to the National Center for Complementary and Alternative Medicine. Diuretics help eliminate excess fluid from the body. The NCCAM recommends that people taking diuretic medications should be cautious about taking elderberry supplements. Additionally, because elder may have laxative effects, people should not take elderberry along with laxative products.
Blood Sugar Effects
Elder may decrease blood sugar levels, and the National Institutes of Health advises people taking medications such as metformin or insulin to regulate blood sugar to be cautious about using elderberry supplements. Taking elderberry along with these medications may increase the risk of developing low blood sugar, a condition known as hypoglycemia.
Allergic Reaction
As with any herbal remedy, some people may experience an allergic reaction to black elderberry, especially from the fresh elder stems, according to the National Institutes of Health. Signs include a rash or difficulty breathing. An allergic reaction to black elderberry should be considered a medical emergency.
Considerations for Women
Elderberry has a theoretical risk of causing birth defects, miscarriage or premature labor. The National Institutes of Health cautions pregnant and breastfeeding women not to use elderberry.