The body relies on proper nutrition to function. Sometimes loss of appetite, disease, medication, dieting or an eating disorder has a negative effect on your food intake. Without food, your body does not have enough energy and nutrition to carry on the functions necessary to sustain health, and over time your body will deteriorate and eventually shut down.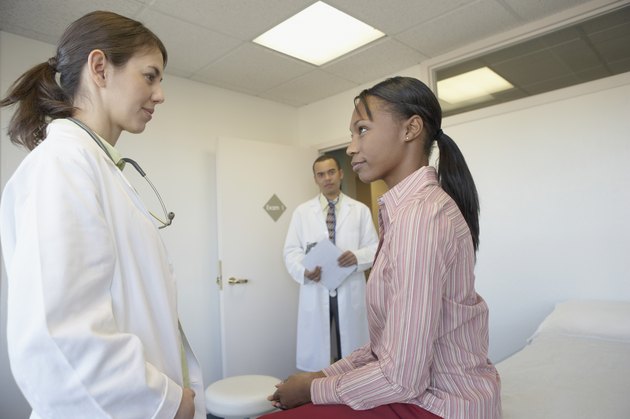 Weight Loss
Calories are a measurement of energy and your body needs a certain number of them each day to perform basic functions. When the calories your body needs exceed the calories being consumed, weight loss occurs. Not eating for an extended period of time causes extreme and unhealthy weight loss. According to the Centers for Disease Control and Prevention, a body mass index below 18.5 is considered underweight. Being underweight poses health risks associated with a weakened immune system. Amenorrhea, or absence of menstruation can occur if you are underweight. According to the book, Cognitive Behavior and Eating Disorders, excessively low body weight interrupts many hormonal functions, potentially causing infertility.
Hypoglycemia
Hypoglycemia, or low blood sugar, occurs when glucose levels in your body decrease. Foods like pasta, fruit and rice contain the most glucose. Your body stores glucose in the liver. Not eating causes the body to deplete these stores from the liver, resulting in hypoglycemia. Dizziness, headaches and fainting are all symptoms of hypoglycemia.
VItamin Deficiencies
Vitamins absorbed from food prevent disease, support growth and development, and support organ function. Vitamin deficiencies are a dangerous side effect of not eating. Vitamin A, found in spinach, carrots and milk supports tyour immune system and vision. Without a sufficient intake of vitamin A, your body's immune system will weaken. According to the National Institutes of Health, night blindness is one of the first signs of a vitamin A deficiency. The B--vitamins play an integral role in numerous bodily functions. According to the American Cancer Society, deficiency of certain B--vitamins can cause anemia, depression, respiratory infections and poor growth in children. Calcium and phosphorous levels are regulated by vitamin D, and deficiencies may contribute to osteoporosis and high blood pressure.
Electrolyte Deficiencies
Electrolytes deplete as your body starves. Hypokalemia, or low potassium, can cause heart dysrhythmias and muscle spasms. A lack of calcium can also cause heart problems and tingling on your face and extremities. Bone mass will eventually decrease. Confusion and muscles weakness are common symptoms of hyponatremia, or low sodium. All electrolyte deficiencies can be life threatening if left untreated.