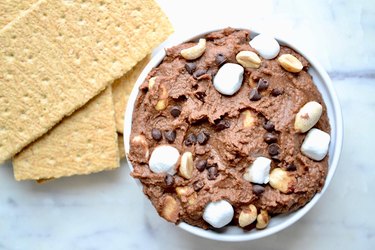 You may have heard that there is a new dessert in town — one based on a savory Middle Eastern dip. Yep, dessert hummus is officially a thing. And while it might not sound immediately appetizing, let these 11 recipes (with accompanying drool-inducing photos) convince you otherwise.
Basically, you start with chickpeas — the basis for any authentic hummus — and add sweet ingredients like cocoa powder, banana, raisins and cherries to create a deliciously sweet treat with some added protein. Then you can get creative with your dippers. Strawberries, graham crackers, pretzels, apple slices — you name it!
1. Caramelized Banana Dessert Hummus
Because the natural sugars in bananas increase as they ripen, they're the secret ingredient to keeping the added sugar in this recipe to a minimum. There are two parts to making this dessert work: keeping the hummus smooth and creamy and the banana topping warm and buttery. The whipped-cream topping accentuates the entire dip and is a great lower-calorie substitute for the ice cream you would find in some traditional bananas Foster recipes. Each serving will give you 142 calories with four grams of protein and four grams of fiber. Bananas never tasted so good!
2. Chocolate Dessert Hummus
Give in to your chocolate cravings with chocolate dessert hummus. Often thought of as the starter dessert hummus, this is the easiest and simplest way to make a dessert hummus that will please everyone. Each serving is 100 calories and dishes out four grams of fiber and four grams of protein. Strawberries, orange slices and bananas are the perfect dipping companions, making this a creative way to get more fruit in your diet. Use this recipe as a blank canvas to add additional flavors like almonds, peanuts or cashews, or experiment with different flavor extracts like mint or orange.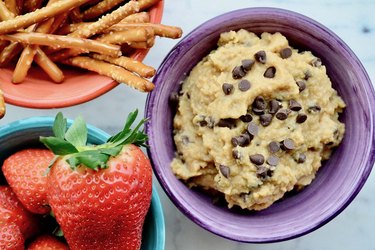 Eat it by the spoonful or scoop it up on an apple slice. Chocolate-chip cookie dough hummus might just become your favorite way to get more fiber and protein in your diet. This has many of the delicious ingredients of cookie dough without the butter, eggs or flour.
Mini chocolate chips give chocolate flavor in every bite, but you can use carob chips and nondairy milk for a vegan alternative. Each serving provides 148 calories, four grams of fiber and four grams of protein. It tastes even better after being chilled in the refrigerator, so make a batch and grab it as a snack for the next few days.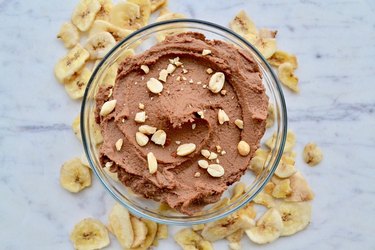 4. Chocolate Peanut Butter Fudge Dessert Hummus
Peanut butter fudge dessert hummus is so thick that you'll think you're eating the real deal! Use natural peanut butter and unsweetened cocoa powder to keep the added sugar under control. One serving of this "fudge" will give you seven grams of protein and four grams of dietary fiber. Eat it as a dip with unsweetened banana chips or roll it into bite-size balls and keep in the fridge. Throw in some chopped peanuts or carob chips for an added crunch.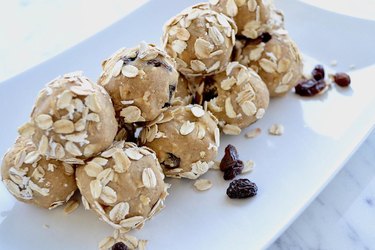 Who doesn't love an energy bite? Oatmeal raisin cookie dessert hummus balls pack all of the energy into a bite-size morsel. Made with nutritious and fiber-filled chickpeas and oats, each energy bite is only 60 calories and delivers two grams of protein and two grams of fiber. This can be made into a dip by adding more liquid while blending. If you don't like raisins, try substituting dried cranberries or cherries. If dried fruit is not in your diet, chopped pecans or walnuts would also be delicious. Roll them out smaller to feed a crowd.
6. Black Forest Cake Dessert Hummus
The flavor of Black Forest cake shines through in this creamy and velvety dessert hummus. Cocoa powder and cherries give it a deep chocolate color. Chickpeas and cherries provide four grams of dietary fiber per serving and help contribute to the recommended daily amount of 25 to 38 grams.
For only 117 calories per serving, this dessert also has four grams of healthy plant protein. Some extra cherries on top will give you even more intense sweet and tangy flavor. To add traditional Black Forest cake flavor, spoon on some fresh unsweetened whipped cream. Give yourself permission to eat dessert again.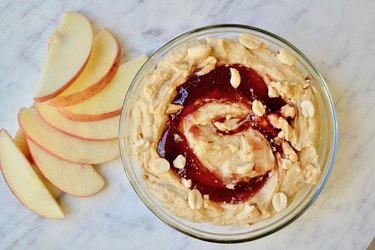 7. Peanut Butter and Jelly Dessert Hummus
Peanut butter and jelly is the perfect duo for any dessert. Use natural peanut butter to control the amount of added sugar in this delicious dessert hummus. Flexibility of ingredients is a bonus to this recipe. Choose your favorite flavor of jam or substitute a different nut butter. Add chopped nuts for crunch or diced fresh fruit on the top for extra nutrition. With seven grams of protein and four grams of fiber per serving, this is the new-and-improved way to eat PB&J.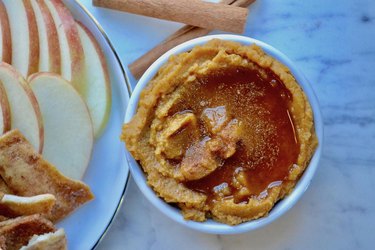 8. Pumpkin Pie Dessert Hummus
You're entitled to pumpkin pie any day of the year with this dessert hummus. Traditional pumpkin pie spices are the key to the decadent taste of this healthy dessert. The pumpkin puree adds intense flavor and allows for minimal added sugar. Blended until smooth, the consistency of this hummus mimics the full-fat version of your favorite Thanksgiving pie. Scoop up 25 percent of your daily amount of vitamin A, four grams of fiber, four grams of protein and only 93 calories per serving. Choose apple slices to keep calories low, or splurge with pita chips.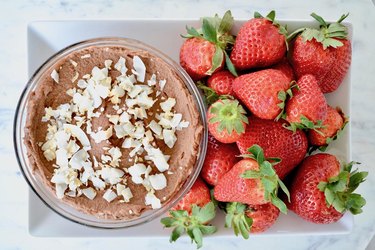 9. Chocolate Coconut Dessert Hummus
Coconut lovers, unite! This dessert hummus is a much healthier alternative to a chocolate coconut cream pie. Pure coconut flavor shines through in layers with coconut extract, coconut oil, coconut milk and, finally, toasted coconut on top.
Use unsweetened coconut milk, coconut flakes and cocoa powder to keep the added sugar low. The addition of almond butter smooths out the hummus and creates a neutral flavor to balance the chickpeas and the coconut. Serve with fresh strawberries or banana slices for a nutritious dessert. And keep in mind that this is best served at room temperature.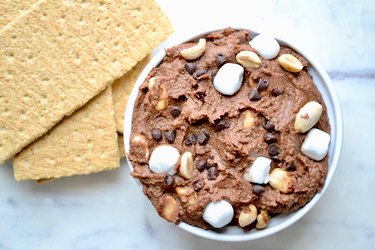 10. Rocky Road Dessert Hummus
Take a trip down memory lane with the classic combination of chocolate, peanuts and marshmallows. Rocky road is an all-time favorite dessert flavor, and there's no surprise why it's delicious. Almond butter gives it creaminess, and unsweetened cocoa powder adds a chocolaty flavor without added sugar.
Use mini marshmallows, chopped peanuts and mini chocolate chips to ensure rocky road flavor in each bite. Impress your friends with a healthy and fun dessert for 167 calories, five grams of protein and four grams of fiber per serving.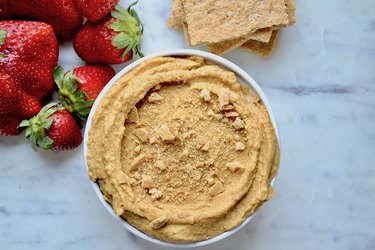 11. Cinnamon Pumpkin Cheesecake Dessert Hummus
Craving cheesecake, but not all the calories that come with it? Cheesecake dessert hummus will have your taste buds completely confused — but delighted. The resemblance in taste and texture to no-bake cheesecake is uncanny. Beta carotene-rich pumpkin puree is a nutrition powerhouse, good for your eyes and skin.
Low-fat cream cheese cuts the calories to only 102 calories per serving. The chickpeas are a fiber booster and provide three grams of dietary fiber and four grams of protein per serving. This dessert hummus is a must for your next family gathering or holiday meal. Spoon into individual cups with fresh unsweetened whipped cream for a real treat. Healthy cheesecake never tasted so good!