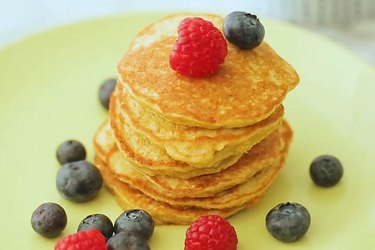 There are few things better than waking up on Sunday morning and downing a stack of pancakes. The only problem is that most pancake recipes are loaded with calories, sugar, carbs and saturated fat. Fortunately for you, this four-ingredient banana pancake recipe defies the "pancakes-are-bad-for-you" stereotype.
You're probably asking yourself, "How are they delicious if they're not filled with oil and sugar?" Bananas are the secret to making low-fat baked goods tender and moist, and they also add natural sweetness.
At just 40 calories per pancake, you can treat yourself to a stack of five of these and still have a breakfast that comes in at 200 calories, 11 grams of natural sugar, 26 grams of carbohydrates and only six grams of fat.
If you need more reasons to run make these pancakes pronto, know that they're fiber-rich and heart-healthy, thanks to the addition of instant oats. Meanwhile, the eggs in the batter not only provide richness, but also much-needed early-morning protein.