Starting to exercise after a long break, or maybe for the first time ever, is one of the best ways to immediately improve your well-being. Need proof? Fidelity Investments asked 9,000 people to tell them how different life events impacted them over the last year, and found that beginning to exercise regularly had the second greatest positive impact on their well-being, behind paying off their debt.
And you know all about the other benefits that come with hitting the gym: It boosts your mood, improves longevity and heart health, reduces your risk of chronic diseases, and helps with weight management.
But signing up for a gym membership is only the beginning of this challenging (and exciting) journey. Next, it's up to you to decide how to move forward. Do you want to learn how to weight train? Are you more comfortable working out from home? Will you focus on burning fat or gaining muscle?
To make things easier, we asked a few top trainers to recommend their favorite fitness books for beginners. Whatever your goals are, you'll find the information you need to get lean, shredded or simply happier in the pages of one of these books.
1. "Cross-Training for Dummies," by Tony Ryan and Martica Heaner
Beverly Hills-based trainer and author of "G-Force: The Ultimate Guide to Your Best Body Ever," Gunnar Peterson has sculpted some of the most memorable bodies in professional sports and Hollywood, including Jennifer Lopez, Sylvester Stallone and the Kardashians.
As a coach who emphasizes functional strength training, Peterson tells LIVESTRONG.COM that one of his favorite fitness books is "Cross-Training for Dummies" by Tony Ryan and Martica Heaner.
Cross-training involves incorporating a variety of exercises into your fitness program to balance your body, whether that means pairing cycling with pilates, running with yoga or weight-lifting with Tai Chi. With "Cross-Training for Dummies," you can assess your fitness level to avoid plateaus, set personalized goals and learn how to integrate new workouts into your routine.
2. "Becoming a Supple Leopard: The Ultimate Guide to Resolving Pain, Preventing Injury, and Optimizing Athletic Performance," by Kelly Starrett
With hundreds of photos that demonstrate exactly how to perform popular exercises and correct common errors, Dr. Starrett's book teaches you how to improve your mobility, reduce muscle pain and boost recovery all while protecting your joints and spine.
"I love Supple Leopard for how to troubleshoot your own body with mobility and deep muscle release with step by step how-tos," Borden, who herself co-authored a book titled "Your Perfect Fit," tells LIVESTRONG.COM.
3. "Lift to Get Lean," by Holly Perkins
The secret's out: Strength-training doesn't make women bulky, it helps them tone their bodies, sculpt curves and torch calories. In "Lift to Get Lean," certified strength and conditioning specialist Holly Perkins offers four 90-day training programs that wll tone your arms and legs and build sexy curves.
"Strength training is absolutely critical for optimal health, and I wrote this book for women to feel confident and empowered in the gym," Perkins tells LIVESTRONG.COM.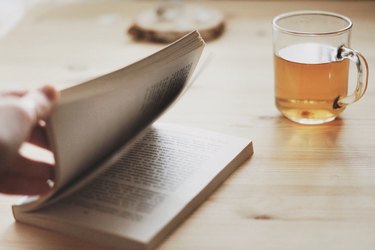 4. "Strong: Nine Workout Programs for Women to Burn Fat," by Lou Schuler and Alwyn Cosgrove
If scrolling through dozens of videos on Instagram to find a strength-training routine isn't for you, check out "Strong: Nine Workout Programs for Women to Burn Fat" by Lou Schuler and Alwyn Cosgrove.
"Schuler and Cosgrove are the sanest, most balanced voices in the field," Los Angeles-based fitness coach and co-author of "The Exercise Cure: A Doctor's All-Natural, No-Pill Prescription for Better Health and Longer Life" Andrew Heffernan tells LIVESTRONG.COM.
"Schuler has written dozens of fitness books and has a humorous, easy style that's completely disarming. Cosgrove, who runs one of the most successful gyms in the world in Santa Clarita, CA, writes programming that is solid — challenging and effective, but not all-consuming."
In "Strong," Schuler and Cosgrove present research in an accessible style and detail over 100 exercises. "The sections on eating are equally sane and balanced," Heffernan says. "In a sea of image-focused, celebrity-driven fitness information, their work stands out."
5. "Bigger Leaner Stronger," by Michael Matthews
This best-selling book is a guide for men of any age on how to build muscle and shed fat without spending hours at the gym or going on a crash diet. In "Bigger Leaner Stronger," Michael Matthews, creator of Muscle for Life, takes a scientific approach toward muscle gain, debunking myths about fitness and advocating for heavy lifting and flexible dieting. Its companion, "Thinner Leaner Stronger," is a guide for women on how to sculpt lean muscle and lose fat without feeling exhausted or deprived.
6. "The 4-Hour Body," by Timothy Ferriss
If you have a passion for efficiency that translates into everything from the way you sleep to the way you work out, "The 4-Hour Body" might be the book for you. New York Times bestselling author of "The 4-Hour Workweek" Timothy Ferriss used himself as a guinea pig to find the best ways to get immediate results. Though Ferriss' approach may not be for everyone, especially if you're just getting started, it's a thought-provoking read on how a few small changes can produce big results.
Ready to become a fitness expert? It's time to grab a beverage, take a seat and immerse yourself in these reads. We hope you enjoy!