According to the Celiac Disease Foundation, as many as 1 in 100 people suffer from celiac disease worldwide, an autoimmune disorder that attacks the small intestine when even the tiniest amount of gluten is ingested. It can make navigating the world, especially one filled with desserts and baked goods, a dietary nightmare.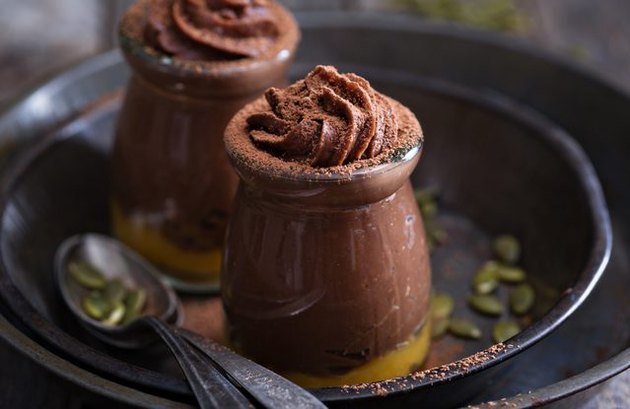 Marilyn G. Geller, CEO of the Celiac Disease Foundation, says her mission is to help people suffering from this disease navigate and find food to eat safely. And if you are going to eat dessert? "By all means enjoy it, just make sure it doesn't have gluten in it," she says.
What Is Celiac Disease?
When someone with celiac disease eats something that contains gluten, the body's immune system attacks the small intestine. According to the Celiac Disease Foundation, "These attacks lead to damage on the villi, small fingerlike projections that line the small intestine, that promote nutrient absorption. When the villi get damaged, nutrients cannot be absorbed properly into the body."
Left untreated, this can lead to long-term complications.
What is Gluten?
Gluten is an umbrella term for proteins found in wheat, rye and barley, according to the Celiac Disease Foundation, and it's what helps foods bind together and maintain their shape. What makes it so difficult to avoid is that it's found in lots of foods, even foods one wouldn't expect. And even if something is labeled 100-percent gluten-free, it's critical to read the ingredients. On the website glutenfreewatchdog.org, you can see there have been a number of mislabeled products on the market.
What are the Best Desserts To Make Gluten Free?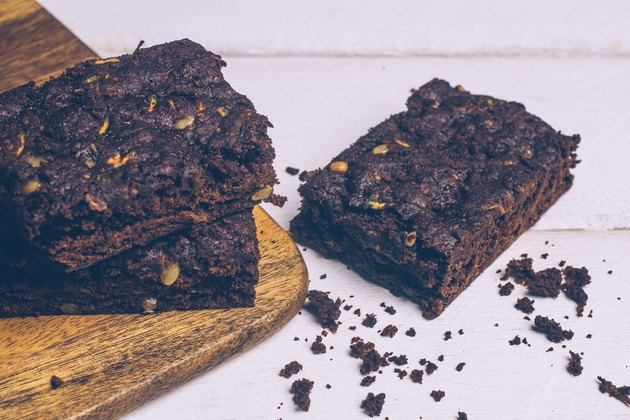 Geller suggests focusing on naturally gluten-free desserts that do not normally contain gluten like creme brûlée, flan or flourless chocolate cakes and brownies. That way, you can avoid the whole issue. And Peveteaux couldn't agree more. "Make it easy on yourself and avoid substitutions altogether by going with ice cream, pudding, flourless cake and the like," she says.
What's the Best Way To Convert Non-Gluten-Free Dessert Recipes Into Gluten-Free Ones?
When it comes to baking your own gluten-free desserts, the biggest challenge, Peveteaux says, "Is always going to be the flour substitution. You can only substitute so much gluten-free flour for normal wheat flour before it becomes obvious and incredibly dry." If you are going to convert regular desserts to gluten free, she suggests choosing desserts that have a low flour ratio to other ingredients, like a lemon bar or a tart.
Of course, sometimes the pull of a special dessert is irresistible. Peveteaux says, "If you need a gluten-free flour when you're making a dessert, choose a rice or tapioca-based flour that doesn't have a strong flavor like darker flours such as chickpea."
Ready to have your cake and eat it too? Scroll below for some of our favorite, indulgent, gluten-free dessert recipes.
Gluten-Free Ice Cream Protein Sandwiches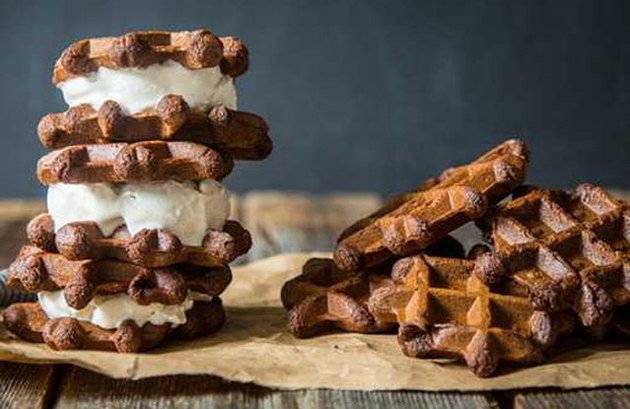 While ice cream is generally considered "safe" when it comes to eating gluten-free, it's a good idea to get in the habit of reading the ingredient list before eating anything. Of course, if you make your own ice cream, you can guarantee it's gluten-free. The filling for this ice cream sandwich keeps it simple with all-natural ingredients by mixing and freezing bananas with a splash of vanilla.
For the waffles, combine gluten-free flour, chocolate protein powder for an added muscle-building bump, cocoa powder, sugar (you can substitute with coconut palm sugar), baking powder, baking soda and sea salt in a bowl. The result is a thick batter that will stand up to your favorite diner's gluten-laden Belgium waffle dessert, all while maintaining that gluten-free appeal.
Pulse Chocolate Chip Cookies
Gluten-Free Quinoa Chocolate Cupcakes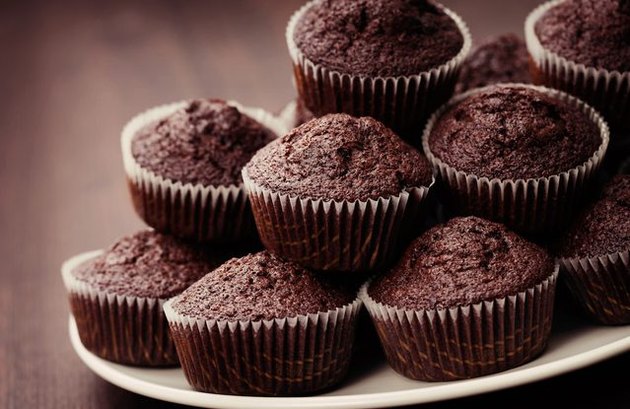 When pressed for a favorite food hack when it comes to making a dessert gluten-free, Peveteaux says, "If I'm jonesing for a big ol' traditional cake, rather than doing my own flour experimenting at home, I use the highest quality of gluten-free flour mix."
"For me, Cup4Cup results in the best tasting dough and I know they have their ratios down. It's foolproof," she says. And her go-to when craving chocolate? "A flourless chocolate cake (it can be easily made, or found in the wild), but if I have to satisfy that chocolate craving super quickly, I'll mix up some pudding."
These cupcakes use quinoa flour in lieu of the usual flour fare to make them gluten-free, although BeyondCeliac.org warns that quinoa is considered high-risk due to cross contamination. Remember to look at the ingredient list and buy quinoa that is "labeled or certified as gluten-free." They also recommend avoiding purchasing "quinoa from bulk bins at the grocery store, since cross-contact can easily occur if other shoppers share scoops between the various bins."
Gluten-Free Breakfast Pizza With Cinnamon Honey Drizzle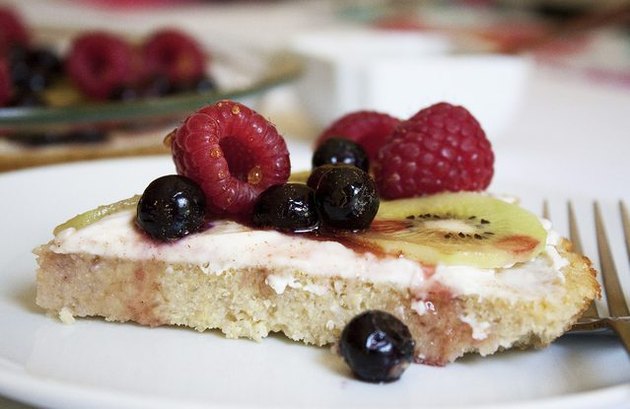 From a weight-loss perspective, Geller reminds us that going gluten-free is not a magical solution. "If I were to cut out bread from my diet, pasta, burritos and eat nothing but fruits, vegetables and protein, then sure I would lose weight. But it's literally the calories in and calories out. It has nothing to do with gluten."
For those that truly suffer from celiac disease, Geller says they often find themselves gaining weight when they follow a gluten-free diet. "Before their diagnosis, their bodies were unable to absorb all of nutrients and calories they were ingesting because of the disease. But once they start following a gluten-free diet, they are now able to absorb more calories."
Warm Sweet Potato Pudding in a Jar
What Foods Should Celiacs Avoid?
The following list is a list of all food products that contain gluten, according to the Celiac Disease Foundation website, and should be avoided when following a gluten-free diet: Wheatberries, durum, emmer, semolina, spelt, farina, farro, graham, KAMUT® khorasan wheat, and einkorn), rye, barley and triticale — a cross between wheat and rye.
Can Celiacs Eat Nutritional Yeast?
According to Geller, if you have celiac disease, it's crucial to read the ingredients list of every product. And while nutritional yeast and baker's yeast are usually gluten-free, it's always better to check that ingredient list to avoid the symptoms and complications of ingesting gluten by accident.
A Final Warning On Purchasing (and Eating) Gluten-Free Desserts
Peveteaux says, "Unless you're walking into a 100-percent gluten-free establishment, you are taking a risk when you indulge in the gluten-free offerings that are surrounded by gluten."
It's important to ask the following questions:
Was the gluten-free food made in the same pan/bowl/pot as the gluten-containing food?
Was the food made with the same mixing or serving utensils?
Was it prepared on a shared surface with gluten ingredients?
At any point in the process did the gluten-free food come into contact with gluten in the kitchen?

"Even if all of the necessary precautions have been taken, if you're in a non-gluten bakery, there is flour everywhere. You're taking a chance by eating there at all," says Peveteaux. Geller agrees, adding, "You have to look at how the bakery is storing the baked goods — a lot of the times they are in the same display cabinet, which is too close for comfort. And watch to make sure the person handling the gluten-free cupcake or cookie swapped their gloves before serving you the gluten-free one, otherwise your cupcake or cookie is contaminated if it touched gluten."
Unfortunately, everyone with celiac disease experiences intestinal damage from gluten ingestion, there is simply, no way around it, says Geller. However, symptoms and severity vary from person to person. "Symptoms and their severity do not correlate with the amount of damage," she says.