Did you know that Walmart, the giant discount superstore that sells everything from socks to shower curtains, is also the largest retail grocer in the United States? According to The New York Times, Walmart makes up 23 percent of the grocery marketplace. And now, with their expansion into home delivery, online order and curbside pickup, those sales are expected to keep growing.
To help our readers shop for the healthiest options, we asked our nutrition and dietician experts to find one or two items they would recommend buying and/or eat themselves. Scroll below for their top, good-for-your-body recommendations that you can pick up at Walmart (in between shopping for some socks and paper towels, of course).
1. Olives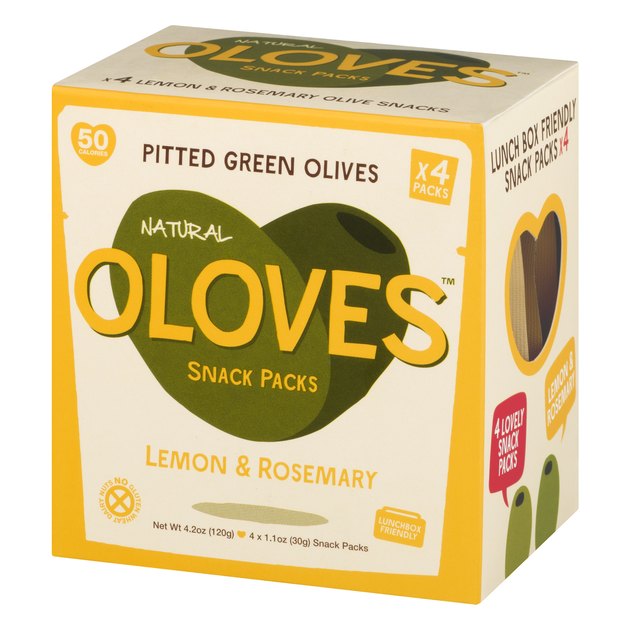 "Olives are an under-the-radar snack," says Samantha Cassetty, MS, RD, nutrition and weight loss expert, "but olives, like extra virgin olive oil, are rich in monounsaturated fats and polyphenols that boost your health."
Cassetty explains that by replacing sugary granola bars or chips for olives, you can tame hunger and support blood sugar and insulin regulation. The benefit of that? "Expect steady energy levels and better hunger management," she says.
2. Organic Great Value Triple Berry Blend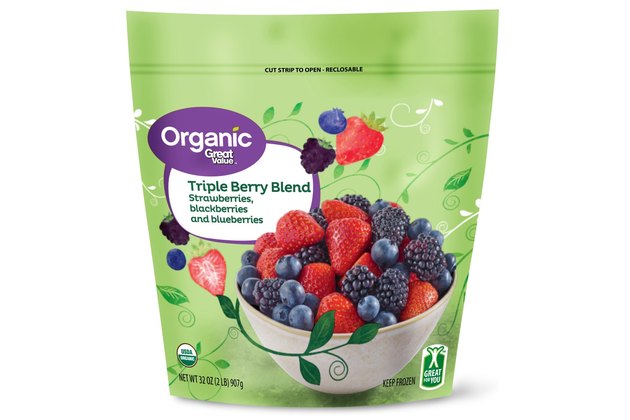 Maggie Moon, MS, RD, and the best-selling author of The MIND Diet, likes the frozen Triple Berry Blend from Organic Great Value because it offers a range of complex polyphenols from the different berries. Moon says, "High polyphenol foods, and berries specifically, are linked to better cognitive function and a reduced risk of Alzheimer's disease."
Moon says The MIND diet includes at least two servings of berries per week. And by having frozen berries on hand, she explains, it means having berries year round that were picked at their peak ripeness and nutritional value.
For a quick brain-boosting breakfast smoothie, Moon recommends blending a frozen banana (these are easier to come by, just let your bananas ripen, then peel and cut into big pieces to freeze), a cup of berries, a cup of almond milk and a scoop of protein powder (serves 2).
3. Biena Chickpea Snacks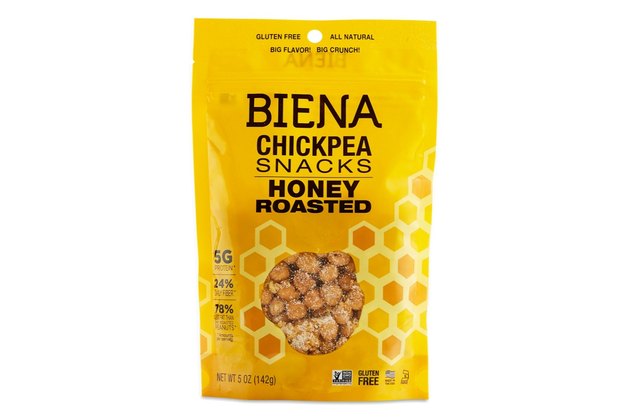 According to Cassetty, roasted chickpeas check a lot of nutritional boxes: "They're gluten-free, grain-free and nut-free, and they supply five grams of plant-based protein and six grams of fiber." She also says that studies show that people who don't consume beans (like chickpeas), compared to those who eat them regularly, have slimmer waist measurements and lower body weights, not to mention more nutritious diets with higher amounts of potassium, magnesium, folate and antioxidants.
What else does she love about it? "This snackable flavor makes it easy to lean into consuming more beans. Plus, it has just four grams of added sugar — the equivalent of a teaspoon — which is very reasonable for a packaged product," Cassetty adds.
4. KIND Nuts & Spice Bar: Dark Chocolate Almond Mint Bar
Jackie Newgent, RDN, culinary nutritionist and author of The All-Natural Diabetes Cookbook, and spokesperson for KIND Snacks couldn't help but recommend their Nut & Spice Bars — especially the Dark Chocolate Almond Mint bar. If you, like Newgent, are a fan of "chocolate-mint anything," she says this is a smart choice when it comes to a grab-n-go snack.
"Nutritionally speaking, each bar provides a double whammy of fiber and protein which makes it satisfying; it's low in sugar — just four grams of added sugar. And it's made with nuts and other real ingredients," she says. Order a box of them online to always have one on hand, Newgent recommends.
5. Wonderful Pistachios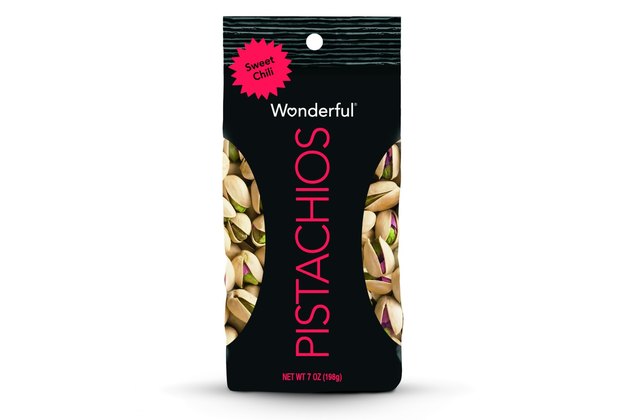 "My favorite item from Walmart," says LeeAnn Smith Weintraub, MPH, Registered Dietitian, "are Wonderful pistachios because they contain protein, fiber, and heart-healthy fats, making them the perfect satisfying snack." She also loves that they come in a variety of flavors like Salt & Pepper and Sweet Chili so they can easily replace greasy potato chips.
6. Kerrygold Pure Irish Butter
7. Pressed by KIND Fruit Bars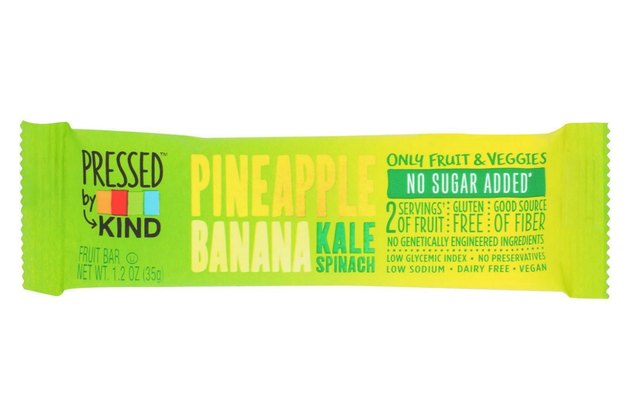 "When I travel or know I won't have quick access to fresh fruit, I love having Pressed by KIND Fruit Bars," says Newgent. The bars are made with fruit along with other real ingredients, like veggies, chocolate, or chia, but Newgent says she especially loves the pineapple-banana-kale-spinach-variety. "They're delightfully sweet with no added sugar, and they contain just fruits and veggies—nothing else."
8. Daiya American-Style Slices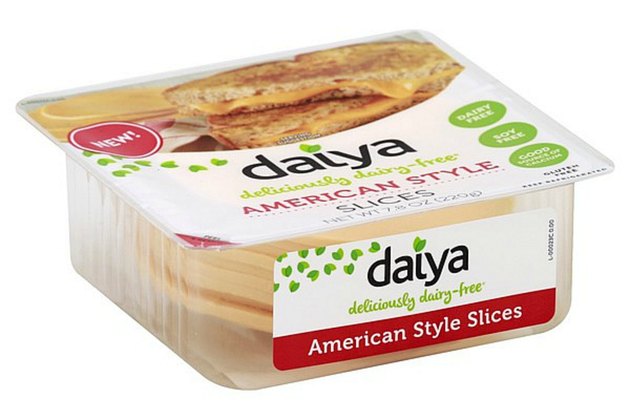 For those looking to eat more plant-based diets, pick up these handy slices says Whitney English, RD. "They melt perfectly into whole-wheat panini sandwiches for a healthy, tasty meal," she says.
Prioritizing plant-based foods over animal-based products was recently found to be beneficial in a number of ways according to data presented by the American Society of Nutrition. In addition to lowering the risk of coronary disease, participants also showed a lower risk for heart disease and diabetes.
9. Barilla Whole Grain Pasta
"Who says a well-balanced, healthy diet can't include pasta?" says Keri Gans, MS, RDN, CDN Nutrition Consultant, Certified Yoga Teacher and author of The Small Change Diet. "Barilla's whole grain rotini pasta contains seven grams of heart-healthy fiber and eights grams of satiating protein," she says.
To keep this pick healthy, Gans recommends sticking to a one-cup serving size with lots of veggies and a lean protein, such as grilled shrimp, for a delicious meal.
10. Marketside Organic Grass-Fed Ground Beef
"Finding grass-fed beef at an affordable price is a good sign that the demand for grass-fed animal proteins is out there. And that cows are being fed the correct diet," says Kaskowitz.
According to Kaskowitz, grass-fed beef has a healthier omega-3 fat profile and means that animal was more likely to have lived a healthier life. "I'd love to see pastured beef at Walmart soon," he adds.
11. Eggland's Best Eggs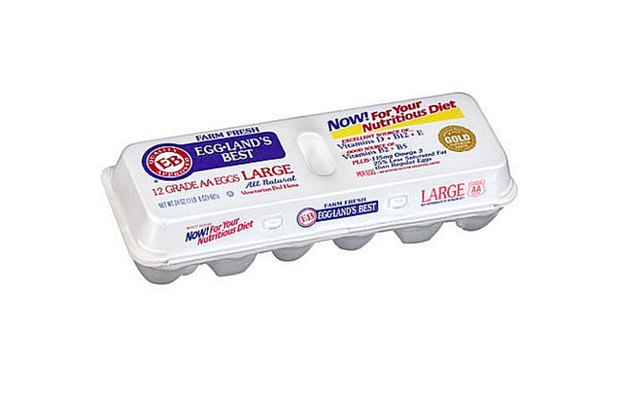 "When looking at the wide variety of eggs on the Walmart shelves, I always recommend looking for an egg that is going to provide added nutrition and value such as Eggland's Best (EB) eggs," says Gans. And while she's a brand partner with EB, she stands behind her recommendation because of their wholesome, all-vegetarian hen feed, and how they are the only eggs that provide six times more vitamin D, double the omega-3s, and 25 percent less saturated fat than ordinary eggs.
If you are looking for an affordable way to provide yourself with good nutrition, Gans recommends stocking your refrigerator with eggs.
12. Daiya Cheddar Style Cheezy Mac
Plant-based dieters don't have to miss out on their favorite childhood mac n' cheese. This ultra-creamy, "cheezy" product is a fantastic stand-in, says English. "I like to serve mine with a side of sautéed broccoli and tempeh bacon for a delicious, balanced, vegan meal."
If you are considering a more plant-based diet, experts recommend starting small. Kimberly Snyder, long-time vegan, nutritionist, and New York Times best-selling author of the Beauty Detox series, recently told Livestrong.com that she has her clients start by making small changes at breakfast and then working their way through the day until they reach dinner.