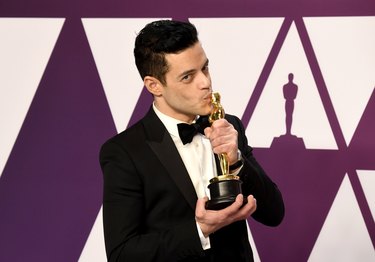 Rami Malek fully embodied Queen rocker Freddie Mercury in the critically acclaimed movie "Bohemian Rhapsody," making it unsurprising he went home with the Best Actor Oscar at the 91st Academy Awards. However, getting into character and channeling the iconic musician was about more than method acting and clever prosthetics for Malek, who made a choice to not only physically transform himself to look like Mercury, but also to perform like him.
"I didn't really want to bulk up, per se — I just wanted to get my body into a place where I could do a 22-minute concert over and over for five days and not be out of breath," he explained in a recent interview with The Wrap. "Well, it's highly impossible to do that. There were days when I found myself laying on my back trying to just absorb as much air as possible."
Because the movie's filming schedule started with Queen's Live Aid performance, when Mercury was in his physical prime, he had to start off buff and then allow the muscles to deteriorate, which he did with the help of a"very specific diet." It wasn't easy, to say the least.
"I bulked up for that first week and immediately had to drop muscle and weight and go into shooting young Freddie, who is very scrawny," he said. "I just had to be really cognizant of when to work out and when to crash diet. I don't recommend it for anyone."
Malek started training in New York with Jay Cardiello, explaining to GQ that the goal was to get his body in shape to "do things that Freddie did day in and day out." "That guy was one flexible dude," he explained. "It was intense training and stretching. Because everyday I was going to have to do take, after take, after take."
Here is everything we know about the diet, exercise and health routine that prepared Rami Malek for his Oscar-winning role:
Diet
In a new interview with People, Cardiello reveals details about the personalized program he developed for Malek, which including putting him on a super strict 3,500-calorie-a-day diet. "We were fueling the body for an anabolic growth state, as we trained the body like an athlete," he explained. Everything he consumed was super healthy, with the bulk of his food consisting of a mix of lean proteins, fish and greens.
Hydration
Cardiello's approach to hydration is pretty intense — he recommends drinking half your body weight in ounces of water every single day. "If you want to perform day in and day out, you have to be hydrated," Cardiello said "People reach for coffee when they're feeling tired, which is no-no. You need to reach for water. Malek was constantly drinking water throughout our workouts. We were creating the habits, so he knew that, 'Hey, if I'm on set, first thing I do is grab some water.' That was very imperative."
Sleep
In order to ensure Malek was ready for training, Cardiello made getting a lot of shut-eye a prerequisite. "If any of my clients don't get sleep the night before, I tell them not to come to the gym the next day," Cardiello maintains. "That's a big thing for me. Sleep sets the hormone level balance in the body. It controls your appetite. People often ask me, 'What's the celebrity diet?' My answer is always, 'Sleep.'"
Setting Intentions and Meditation
While many people don't put meditation and exercise into the same category, unless they are doing yoga or taking a SoulCycle class, Cardiello revealed that he always begins workouts with a meditative part. "I lay out a mental road map with all my clients," Cardiello shares. "Every time Malek came to a workout, I could tell if he was winning the day, because the mind frame that he set into the day. He always had gratitude, and he embodied that in the character." He suggests using the first eight minutes of your morning to "create a personal incantation and give gratitude."
Proprioception Training
Because Malek's role required him to intensely engage physically and mentally simultaneously, Cardiello decided to use proprioception training — a method that attempts to strengthen the loop between the brain and the body's movement — to develop the star's routine.
"Think about having to sing, dance, and staying on key without gasping for air," Cardiello said. "A lot of the work we did was basically training the brain to fire more rapidly in order to make adjustments to the body's position."
Just how does this method work? Cardiello explained that in order to build muscle memory he would often have Malek recite his lines while he was doing an exercise — such as single-leg squats — on an unstable surface.
Unilateral Training
Malek did a lot of unilateral training, focusing on one limb at a time, so that he wouldn't feel of-balance during performances.
"People think it's all about joint stability and core strengthening, which it is, but it's more about the brain telling the body that we have to stabilize under whatever situation we're in," he explained. "When my clients are on the road and away from me, I tell them put a pillow on the ground and do single-leg squats. Or to do push-ups on a mattress. Now you're unstable."
Workouts Based on Freddie Mercury's Movements
Cardiello explained that he did a lot of research, watching hours of video footage of Freddie Mercury on stage and studying his movements. Then, he built them into their workout regimen.
"I based the exercises exactly on how he was moving. Sometimes, we would take a body bar, or the dumbbells and use them as a microphone. Malek would hold the body bar with two hands in a downward position, and do single-leg squats or use it as a press."
He believes this helped Malek get into character with ease when he hit the stage. "Everything you do has to replicate everything you do on stage. There has to be congruency or else the actor is not gonna have a rapport with character that they're trying to fall into."
Congratulations, Rami Malek, for nabbing the Best Actor Oscar! Clearly all of your hard work preparing for the role paid off.