After gaining weight steadily for nine months, you might want to jump right back into your workout regimen after giving birth. However, situps and other abdominal exercises should not be done immediately after pregnancy. Work with your doctor to determine the best time to begin adding abdominal exercise to your postpartum exercise routine.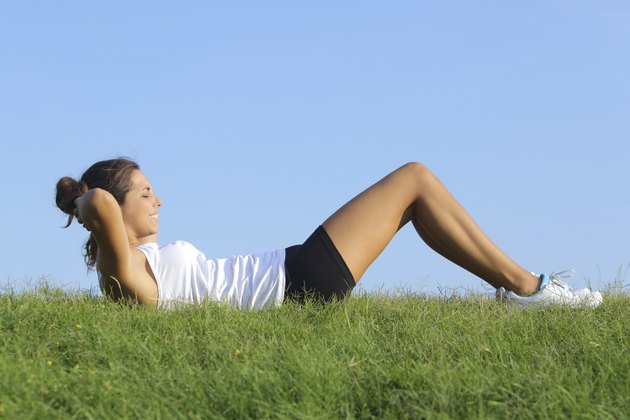 Time Frame
The time frame for exercise after a baby depends on what type of delivery you had. Women who underwent vaginal deliveries can typically begin working out several days after delivery. With a Cesarean section, you may need to wait six to eight weeks before exercising. For abdominal exercises in particular, your doctor may recommend you wait from four to eight weeks.
Significance
Performing abdominal exercises, like situps, can be dangerous if done too early. When you are pregnant, you are likely to have developed a gap in your abdominal muscles. Exercising before the gap closes increases your risk of injury to the abdominal muscles. In the meantime, you can do light walking, Kegel exercises and upper-body and leg stretches.
Prevention/Solution
To check if the gap has closed in your ab muscles, lie flat on your back. Position your left hand above your belly button with your palm facing you. Rest your other hand on your thigh. Draw a breath and slowly exhale. Lift your shoulders off the floor to contract your abs. Measure the length of the gap in your ab muscles with your fingers. If the gap is less than one finger width, you can do situps, BabyCenter advises.
Considerations
The University of Iowa Health Care website recommends modified situps after delivery rather than traditional situps. Your legs should not be straight when doing situps postpartum. Set up by lying flat on your back with your knees bent. Instead of sitting up all the way, lift the shoulders slightly off the floor. Once you feel a contraction in the abs, lower your shoulders down.