Although weak core muscles can strike anyone, diastasis recti — or separated abdominal muscles — typically affect woman who recently had a baby. As the belly expands to accommodate the growing fetus, ab muscles stretch and the connective tissue known as the linea alba thins and separates.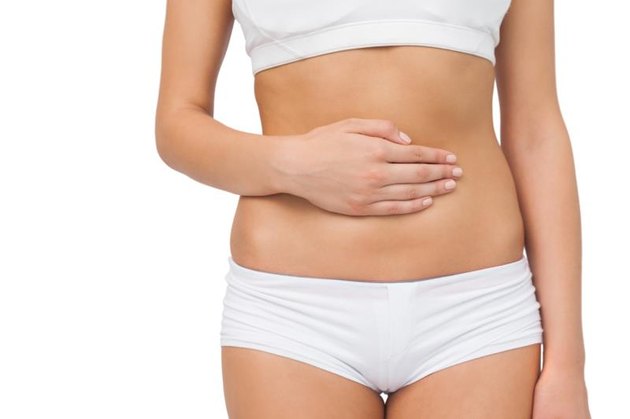 This leads to weak ligaments and joints in the pelvis. Although the gap will naturally close in the four to eight weeks after giving birth, some women need to engage in exercises that helps abdominal muscles return to their pre-pregnancy position.
Checking for Separated Stomach Muscles
If you're not sure if you have separated abdominal muscles, follow these steps to check:
Step 1
Lie on your back with your knees bent and your feet flat on the floor.
Step 2
Place your right hand on your upper right thigh and the fingertips of your left hand just above your belly button.
Step 3
Inhale, and then exhale while you lift your head and shoulders off the floor. Slide your right toward your knee and feel your abdominal muscles tighten.
Step 4
Use your left fingers to feel the width of the gap. If it's less than two fingers wide, you do not have diastasis recti. If it's two to three fingers wide, diastasis is present. If the gap is four to five fingers wide, you might have severe diastasis that requires physical therapy.
Warning
Talk to your obstetrician before assuming any abdominal exercises. You should wait at least four to eight weeks postpartum before starting to exercise again; however, the recovery period will differ for each woman. Listen to your body to determine if you've pushed too hard.
Deep Abdominal Exercise
This simple exercise can be one of the first you do after giving birth — once you have doctor's approval — to start getting your ab muscles back into their proper place.
Step 1
Lie on your back with your knees bent and feet flat on the floor. Relax your back and rib cage.
Step 2
Inhale. On the exhale, contract your belly button toward your spine — but ensure that the spine does not actually move. Place your hand on your stomach to feel the muscles stiffen.
Step 3
Keep the muscles contracted for three to five seconds, while continuing to breathe regularly, and then relax. Work your way up to holding the contraction for 10 seconds and aim for 10 repetitions.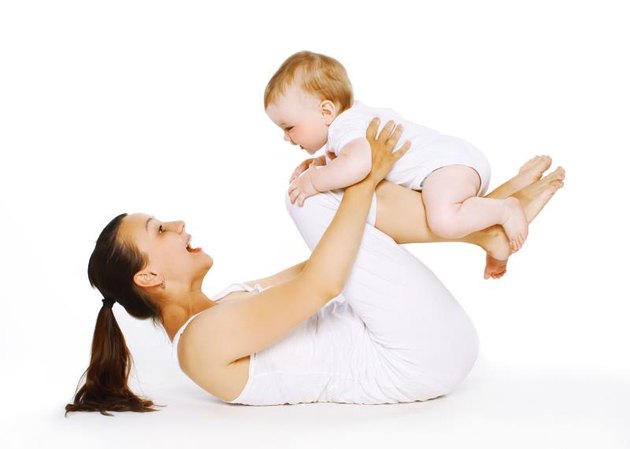 Warning
If you suffer from diastasis recti, avoid any crunches or spinal flexion exercises until the issue is resolved. These types of moves can worsen the diastasis.
Leg Extensions
Once you feel comfortable with the deep abdominal exercise, move to harder exercises, such as leg extension and toe taps.
Step 1
Start in the same position — on your back, knees bent and feet flat on the floor. Place your arms at your sides.
Step 2
On the exhale, raise your right leg so it's in a tabletop position; i.e. so that the shin is parallel to the floor and your knee is in line with your hip.
Step 3
On the inhale, slowly extend your right leg out in front of you, lowering it as close to the floor as possible — without actually touching the floor or arching your back. Exhale and return to the tabletop position, and then bring your foot back down so it's flat on the floor.
Step 4
Repeat the exercise with your left leg. Make your goal to be able to hover your leg 2 to 3 inches above the floor without touching it. Work your way up to five repetitions on each side, done without stopping in between.
Toe Taps
Step 1
Return to the same starting position. On an exhale, bring both your legs up to a tabletop position, engaging your abdominal muscles as you do so.
Tip
If you feel a strain trying to lift both legs at once, raise them up one at a time.
Step 2
While inhaling, lower one foot down to the floor and tap it with your toes. Exhale and return it to the tabletop position. Keep your lower back pressed into the floor.
Step 3
Repeat on the other leg. Work your way up to 10 repetitions on each leg.