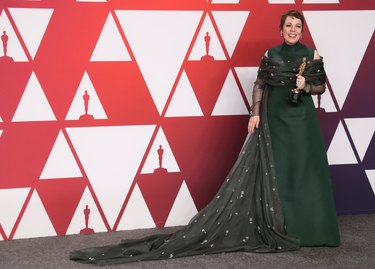 Olivia Colman looked absolutely radiant as she took to the stage to pick up her Oscar for Best Actress at the 91st Academy Awards, and that's because she's learned how to look after herself.
Teaming her pixie haircut and natural makeup with a bespoke Prada gown, the British actress stole the show looking enviable effortless and healthy. What makes the 45-year-old's appearance so much more show-stopping is that she had had to gain 35 pounds to play Queen Anne in 'The Favourite,' and then lose it again.
LIVESTRONG spoke to her personal trainer, Dalton Wong, who revealed Olivia's diet and exercise secrets and even shared one of the Oscar winner's workouts which you can do at home.
Weight Gain and Weight Loss
Olivia enjoyed packing on the pounds for her award-winning role, admitting to the Daily Express that she'd indulged in triple servings and found the experience "quite fun." But shifting the weight afterward wasn't as simple as gaining it. "It goes on so easily," she said. "But, gosh, it doesn't come off as easily!"
To help with the process, she employed the help of Twenty Two Training founder Dalton Wong, who has trained numerous stars including Jennifer Lawrence and Gwendoline Christie.
Colman's Exercise Regimen
"Training with Olivia was not all about losing weight," Dalton says. "It was about making her feel great for an upcoming role in 'The Crown'."
Since exercise hadn't been particularly high on Olivia's list of priorities, Dalton — who says he has been working with the star for over a year — introduced her to to an exercise and eating plan which was completely sustainable.
"Olivia trained at the gym two to three times a week for 45 minutes to an hour followed by her weekly 30 minute therapy session," Dalton tells LIVESTRONG. "The days she couldn't get to the gym she used my mini band program at home."
Her routines with Dalton would vary but always feature a combination of exercises to work the body from head to toe. "Our training would consist of resistance exercises using body weight, weights and cables or bands. Each session had postural exercises and a cardio element — I like to use the VersaClimber at my facility in London."
However, he admits Olivia wasn't so keen on the calorie-burning piece of gym equipment. "She loves my mini-band workout but hates the VersaClimber," he told Harpers Bazaar. "So there's a balance!"
One of the key elements in Olivia's plan was recovery, Dalton told LIVESTRONG. "She had a 30-minute treatment with one of my physical therapist weekly which helped her performance in the gym and also to recover from the training to reduce stress too."
It wasn't just her workouts that Dalton dedicated himself to, it was Olivia's diet, too. "Olivia had a balanced diet that had sufficient amounts of protein, complex carbs, veggies and small amounts of fats," her trainer says. "I don't believe in restricting or eliminating foods unless there is a specific issue. My plan is about a lifestyle and not a diet."
Dalton — who is also the co-author of The Feel Good Plan — encourages his clients like Colman to mix up their breakfasts but to have something like a sauteed vegetable omelette or greek yoghurt with blueberries to kick-start the day.
For lunch, a leafy green salad with grilled chicken or fish, and for dinner, his favorite Asian chicken stir-fry with a rainbow of colored vegetables and fresh chili peppers. Dalton's simple but wholistic approach to Colman's routine is key to helping her actually stick to the plan in the long term.
Olivia can't say enough good things about her trainer and reveals: "Through his workouts, gym therapies and nutritional guidance, Dalton has changed the way I look at fitness and nutrition. He's been an absolute rock to me and helped me change my body shape completely for a new role. He definitely delivers!"
In turn, Dalton has only good things to say about his hard-working client. He tells LIVESTRONG: "She is a great client and the perfect ambassador for me and my gym TwentyTwo Training. My philosophy for all my clients is they need to focus on four aspects: exercise, food, recovery and lifestyle habits. When these four are in balance, then you will be red carpet ready and look amazing like Olivia."
Dalton insists that fitness should be for everyone, not just the rich and famous, which is why he's come up with TwentyTwo Training at home, which includes his mini band set and gliders.
15-Minute Circuit Workout From Dalton Wong
Want to try it for yourself? Here's your 15-minute Oscar workout with mini band and gliders from Dalton Wong:
1. Mini Band Circuit A (2 minutes)
Start in a plank with a glider under each foot. Do each of the following moves for 30 seconds each.
Pull your right knee up toward your chest, and then back out to a plank.
Repeat on your left leg.
Now do it with both knees.
Stand up (off the gliders) and do squats.
2. Mini Band Circuit B (2 minutes)
Loop a mini resistance band around your thighs and do each of the following moves for one minute.
Walk side to side with straight legs (30 seconds to each side)
Walk side to side with knees bent (30 seconds to each side)
3. Glider and Mini Band Circuit (6 minutes)
With a band around your thighs, do reverse lunges to knee raise for two minutes (1 minute on each leg).
Do wide-arm push-ups for 1 minute.
Do curtsy lunges with a slider under your back foot (1 minute on each leg).
Lie on your stomach and do back extensions for one minute (lift arm and legs together, hold, and lower back down).
4. Hips and Core (5 minutes)
Do mountain climbers with feet on gilders for 1 minute.
Place a glider under each foot and do glute bridges with leg extensions for one minute.
Do cross-body mountain climbers with feet on gilders for 1 minute.
Hold a V sit for 1 minute.

Cross-body mountain climbers with feet on gilders for 1 minute.
What are you waiting for, let's get Oscar-worthy fit!