Ice cream, classified by the Food and Drug Administration as containing at least 10-percent milk fat, has been around for nearly two millennia, according to the Farmer's Almanac. But non-dairy ice cream isn't a new phenomenon either.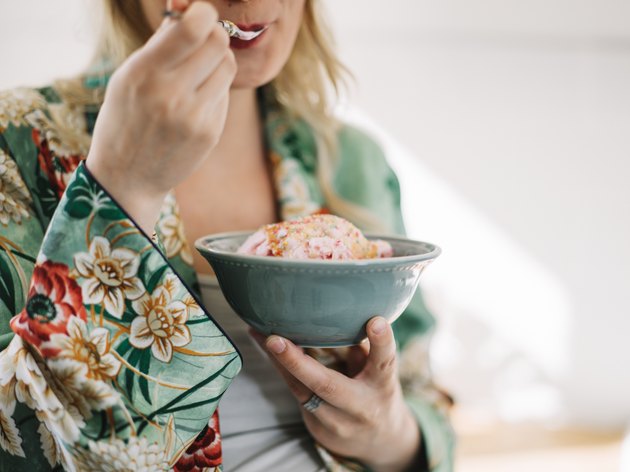 To help navigate the overwhelming amount of non-dairy frozen dessert flavors offered, we did some recon and found the eight tastiest, coconut, almond, oat and soy milk ice creams.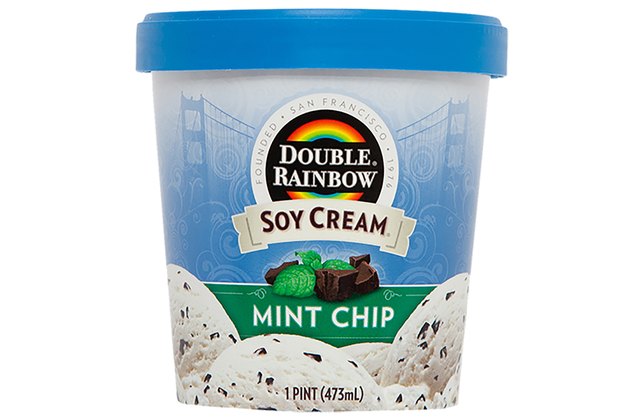 1. Double Rainbow Soy Cream Mint Chip
Getting non-dairy ice cream to taste, well, creamy has always been the number one battle, but not with Soy Cream Mint Chip by Double Rainbow. The base is extraordinarily smooth for not being animal milk-based. It has a satisfying texture and leaves a pleasant mouth-feel without any of the usual gritty aftertaste.
And while mint can be a polarizing flavor, Double Rainbow nails it. The mint compliments the soy cream and doesn't allow the soy flavor overpower the taste. Add the vegan chocolate chips that mellow out the mint, and you have a refreshing treat that's everything you want on a hot summer day.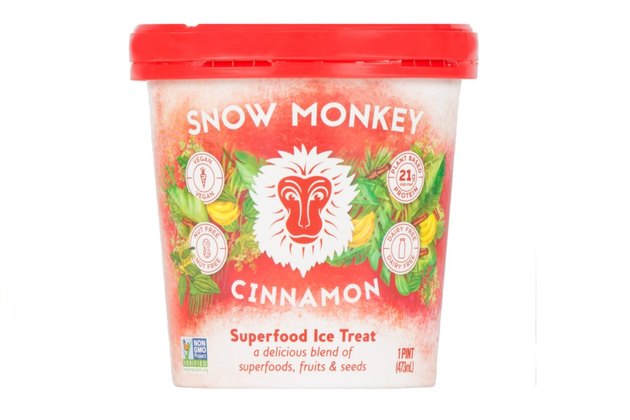 2. Snow Monkey Cinnamon Superfood Ice Treat
This spicy cinnamon vegan ice cream by Snow Monkey uses banana puree as the base and is sweetened with natural sugars like maple syrup and apple puree. That means this decadent treat will only set you back 130 calories. And thanks to added hemp seed protein powder, one serving also provides seven grams of protein.
Cinnamon's medicinal effects have been widely touted since its first use in ancient Egypt. It may reduce blood sugar, cholesterol and triglyceride levels as well as treat digestive disorders and improve circulation.
For those who love cinnamon, this is your jam. But we discovered another way to enjoy this non-dairy treat — scoop this, instead of vanilla ice cream, on top of apple pie. The warm, cinnamon flavor makes the pairing a no-brainer while cutting down on some calories.
3. Nada Moo Marshmallow Stardust
Marshmallow Stardust, one of three new flavors added to Nada Moo's repertoire of non-dairy frozen dessert, to be honest, had us a bit worried. The rainbow sprinkles just seemed, unnatural. But rest assured, all of the ingredients are natural and certified non-GMO. The color comes from purple sweet potato powder. After one taste, you'll want to jump spoon-first into this crazy concoction that tastes one part marshmallow fluff, one part childhood nostalgia.
A little bit goes a long way with this frozen dessert (even though it only has 12 grams of sugar and 170 calories per serving, which is low compared to others). So if you're craving something decadent and sweet without a big commitment, this should be at the top of your shopping list.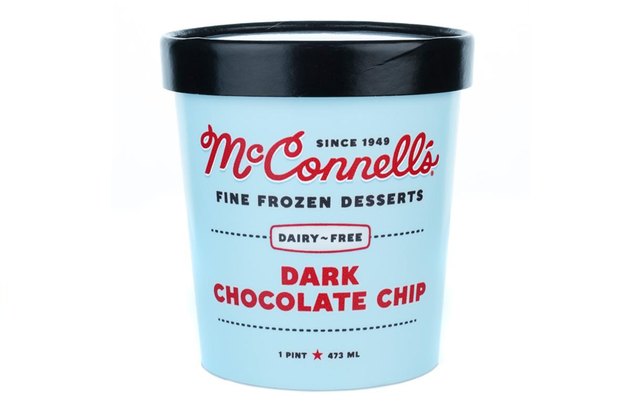 4. McConnell's Dairy-Free Dark Chocolate Chip
According to McConnell's website, this flavor is an "indulgent trio of Guittard dark cocoas, paired with melted, bittersweet chocolate chips and folded into dairy-free, plant-based sweet 'cream.'" Indulgent? Yes. But thanks to the dark cocoa, it's also a mood booster.
This flavor was a winner among kids and adults alike. The dark chocolate chip dairy-free ice cream mouthfeel was lasting and substantial. And because of the variety of chocolates, it was satisfying in taste, texture and finish. The base is made of 100-percent pea protein and is, according to the dessert maker, an industry first.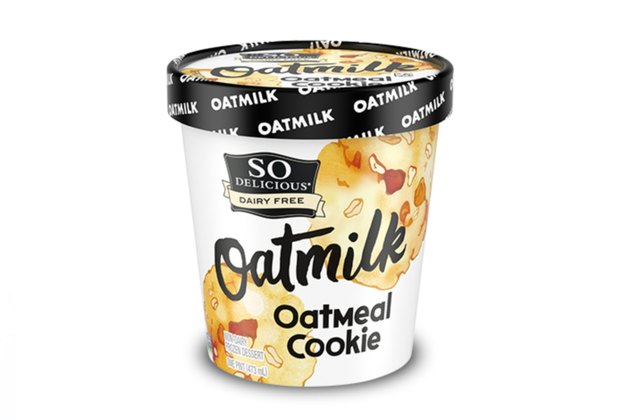 5. So Delicious Oatmilk Oatmeal Cookie
What sets this frozen dessert apart is the oatmeal cookie dough chunks with a hint of cinnamon, sweetened with brown sugar and molasses. The taste is balanced, creamy and is, note for note, the equivalent of just-baked oatmeal cookies in non-dairy ice cream form.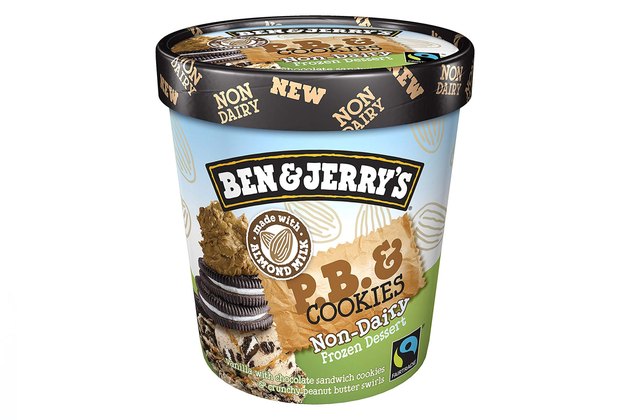 6. Ben & Jerry's P.B. & Cookies
If there's one company that knows how to make ice cream and non-dairy ice cream, it's Ben & Jerry's. They currently have 11 non-dairy flavors, and while we only tried three of them (Coconut Seven-Layer Bar, P.B. & Cookies and Caramel Fudge), we're pretty confident the rest of the flavors will satisfy whatever craving you may have.
What we loved about the P.B. & Cookies, though, is that you'd never guess it was non-dairy. The vanilla base with peanut butter swirl and crunch from the chocolate sandwich cookies is a perfect marriage of flavor and texture. Like a sundae in a cup, even the most hardcore ice cream fanatics will agree that this a perfect argument for switching to non-dairy ice cream.
7. Halo Top Chocolate Almond Crunch
Halo Top is known in the frozen dessert industry as insanely low in calories thanks to using stevia, a sugar replacement that's 200 to 300 times sweeter than regular sugar, as well as erythritol, a sugar alcohol that tastes and acts like a sugar but has no calories.
Currently Halo Top has 17 flavors as part of their vegan and soy-free non-dairy desserts with a variety of flavors from birthday cake and cinnamon roll to our favorite, chocolate almond crunch. The base is coconut milk, and while it doesn't exactly taste like the best ice cream you've ever had, for a 1/2 cup and 70 calories, we'll take this as a go-to option when craving something sweet without wrecking our diet. And honestly, if you ended up eating the whole pint? You'd still only consume 280 calories.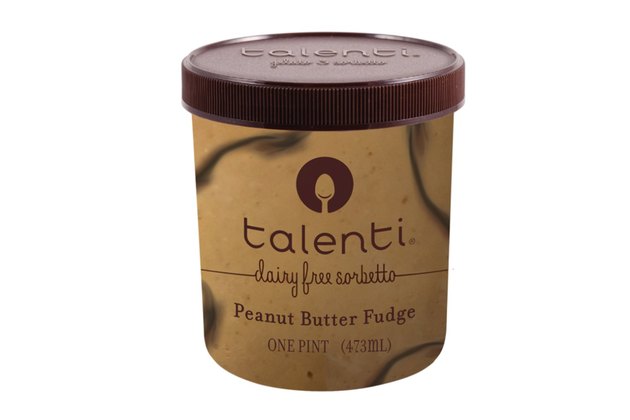 8. Talenti Dairy Free Sorbetto Peanut Butter Fudge
Another contender for how to make non-dairy ice cream as good as dairy-based varieties is Talenti's Peanut Butter Fudge. This "dairy-free sorbetto" with a peanut butter base and a dairy-free chocolate fudge swirl may be high in calories and sugar, but it's such a yummy and decadent treat, that it's absolutely worth the indulgence. You gotta live a little sometimes, right?