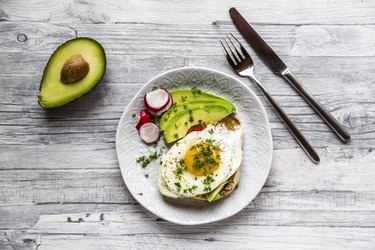 As a Southern California girl, I've always loved fresh avocados. So when the LIVESTRONG team asked if I wanted to host a fresh avocado challenge for our community, my answer was a resounding, "Heck yes!"
So we partnered with Fresh Avocados — Love One Today (because who would know better about avocados?) to bring you a four-week challenge filled with delicious avocado recipes, helpful how-tos and research-based nutrition information, focusing on the benefits of adding more of this delicious fruit to your diet.
How Does This Challenge Work?
For the month of June (technically starting on the first Monday of the month, but there's nothing stopping you from getting a head start!), your mission — should you choose to accept it — is to incorporate fresh avocado into at least one meal a day.
There isn't a set amount you have to eat each day, but it should be more than a single slice and doesn't have to be more than one whole avocado (though it's entirely up to you!). But it's worth noting that the official serving size is a third of a medium avocado, which contains 80 calories, 8 grams of fat and 3 grams of fiber.
That's it! Pretty easy, huh?
The biggest challenge for me was remembering to do it, especially if I'd planned on doing something with avocados for dinner and then our dinner plans changed. So yes, sometimes, I ended up eating a half an avocado as "dessert", but I'm definitely not complaining.
To try to fix that, I started incorporating fresh avocado into my morning smoothie. I'd never tried it before, but I'm totally sold on it now. My smoothies didn't taste noticeably "avocado-y", but they were significantly smoother and creamier. Plus, it added healthy fats that rounded out the existing carbs from fruit and protein from Greek yogurt.
My other go-to strategy — which is my no means limited to this challenge, but more of a way I live my life as an avocado enthusiast — is adding fresh avocado to pretty much everything. Salads, sandwiches, curries, soups, pasta, tacos, burritos, toast, stir-fries, you name it!
On those very, very rare occasions when I didn't have it as part of a dish, I ate it on the side with a little salt and pepper (or the Everything but the Bagel seasoning from Trader Joe's). And when I was eating at a restaurant, you better believe I scanned the menu for items that listed fresh avocado in the ingredients. Otherwise, add it on, please!
What's So Great About Avocados?
Besides being an incredibly creamy, delicious and versatile fruit (see below for recipes), there are plenty of health benefits to avocados, as well.
Heart Health: They're a good source of fiber and contain monounsaturated fatty acids (a.k.a. good fat) and are cholesterol-, sodium- and sugar-free.
Weight Control: They are a good source of fiber and can help keep you fuller longer with fewer calories than lower fiber foods. In fact, a 2019 study published in the journal Nutrients explored how eating fresh avocados may help maintain a healthy body weight.
Type 2 Diabetes Management: A 2013 study published in the Nutrition Journal investigated the effects of how avocados help control blood glucose levels.
Overall Health: Avocados help increase you body's ability to absorb fat-soluble nutrients, such as vitamins A, D, K and E.
Pregnancy, Babies and Kids: Avocados have naturally good fat and can be incorporated into a nutritious diet. Good fats are known to be important for normal growth and development.
But what about the fat and calorie content? Sure, a whole avocado can have close to 250 calories and 24 grams of fat. But when you consider the average mocha contains around 300 calories and 12 grams of fat (not to mention nearly 40 grams of sugar), it helps put things in perspective.
Plus, as mentioned above, the fat in avocados is the naturally good kind of fat, as opposed to the unhealthy fats in many processed and fried foods. And the body needs dietary fat to help with the absorption of nutrients.
How Can I Incorporate More Avocado Into My Diet?
When it comes to avocado recipes or ingredient swaps, the options are nearly limitless. Below are a few of my favorite go-tos for breakfast, lunch, dinner, snack and yes, even dessert!
Breakfast
Avo-Coconut Berry Smoothie: The great thing here is that you don't even need a specific recipe. I usually toss in whatever frozen berries I have along with almond milk, half a fresh avocado, half a banana and a handful of spinach and blend!
Spicy Breakfast Burrito: Again, get creative with your breakfast burrito (or tacos). My favorite easy combo is eggs, fresh avocado, tempeh bacon and salsa.
Lunch
Dinner
Savory Lentil Chili With Cumin Cream: I can meal prep a big pot of this on Sunday, and then enjoy throughout the week (only adding avocado right before I eat it, so it's fresh).
Avocado Pizza: Who doesn't love pizza? And though I love "real pizza" (in moderation), this version makes me feel better about indulging.
Grilled Portobello Cheeseburgers: We just bought a new grill, and this was a perfect recipe to break it in with.
Snack/Side
Dessert
How Do I Join the Avocado Challenge?
We wanted to make joining and participating in this challenge as easy as possible. All you need to do is follow these three steps:
1. Join Our Challenge Facebook Group
If you love avocados and want to learn more about how to incorporate their health benefits into your daily meals, we have just the community for you! The LIVESTRONG.COM Challenge Facebook Group has more than 30,000 members who are more than happy to share in your love of this delicious fruit, as well as help support and encourage you throughout the month (and beyond).
Join for recipes, nutrition news, prep tips, inspiration and answers to your questions, as well as exclusive content you'll only find in the group.
2. Stock Up on Avocados
During your next grocery run, be sure to pick up some fresh avocados at varying levels of ripeness for the week. If you're a meal prepper, take a look at your weekly menu and determine how many you'll need for any of the breakfasts, lunches, dinners and snacks you have planned. If you're more of a "figure it out as you go" kind of person, grab several and get creative with how you use them throughout your week.
3. Post Your Photos, Recipes and Questions
Starting on Monday, June 3, 2019, aim to incorporate some amount of fresh avocado into at least one of your meals, and then post about it in our Facebook group. We want to see all your avocado toasts, salads, sandwiches, smoothies and other creative recipes — and if you have any questions or need meal ideas, the group is the perfect place to ask!