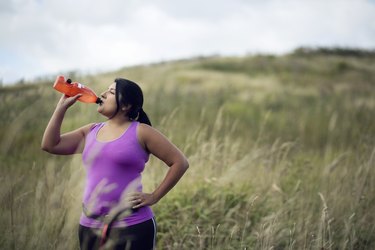 It may seem like weight loss products and programs are everywhere, each one more enticing than the next.
The weight loss and weight management market is fueled by companies like Plexus Worldwide, which sells a variety of weight-loss and wellness products both directly through its website and via direct-sale ambassadors. The company's products range from weight loss drinks, such as Plexus Slim and Plexus Lean, to dietary supplements, children's supplements and skincare items.
What Is the Plexus Diet Supplement?
Plexus offers multiple weight loss supplements. One of the more popular is Plexus Slim, often referred to as "the pink drink." It's a flavored powder that contains five main ingredients: xylooligosaccharides, green coffee bean extract, alpha lipoid acid, garcinia cambogia and chromium polynicotinate. Plexus claims that the product is clinically proven to help you lose weight, increase good gut bacteria, burn more calories and support healthy glucose metabolism. However, Plexus does not provide evidence of any studies indicating this product has been scientifically tested to support these claims.
Another popular product, Plexus Lean, is a whey protein-based meal replacement drink mix that comes in a chocolate or vanilla flavor. There's also a vegetarian option, which contains pea and rice protein. Each also contains prebiotic fiber, digestive enzymes and folate.
How Do the Ingredients Help With Weight Loss?
There are a lot of fancy and complicated words listed among the ingredients for Plexus products. Breaking down each ingredient and comparing it to current research is the gold standard for efficacy when it comes to weight loss products.
‌Plexus Slim Ingredients‌
‌Plexus Lean Ingredients‌
‌Plexus Lean with Whey:‌ Whey is a byproduct of cheese making (the other is the curd), and it is high in protein. The Plexus Lean protein shake is intended to be blended with 8 ounces of non-fat milk to provide 24 grams of protein in total. Whey protein in itself does not aid in weight loss, but it may help keep you full and curb hunger cravings. In addition to the protein, this product contains guar gum for fiber. Guar gum comes from the guar plant and is a common additive in many food products.
‌Plexus Lean Vegetarian:‌ This blend is made with pea and rice protein as well as a myriad of vitamins and minerals to mirror a multivitamin supplement. Pea protein is a high-quality protein source but low in methionine, an essential amino acid. Rice protein contains methionine, so together, they make a complete protein. This product also claims to contain a prebiotic and protease enzyme blend, but no further details on ingredients or amount are available, making it difficult to evaluate.
How Much Does Plexus Cost?
Plexus Slim is going to run you $180 for a month's supply of pink drinks. Each package comes with 30 packets and a recommendation that you consume two packets per day.
Plexus Lean with Whey will cost you $80 per month, assuming that you take one serving per day. The vegetarian formulation, on the other hand, will set you back $106 per month for the same serving amount.
In a nutshell, for healthy adults, drinking Plexus supplements will most likely not harm you. Is it going to help you lose weight? Maybe. All of these products are intended to be used in conjunction with a healthy diet and exercise. If you are adhering to a diet in which whole, nutritious foods are the mainstay and portion sizes are being controlled — and you are exercising regularly — you will most likely lose weight without these products.
A healthy diet full of fruits, vegetables, whole grains and lean protein has been shown to produce long-lasting and healthier weight loss than supplements or other quick-fix solutions. In addition, there are important compounds in whole foods, such as antioxidants, flavonoids and polyphenols that haven't been replicated in supplements.
It is important to note that there is no scientific proof that Plexus products do what they claim. The evidence cited on the company's website is anecdotal, meaning that individuals have reported losing weight while taking the supplements, but there have been no large-scale research studies conducted on the products' efficacy.
You should always speak with your health care provider anytime you want to try a dietary supplement, regardless of its popularity. Anyone sensitive to caffeine should use caution when choosing a Plexus supplement, as many of them contain the stimulant. Also, according to the U.S. National Library of Medicine, those with bleeding disorders, anxiety, glaucoma, high blood pressure or irritable bowel syndrome should not consume green coffee, as it can worsen these conditions. Green coffee may also elevate homocysteine levels, which is associated with heart disease, so use caution if you have a heart condition.
Whey protein, or pea and rice protein for vegans, can be beneficial for those actively involved in a resistance training or weight lifting exercise program. If they cannot obtain all of their protein from whole foods, supplements can be a good choice. Too much whey protein, however, can cause side effects such as headache, nausea, fatigue, bloating, cramps and increased bowel movements.
Children and adolescents are not advised to use Plexus products, unless specifically formulated for them. There is also no information on the safety of Plexus products for those who are pregnant or breastfeeding, so anyone in these categories should speak with a health care provider before adding any weight loss supplements to her diet.