Though summer workouts are a great chance to get outside and enjoy the sunshine, your risk of dehydration rises with the mercury. Drinking lots of water is a good place to start in staying hydrated, but you may need a little more substance after a particularly exhausting workout.
Whether you call them ice pops, freezer pops or the more sophisticated ice lollies, refuel with a refreshing and nourishing DIY frozen treat. Keep in mind that what you put in your post-workout snack (specifically, the ratio of protein and carbs) depends on the type of exercise you're doing. For example, for strength training, you want to refuel with more protein than carbs, and for endurance exercise, more carbs than protein.
Instead of reaching for a sugary sports drink or store-bought ice pops, which can have added sugar even if they contain real fruit, try one of these fun and delicious ice pop recipes I rounded up from fellow dietitians and food bloggers (including one from my own blog!) after your next workout.
1. No Added Sugar Watermelon Strawberry Ice Lollies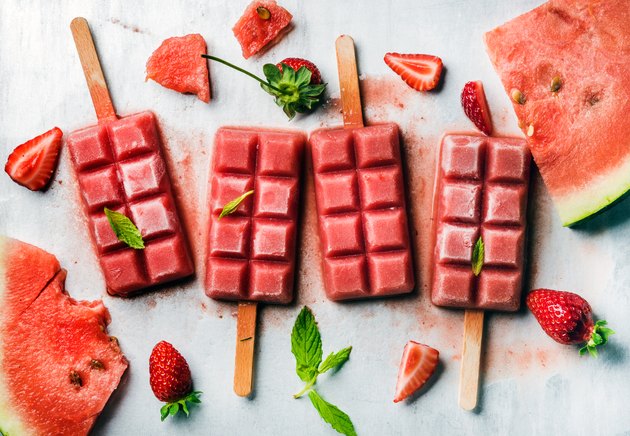 A helpful tool in figuring out post-workout rehydration is to weigh yourself before and after working out. Any decrease you see in the number is water weight loss, not fat loss, so you need to get that water back in your body ASAP.
Staying properly hydrated also keeps your electrolyte balance in check, regulates your body temperature and ensures your heart rate and blood pressure are stable, according to Harvard Medical School.
2. Vegan Blackberry Vanilla Protein Pops
Protein often gets the major push as a mandatory post-exercise nutrient, and for good reason. If you're in any type of sport or strength training program that requires power from your muscles, you need protein in your post-workout snack.
But you don't have to gulp down a chalky protein drink after your workout, though — there's an ice pop for that! Chelsea Jackle, RDN, developed a recipe with six grams of protein, well on your way to the 20 grams recommended by the ISSN. Her Vegan Blackberry Vanilla Protein Pops use almond milk, soy yogurt and vegan protein powder, but if you have a whey protein powder you love, feel free to use that instead.
3. Walnut, Honey, Orange Blossom and Date Greek Yogurt Pops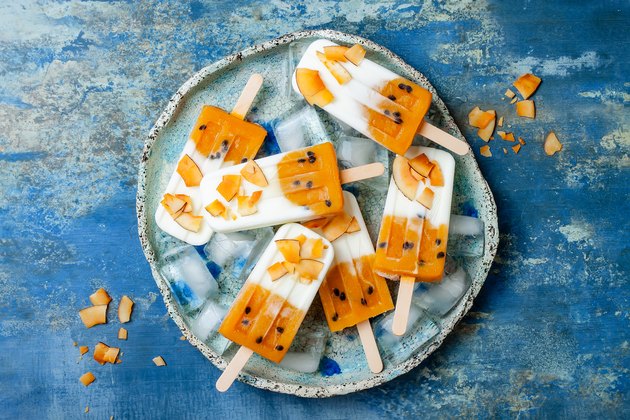 The timing of eating protein after a workout is a subject of great debate — just ask five athletes and you'll get five different answers. While the International Society of Sports Nutrition (ISSN) recommends consuming protein as soon as possible after a workout, they also note that muscles are sensitive to protein up to 24 hours after a resistance workout.
4. Avocado and Lime Popsicles
5. Strawberry, Pear and Lime Ice Pops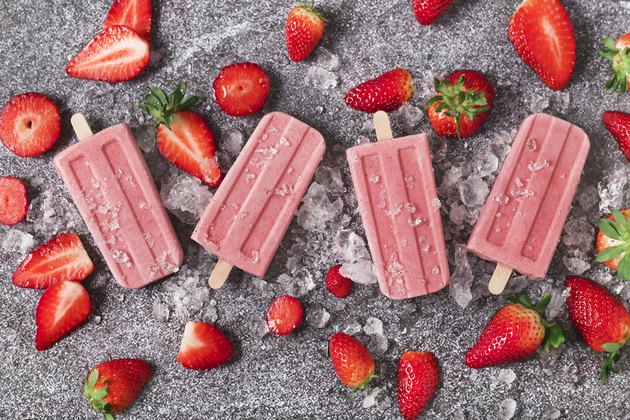 It can be hard to stay consistent with your workouts if you experience inflammation after the fact. Adding berries like strawberries, raspberries or blueberries to your post-workout snack can help fight some of that inflammation that might be aggravating your knees and ankles.
Registered dietitian and The Gut Brain Guy, Doug Cook, loves these Strawberry, Pear and Lime Ice Pops as "a tasty way to get health-promoting phytonutrients," as well as the anti-inflammatory boost of the strawberries and pears. Eat one of these ice pops in addition to your post-workout protein to help fight any inflammation you might be feeling.
7. Cherry and Concord Grape Ice Pops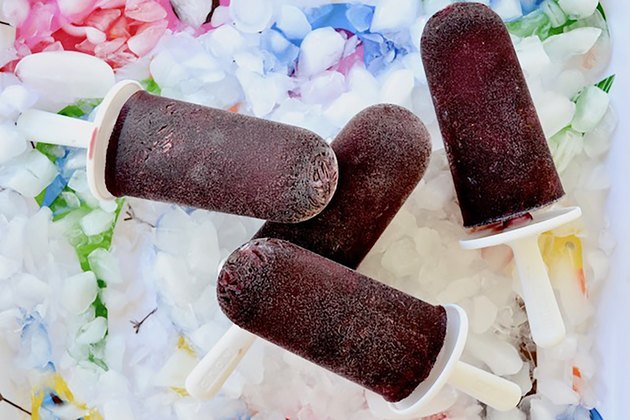 Cherries have been extensively studied for their antioxidant and anti-inflammatory properties. Specifically, a 2018 review published in Nutrients found post-workout muscle pain and soreness was significantly reduced in the majority of studies using cherry supplementation.
Some studies have seen positive results with as little as 16 ounces a day. While that's a little more than you'll get in an ice pop, every little bit helps. To get part of your daily dose of cherry juice, try these no sugar added Cherry and Concord Grape Ice Pops, created by yours truly. Made with 100-percent cherry and concord grape juice, these pops will be a refreshing and antioxidant-rich addition to your post-workout snack.