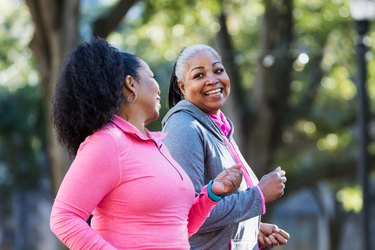 Walking is the most popular aerobic physical activity among Americans, according to the Centers for Disease Control and Prevention. That's a good thing because it not only offers its own set of health benefits, but your walking speed can also be an indicator of how healthy you are.
According to the Mayo Clinic, walking regularly at a brisk pace can:
Help you maintain a healthy weight
Prevent heart disease, high blood pressure and type 2 diabetes
Strengthen your bones and muscles
Improve your mood and your balance
Being able to walk at a quick pace, as opposed to a slower one, indicates that your body is functioning properly, says Naresh Rao, doctor of osteopathic medicine practicing at Sports Medicine at Chelsea in New York City. "If you're walking faster, you have better core musculature, balance and endurance, which can indicate good cardiovascular health," says Rao.
"So it's reasonable to think if you can walk faster, then you're generally in better shape." He also says that, as long as all other factors are equal, faster walkers will likely have less body fat, lower BMIs, more muscle and better balance.
What Your Walking Speed Says About Your Health
Walking can indicate more than just how physically fit you are. Research shows that walking speed might just be a strong predictor of longevity, surgery recovery speed and more.
​Your walking speed might predict your life expectancy.​ Walking speed (also known as gait speed) seems to indicate how long a person will live. "As gait speed declines, risk for mortality increases," says Christina M. Dieli-Conwright, PhD, an assistant professor of research with University of Southern California's Keck School of Medicine.
A June 2019 study published in ​Mayo Clinic Proceedings​ found that walking pace — defined as slow, steady/average or brisk — was the strongest predictor of how long a person would live, with a slow pace being associated with shorter life expectancies. A female slow-walker could expect to live to be between 72 and 85 years old, whereas a brisk-walking woman could live to 87 or 88. For men, the slow walkers' life expectancy ranged from 65 to 81, while the fast walkers lived to be 85 to 87.
​Your walking speed could be a sign of heart health.​ A 2018 study published in the ​British Journal of Sports Medicine​ also explored the link between walking speed and mortality rate and found average walkers (which the researchers defined as walking at a pace of below 20 minutes per mile) had a 20 percent lower risk of dying over the course of the study compared to slow walkers.
Those who walked faster than 18 minutes per mile had a mortality rate that was four percent lower. Interestingly, these results appeared to be linked to lower heart-related deaths among faster walkers, since walking speeds didn't seem to affect cancer rates.
A November 2017 study published in ​European Heart Journal​ also found slow walkers had more heart-related issues. The researchers found slow walkers were twice as likely to die from heart disease compared to faster walkers.
​Faster walking speed could mean fewer hospital visits.​ A June 2019 study published in ​Blood​ assessed nearly 450 patients with blood cancer and found walking speed predicted the survival rates as well as the chances that patients would return to the hospital. Every 0.1 meter per second decrease in walking speed was linked to a higher mortality rate. A slower pace also increased the likelihood the patient would return to the hospital for unplanned visits and emergencies.
​Walking speed has been linked to the health of your brain and body.​ An October 2019 study published in ​JAMA Network Open​ found that "the walking speed of 45-year-olds, particularly their fastest walking speed without running, can be used as a marker of their aging brains and bodies." Those who walked faster had healthier lungs, teeth and immune systems than slower walkers. Plus, slower walkers showed signs of accelerated aging.
How to Determine Your Walking Speed
Curious to know if you qualify as a brisk walker or a slow one? To calculate your walking speed, walk naturally down a hallway or sidewalk and count the number of steps you take in 10 seconds. Multiply that number by six. That will tell you your steps per minute.
A 2018 review of 38 studies published in the ​British Journal of Sports Medicine​ noted the goal pace for people younger than 60 should be greater than 100 steps per minute, or 2.7 miles per hour. That pace isn't particularly strenuous; researchers noted this should be an achievable target for healthy adults. Older adults likely will see similar benefits at a slower pace, but there's no research yet to say exactly what that pace is.
Dieli-Conwright, who has studied exercise's effect on people with cancer, says it's not only about how fast you walk or have always walked but if your walking speed changes. "As soon as individuals start to have a decline in gait speed, it's a strong indicator that they're losing physical function and they're losing overall health," she says. "Even if they're a fast walker and they experience a decline in gait speed, that's going to have an effect on their health outcomes."
Rao also notes that a slow walking speed doesn't necessarily mean you're not fit, but it's a good idea to take your speed as a signal that you need to amp up your exercise routine.
The reverse is also true: Being a fast walker doesn't mean you're in perfect health, and a fast walker could still have high blood pressure. "It's not enough to walk fast," says Rao. "My fear is that people will say, 'I walk fast, therefore I don't need to exercise,' and that's not true.
Rather, consider walking speed ​one​ indicator of your health — but not the only one. "Just like anything, it's only one piece of data," says Rao.