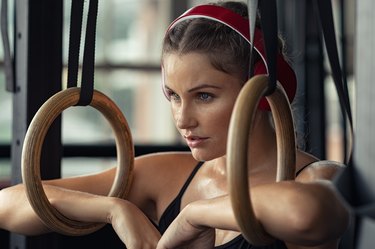 LIVESTRONG.com may earn compensation through affiliate links in this story. Learn more about our affiliate and product review process
here
.
Set the stage for doing AMRAP with the perfect CrossFit workout playlist: Music can motivate you whether you're hitting the local box or just heading downstairs to your home gym.
Because CrossFit workouts often involve a lot of reps, heavy weights or high intensity, the right playlist can keep you pushing hard through every CrossFit exercise, through the final minute of that killer EMOM workout.
Action Star CrossFit Playlist
If you're inspired by the action sequences of the Rock or Lara Croft, this playlist from Joey Daoud, CrossFit coach and creator of online fitness company New Territory Fitness, will have you feeling like the star of your very own action blockbuster.
"A solid CrossFit music playlist should get you amped up and keep the fire going throughout the WOD," he says. "Some people are motivated by lyrics while others are motivated by the beat, but I want to feel like I'm in an action movie." Those are the types of songs you'll find in his playlist: "fast-paced, thumping songs guaranteed to motivate."
"Sometimes" by Miami Horror
"Descended from Myth" by RJD2
"Arcades" by C2C
"Miami Showdown" by Digitalism
"Banshee" by Santigold
"Road to Recovery" by Midnight Juggernauts
"I Can't Stop" by Flux Pavillion
"Baker Shop" by Tha Trickaz
"Inertia" by 20syl
"Higher" by Red Rat
"Stadium Pow Wow" by A Tribe Called Red
"Mutant Brain" by Sam Spiegel (Extended Mix)
"HyperParadise" by Hermitude (Flume Remix)
Beast-Mode CrossFit Playlist
The key to getting through your next CrossFit workout may be selecting songs with a faster beat. A January 2019 ​PeerJ​ study shows that music with a higher BPM (beats per minute) can help prolong your workout intensity.
"I love these songs because they have a high BPM, which naturally keeps you moving," says Tony Carvajal, certified CrossFit L-1 and L-2 trainer with RSP Nutrition. "Most of these tracks have a confident, strong message and help me get into my zone as I push through a hard workout."
"Bring the Pain" by Method Man
"Isis" by Joyner Lucas, Logic
"Jesus Walks" by Kanye West
"Homicide" by Logic, Eminem
"Loco Contigo" by DJ Snake (feat. J Balvin and Tyga)
"Till I Collapse" by Eminem (feat. Nate Dogg)
"Hold Me Back" by Rick Ross
"Crazy Train" by Ozzy Osbourne
"Paranoid" by Black Sabbath
"Power" by Kanye West
"Ni**s in Paris" by Jay Z, Kanye West
"Hustlin" by Rick Ross
Superhero CrossFit Playlist
Elite CrossFit athlete Brooke Ence knows how to stay motivated through a tough workout — at times, her job depended on it. She's appeared in superhero films like ​Wonder Woman​, ​Justice League​ and the CW's ​Black Lightning​, requiring her to push through intense exercise to get ripped for her roles.
Her superpower for training hard? The perfect music. "When I'm training CrossFit, I like the BPM to match the intensity of the workout," she says. "So when I start getting tired, I can lean on my playlist to pick me back up."
"Bass Cannon" by Flux Pavilion
"Stand Off" by MEMBA
"Summer" by Modestep
"Wobble" by Crankdat, Tisoki
"Pour Over" by Vintage Culture
"Fuel" by Metallica
"M.A.A.D City" by Kendrick Lamar
"Humble" by Kendrick Lamar (Skrillex Remix)
"Last Resort" by Papa Roach
"Get Low" by Dillon Francis (feat. DJ Snake)
"Need You" by Dillon Francis
"KIKA" by 6ix9ine
"Truth Hurts" by Lizzo