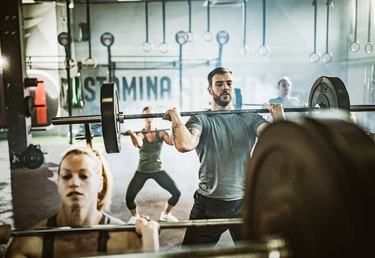 LIVESTRONG.com may earn compensation through affiliate links in this story. Learn more about our affiliate and product review process
here
.
Looking to hit a PR during your next strength-training session? Pop in some headphones and pull up a weight-lifting playlist.
While the connection between weight lifting and music isn't so much about cadence — the way it is in these cardio playlists — the right music can still boost your performance in the weight room. In fact, a June 2015 Perceptual and Motor Skills study shows that music, especially self-selected music (aka your favorite jams), can lead to "a significant increase of strength endurance performance" during weight-lifting workouts. Choose your favorite musical genre and crush your next round of reps.
Rock Weight Lifting Playlist
If bands like AC/DC and the White Stripes are your thing, try this rock playlist from Rachel MacPherson, an American Council on Exercise certified personal trainer, weight loss health coach and writer at Radical Strength.
"The beat keeps me on pace, and I feel less depleted and more motivated to keep lifting longer," MacPherson says. "Plus, when I start playing my weightlifting playlist, my mood improves and I'm ready to roll, even when I don't feel like working out."
"Let's Get It Up" by AC/DC
"I Only Lie When I Love You" by Royal Blood
"Safari Song" by Greta Van Fleet
"No Good" by Kaleo
"Pressure and Time" by Rival Sons
"Even Flow" by Pearl Jam
"Icky Thump" by The White Stripes
"Black on Black II" by Heart
"Can't Stop" by Red Hot Chili Peppers
"Cochise" by Audioslave
"Human" by Rag'n'Bone Man
"Be My Fire" by The Blue Stones
"Do Your Worst" by Rival Sons
Hip-Hop Weight Lifting Playlist
Personal trainer, nutritionist and founder of Truism Fitness Jaime Hickey prefers hip-hop for his weight lifting workouts. "This hip-hop playlist will get your heart rate up and keep you energized and motivated," he says.
"What You Know" by T.I.
"Changes" by 2pac, Talent
"Legacy" by Eminem
"Don't Let Me Fall" by B.o.B.
"Triumph" by Wu Tang Clan
"Slippin" by DMX
"Intro" by NF
"Fed Up" by Bazanji
"The Bridge is Over" by KRS One
"Lyrics of Fury" byEric B and Rakim
"Dreams and Nightmares" by Meak Mill
"Going Through Changes" by Eminem
Pop Weight Lifting Playlist
If you find yourself nodding your head along to the latest pop hits, then put those tunes to work during your next resistance workout. "High-energy pop music with a driving beat from 128 to 135 bpm is great for weight-lifting workouts," says Andrea Marcellus, author of The Way In and creator of the AND/Life app. "You'll push harder to keep pace with the music as you power through sets."
"Get Me Bodied" by Beyonce
"Fire" by Black Pumas
"Never Really Over" by Katy Perry
"What I Like About You" by Jonas Blue, Theresa Rex
"Melody of Love" by Hot Chip
"Confident" by Demi Lovato
"Booty" by Jennifer Lopez & Iggy Azalea
"#thatPOWER" by willi.i.am & Justin Bieber
"Cross Me" by Ed Sheeran, Chance the Rapper
"Love You Like That" by Dagny
"Colour" by MNEK, Hailee Steinfeld
"Starry Night" by Peggy Gou