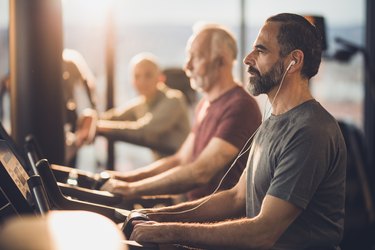 LIVESTRONG.com may earn compensation through affiliate links in this story. Learn more about our affiliate and product review process
here
.
If you've ever seen all the sweat on the floor after a SoulCycle class, you know that cycling workouts are intense, which is why having the perfect cycling workout playlist is so important.
In fact, a February 2014 study in Medicine and Science in Sports and Exercise shows that synchronous music — the kind that matches the beat of your pedal strokes — can make cycling workouts feel easier. The perfect pedaling playlist can help you crush it on the bike even harder.
Club Remix Cycling Playlist
When picking cycling music, it's important to visualize the entire journey, says Remy Kam, a Los Angeles-based indoor cycling instructor. "It's all about the beat drops because you use the beat to move faster," she says.
That's why Kam's cycling playlist starts with chiller tunes and then moves into faster-paced songs with heavy and exciting beat drops. "Heavy hill songs are usually a slower pace and very emotional," she says. "It takes a lot of energy to pedal fast with high resistance, so I always choose powerful songs for those moments."
"Be Like You" by Whethan (feat. Broods)
"Body" by Loud Luxury (feat. Brando)
"Open Wide" by Calvin Harris (feat. Big Sean)
"No Limit" by G Easy (feat. A$AP Rocky and Cardi B)
"Savage" by Whethan feat. Flux Pavilion + MAX
"Old Town Road" by Lil Nas (Bishu Remix)
"Say My Name" by Odesza (Taus Remix)
"Ocean Drive" by Duke Dumont
"Sunflower" by Post Malone and Swae Lee
"Tie Me Down" by Gryffin (Goons Remix)
"Without You" by Avicii (feat. Sandro Cavazza)
"Heaven" by Julia Michaels
Power Cycling Workout Playlist
Ready to pedal? This playlist from Nada Foley, the owner and founder of Punch Pedal House, a fitness studio that offers indoor cycling and boxing classes, will help you tackle your next spin on the bike. Combining powerful piano ballads, dance hits and remixed pop favorites, the playlist builds up in intensity.
"Grow Young, Version 1" by Brynn Cartelli
"10 Victoria's Secret Models" by MAX (Whethan Remix)
"Indestructible" by Not Your Dope (feat. MAX)
"Vibe" by JoJo
"LRAD" by Knife Party
"Show Me Love 2K12" by Sean Finn
"Pancake" by Jaded feat. Ashnikko
"Savage" by Whethan (feat. Flux Pavilion and MAX)
"Imprint" by MUST DIE! (feat. Tkay Maidza)
"My My My" by Armand Van Held
"Bound to You" by Jocelyn Alice
"What About Us " by Pink (Cash Cash Remix)
Lady Gaga vs. Calvin Harris Themed Playlist
Battling those uphill climbs will be easier as you listen to Calvin Harris and Lady Gaga duke it out in this EDM playlist created by Kai Karlstrom, VP of operations of RUNAWAY Fitness, a boutique running and strength studio in Chicago and a member of the Team USA Triathlon team. "Treat each song as its own interval, going hard on the chorus and recovering on the verse," says Karlstrom.
"Promises" by Calvin Harris (feat. Sam Smith)
"Blame" by Calvin Harris (feat. John Newman)
"We Found Love" by Rihanna, Calvin Harris (Black Cards Remix)
"Just Dance" by Lady Gaga feat. Kardinal Offishall (RedOne Remix)
"Paparazzi" by Lady Gaga (CHEW FU Ghettohouse Fix)
"Bad Romance" by Lady Gaga (DJ Dan Remix)
"Summer" by Calvin Harris, Diplo and Grandtheft
"Spectrum (Say My Name)" by Florence + the Machine (feat. Clavin Harris)
"Feel So Close" by Calvin Harris (feat. Nero)
"Telephone" by Lady Gaga, Beyoncé
"Applause" by Lady Gaga (DJ White Shadow Trap Mix)
"The Edge of Glory" by Lady Gaga (Bare Noize Remix)