Listening to music while you exercise can help keep you motivated to exercise longer by making your workout more enjoyable and distracting you from fatigue. The best songs for moderate cardio activities, like jogging or an elliptical workout, include songs between 120 and 140 beats per minute. This tempo roughly coincides with a person's average heart rate when working out. No matter what kind of music you like, there are popular songs from just about every genre that fit this BPM profile. For a more vigorous cardio workout like a fast-paced run, songs with BPMs of 150 or higher may provide the perfect musical motivation.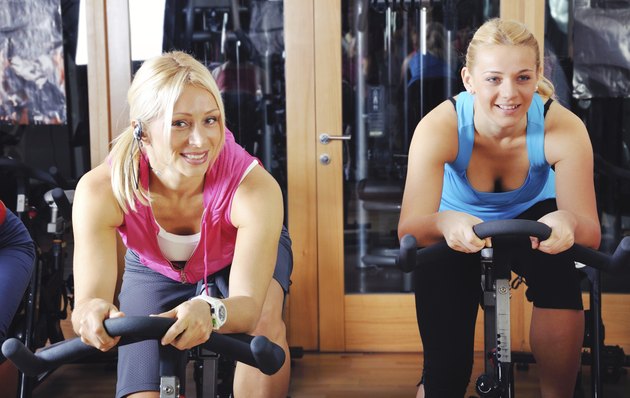 Pop
Perhaps you're a "Top 40" type of person who likes to load up your MP3 player with the hottest new pop tracks before hitting the gym. In this case, you should have no problem finding popular cardio songs to fuel your workout, as many pop songs fall into the "cardio zone" tempo of 120 to 140 BPM. According to workout music website Run Hundred, some cardio pop songs voted popular by the website's users in January 2011 include: "Break Your Heart" by Taio Cruz and Ludacris; "Please Don't Go" by Mike Posner; "Firework" by Katy Perry; and "Put You In a Song" by Keith Urban. To really pump up the pace with some vigorous cardio like cycling or stationary biking, try sweating to the following pop songs with tempos of 160 BPM: "Live Your Life" by T.I. and Rihianna; and "Honey, I'm Home" by Shania Twain.
Alternative Rock
Maybe pop isn't really your thing. If it's edgy music that gets your heart racing, here are some popular alternative rock songs -- with tempos ranging from 120 to 140 BPM -- that "Marie Claire" magazine's resident music writer, DJ Chris Lawhorn, recommends you add to your cardio workout soundtrack: "Dreams" by The Cranberries -- a song which also appears on "Fitness" magazine's Top 100 Workout Songs list; "Don't Let Go" by Weezer; and "Big Bang Baby" by The Stone Temple Pilots. If you need some faster-paced alt-rock tracks for your more intense cardio workouts, try an alternative workout favorite of "Fitness" magazine and life coach Allison Goldberg: "Mr. Brightside" by the Killers. "The Prayer" by Bloc Party and "Juicebox" by The Strokes are also popular alternative tracks for cardio with BPM counts north of 150.
Electronica
With its emphasis on sleek, precise rhythms and vast number of songs with up-tempo beats, electronica is an ideal genre of music for cardio workouts. The following are some cardio-friendly electronica tracks hand-picked by DJ Chris Lawhorn that are as perfect for the health club as they are for the night club: "Bounce" by MSTRKRFT ft. N.O.R.E., "Setting Sun" by Chemical Brothers, and "Just Be" by DJ Tiesto. Need to rev up your pulse even faster? Try indie electro-group The Postal Service's 175 BPM cut, "Such Great Heights."
1970s and 1980s music
In a nostalgic mood? Or maybe you're just an 1980s kid or disco dancing queen at heart. Either way, plenty of popular songs from the 1970s and 1980s fall into the ideal cardio tempo range of 120 to 140 BPM. Here are a few recommended by "Marie Claire" magazine's DJ Chris Lawhorn: "We Built This City" by Starship; "Does Your Mother Know" by ABBA; and "Photograph" by Def Leppard. If you're ready to put on your sweatband and turn up the pace for some aerobic dancing or skateboarding, try "Greased Lighting" by John Travolta, which comes in at 160 BPM; or, if 1980s New Wave is more your thing, put on "Love Will Tear Us Apart" by Joy Division, which has a tempo of 156 BPM.
Hip-Hop
While hip-hop music packs an aggressive punch that can get you pumped up to pump some iron, a lot of hip-hop songs are slower-paced and more suited for strength exercise than cardio -- think "Mama Said Knock You Out" by L.L. Cool J for lifting weights. However, an increasing number of dance- and electronica-inspired hip hop songs have cardio-friendly beats upwards of 120 BPM. Some popular hip hop songs for cardio include: "Drop It Like It's Hot" by Snoop Dogg; "Midnight Hour" by Talib Kweli ft. Estelle; and "Hustlin'" by Rick Ross. When you're ready for that pulse-pumping speed bag workout, try Jay-Z's "Dirt Off Your Shoulder" which has a BPM count of 164, or Outkast's "B.O.B." for a BPM count of 154.