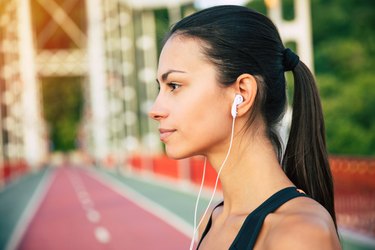 LIVESTRONG.com may earn compensation through affiliate links in this story. Learn more about our affiliate and product review process
here
.
Looking to boost your next cardio workout? Before you start sweating, you may want to pop in your headphones and queue up your favorite playlist: A January 2019 PeerJ study shows that music can encourage you to exercise longer.
And any genre will work. The key is the song's beats per minute or BPM. For moderate cardio activities like jogging or an elliptical workout, look for songs between 120 and 140 beats per minute, which roughly coincides with a person's average heart rate when working out. For a more vigorous cardio workout like a fast-paced run, choose songs with BPMs of 150 or higher.
What cardio playlist will get you moving?
Pop Cardio Workout Playlist
Love the latest hits from Taylor Swift and Shawn Mendes? Try this pop cardio playlist from Lindsay Bennett, a celebrity personal trainer in Nashville, Tennessee.
"I love this playlist for my cardio workouts because every song is uptempo and the beats help keep you moving throughout the whole workout," says Bennett. "I created the playlist so it starts out strong and energetic and keeps you steady in the middle; then, right when you think you're fading, it powers you through with another burst of energy." You won't want to hit "shuffle" on this one.
"Thinkin Bout You" by Ciara
"Sucker" by Jonas Brothers
"If I Can't Have You" by Shawn Mendes
"Youngblood" by 5 Seconds of Summer
"Don't Call Me Up" by Mabel
"This Feeling" by The Chainsmokers (feat. Kelsea Ballerini)
"There's Nothing Holdin' Me Back" by Shawn Mendes
"I Don't Care" by Ed Sheeran & Justin Bieber
"Body Like a Back Road" by Sam Hunt
"Shake It Off" by Taylor Swift
"Drag Me Down" by One Direction
"Girls Like You" by Maroon 5 (feat. Cardi B)
"In My Blood" by Shawn Mendes
'80s Cardio Workout Playlist
If your Spotify account has Duran Duran and Culture Club on repeat, you'll love this '80s cardio workout playlist from Allison Jackson, a National Academy of Sports Medicine-certified personal trainer, figure competitor and founder of Allison Jackson Fitness.
"This '80s cardio playlist not only puts me in a great mood, but it takes me back to a more carefree time," she says. "These songs make me think about the old memories that some of these great '80s classics bring up, like my crush on George Michael."
"Wake Me Up Before You Go-Go" by Wham!
"Relax" by Frankie Goes to Hollywood
"Hungry Like the Wolf" by Duran Duran
"Cruel Summer" by Bananarama
"Funkytown" by Lipps, Inc.
"Eye of the Tiger" by Survivor
"I Love a Rainy Night" by Eddie Rabbitt
"Karma Chameleon" by Culture Club
"Whip It" by Devo
"Push It" by Salt 'n Peppa
"Let's Go Crazy" by Prince
"Walk This Way" by Aerosmith with Run DMC
"Fight for Your Right to Party" by The Beastie Boys
Rock Cardio Workout Playlist
Ready to rock your cardio session? "I love how this rock cardio playlist builds over the course of the workout," says Kai Karlstrom, vice president of operations for RUNAWAY Fitness, a boutique running and strength studio in Chicago, and a member of the Team USA Triathlon team. "With new songs as well as older jams, it's like having a personal DJ for your cardio. The beat stays steady the whole time to help drive your cadence."
"Survival" by Muse
"Sugar on the Bone" by Rival Sons
"Hypnotize" by Audioslave
"Heavy" by Collective Soul

"Little Monster" by Royal Blood
"A Matter of Time" by Foo Fighters
"Painkiller" by Nothing by Thieves
"Driving Rain" (feat. Myles Kennedy & The Conspirators) by Slask, Myles Kennedy and The Conspirators
"Black Vultures" by Halestrom
"The Hand That Feeds" by Nine Inch Nails
"Ropes" by Black Map
"Fuel" by Metallica
Electro Hip-Hop Cardio Workout Playlist
Kirsten Potenza knows a little something about the importance of a good beat during your cardio workout. As a former drummer, Potenza is the CEO and founder of POUND, a cardio workout where you not only listen to the music, you create it using lightly weighted drumsticks.
"A workout should feel as powerful and moving as listening to music," says Potenza. That's easy with her electro hip-hop cardio playlist.
"Higher Ground" by Tnght, Hudson Mohawke, Lunice
"Big Girls" by Salt-N-Pepa
"Start a Riot" by Beginners, Night Panda
"Karaoke" by Big Freedia, Lizzo
"The Creator" by Pete Rock & CL Smooth
"Speakerbox" by Bassnectar, Lafa Taylor
"Monster" by Jacob Banks, Avelino
"Lemon" by N.E.R.D., Rihanna, Drake
"Genius" by Sia, Diplo, Lsd, Lil Wayne
"Bubblin" by Anderson Paak
"You Can't Stop Me" by Andy Mineo
"Come Together" by Gary Clark Jr, Junkie Xl