There are the songs you like and the songs you love. And then there are songs that give you a swift kick in the pants. The best motivational songs inspire you to live a happier, healthier life with a more positive outlook on the world. Here are a 10 songs with unrelentingly upbeat, "go get 'em, tiger" lyrics. Just try to resist feeling invigorated.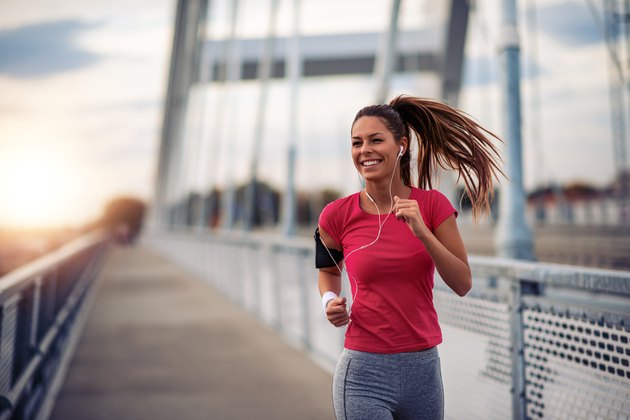 1. "Hero" by Mariah Carey
"Look inside you and be strong/And you'll finally see the truth/That a hero lies in you."
Written by the five-time Grammy Award-winning producer Walter Afanasieff, the single from 1993's "Music Box" was originally intended to be included in the soundtrack for the Dustin Hoffman film "Hero" and be performed by Gloria Estefan.
Carey's fiancé at the time, Sony Music president and COO Tommy Mottola, liked the song so much, however, that he insisted she keep the song for her own album. Needless to say, it became a hero in her catalog.
2. "Stronger (What Doesn't Kill You)" by Kelly Clarkson
"What doesn't kill you makes you stronger/Stand a little taller."
The first-ever "American Idol" winner won a Best Female Pop Vocal Performance Grammy for this song. The title track of her 2011 album resonated with pretty much everyone needing a reason to get up and over a life obstacle.
"The reason why we came up with 'Stronger' [as an album title] was just because every song was about empowerment," the singer told MTV News in 2011. "And I think after 10 years of doing it, you feel a little stronger personally and musically."
3. "We Are the Champions" by Queen
"No time for losers/'Cause we are the champions of the world."
Inducted into the Grammy Hall of Fame in 2009, the song was released in 1977 and went on to become a go-to sports anthem, including being selected as the official song for the 1994 FIFA World Cup.
It's no surprise that the song was voted the champion of catchiest tunes by a group of academics in 2011, who observed thousands of volunteers to determine "the perfect sing-along song." (The Village People's "Y.M.C.A." came in second.)
4. "I Believe I Can Fly" by R. Kelly
"If I can see it, then I can do it/If I just believe it, there's nothing to it/I believe I can fly."
The song originally appeared on the soundtrack for the sports comedy "Space Jam," starring basketball player Michael Jordan and Looney Tunes cartoon characters. It garnered Kelly three Grammy's in 1997: Best R&B Song, Best Male R&B Vocal Performance and Best Song Written Specifically for a Motion Picture or for Television.
Rolling Stone called the song "a modern standard so ruthlessly inspirational, it makes 'The Greatest Love of All' sound like 'Welcome to the Jungle.'" The review continues: "There's no point getting sick of the song now, since you'll be hearing it in commercials, grade-school talent shows, figure-skating exhibitions and Very Special Episodes for the rest of your born days." Indeed.
5. "Beautiful" by Christina Aguilera
"I am beautiful, no matter what they say/Words can't bring me down."
Written and produced by Linda Perry of 4 Non Blondes, the song appeared on Aguilera's second album, "Stripped," and won the singer 2003's Best Female Pop Vocal Performance Grammy.
"Xtina's inspiration ballad motivated an entire generation," Wetpaint's Rachel McGrady said of the song. Perry told ASCAP that she had a hard time letting the song go because it was supposed to be her own comeback song, but Christina's strong vocals on the rough demo cut won her over.
6. "I Hope You Dance" by Lee Ann Womack
"Livin' might mean takin' chances, but they're worth takin'/Lovin' might be a mistake, but it's worth makin'."
The title track from Womack's 2000 album is a powerful dedication to her daughters, Aubrie and Anna Lise, who were ages 9 and 1 at the time. The chart-topper won the Grammy Award for Best Country Song and was nominated for Song of the Year.
"It doesn't have a story, so every listener is able to put their own story into it," Womack told Billboard in 2015. "I think that's one of the reasons that the song has touched so many people."
7. "I Can See Clearly Now" by Johnny Nash
"Oh, yes I can make it now the pain is gone/All of the bad feelings have disappeared/Here is that rainbow I've been praying for/It's gonna be a bright, bright sunshiny day."
Written and recorded by Nash as title track for his 1972 album, the song reached No. 1 on the Billboard Hot 100 chart and was frequently rerecorded. Artists inspired to put their own spin on the song include Jimmy Cliff, Gladys Knight & the Pips, Tom Jones, Donny Osmond, Cher, Ray Charles, Willie Nelson and more.
Nash was certainly seeing clearly when, in the late '60s, he signed a young and struggling Bob Marley & the Wailers to his label, introducing the reggae legend to the world.
8. "Survivor" by Destiny's Child
"After all of the darkness and sadness/Soon comes happiness/If I surround myself with positive things/I'll gain prosperity/I'm a survivor."
The title track to the group's 2001 album earned Beyoncé Knowles, Kelly Rowland and Michelle Williams a Grammy for Best R&B Performance by a Duo or Group With Vocal. It also became a hugely popular sports anthem.
The song — co-written by Knowles — was purportedly inspired by a dizzying series of lineup changes (and subsequent lawsuits) that stressed the young group. The trio more than survived, however, and (surprise!) went on to become international superstars.
Buy it: Find "Survivor" on iTunes.
9. "Shake It Off" by Taylor Swift
"'Cause the players gonna play, play, play, play, play/And the haters gonna hate, hate, hate, hate, hate/Baby, I'm just gonna shake, shake, shake, shake, shake/I shake it off."
Composed by Swift and collaborators Max Martin and Shellback, the song appears on the artist's album "1989," which won two Grammy Awards. "I've had every part of my life dissected — my choices, my actions, my words, my body, my style, my music," Swift told Rolling Stone.
"When you live your life under that kind of scrutiny, you can either let it break you, or you can get really good at dodging punches…. And I guess the way that I deal with it is to shake it off." We can all learn a little something from Taylor's attitude.
10. "Firework" by Katy Perry
"Baby, you're a firework/Come on, let your colors burst/Make 'em go, 'Aah, aah, aah'/You're gonna leave 'em all in awe, awe, awe."
Released in 2010 on her "Teenage Dream" album, the song reached No. 1 on the Billboard Hot 100 chart in December that year. "People are coming back and almost adopting it as their own anthem," Perry told MTV News.
"I hope this could be one of those things where it's like, 'Yeah, I want to put my fist up and feel proud and feel strong.'" This one's definitely a fist-pumper for us.