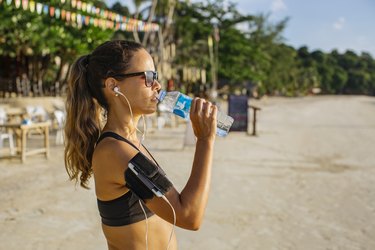 If you've had the same workout playlist in rotation long enough to have the exact order memorized (along with memorizing all the words and guitar solos), summer is the perfect time to mix up your workout with a set of new tunes. It may seem a bit trivial, but the right selection of tunes can help you get the most out of your workout.
Finding a song perfectly matched to your Saturday run or Pilates ab routine starts with a song's beats per minute (BPM). The higher the BPM, the faster the song. Doing a quick, sweaty HIIT session? You'll want a high-tempo playlist (130+ bpm) to help you power through the intervals. Cooling down with stretching and yoga poses? Aim for songs with 60 to 80 beats per minute (or whatever matches up with your heart rate at that intensity).
While there are apps like Rock My Run and even Pandora (enter a BPM in the search bar) designed to select songs based on your desired BPM, if it's all sounding a little too technical for your taste, take advantage of one of our curated playlists below. Whatever your workout or music style, we've rounded up some of the best summer workout playlists from fitness pros.
The Best Summer Playlists for Every Workout
Ready to get sweaty? Pop in your headphones, cue up one of these curated playlists, and get your heart rate pumping.
Hip Hop HIIT Workout Playlist
Why It Works: "I'm loving these songs for my sweat sessions at the moment because they have high beats per minute to help keep my energy up. Plus, they sound like good beach tunes, which reminds you to push a bit harder and get that summer body!" says Jillian Michaels, health and fitness expert and creator of the My Fitness by Jillian Michaels app.
"Bounce" by 2 Chainz, featuring Lil Wayne
"House Night Long" by B27
"Paradise" by Kaz James and Nick Morgan
"Big Bank" by YG, featuring 2 Chainz, Big Sean and Nicki Minaj
"Death 2 Soundcloud" by Kid Buu and Oohdem Beatz
"De Aqui No Sales" by Rosalia
"2 Souls on Fire" by Bebe Rexha, featuring Quavo
"Cross My Mind" by A R I Z O N A
"I Rise" by Madonna
"Crave" by Madonna and Swae Lee
"Work It Out" by Party Favor and GTA
"Bed Squeak" by Wuki Ape Drums, featuring Nicky Da B
"Outta My Head" by Khalid with John Mayer
"Wish Wish" by DJ Khaled, featuring Cardi B and 21 Savage
"Higher" by DJ Khaled, featuring Nipsey Hussle and John Legend
Digging Michaels' picks? Her app syncs with Apple Music and Spotify so when you train with her, you can either work out with her playlists or your own.
EDM Running Workout Playlist
Why It Works: "This is a great running playlist because it builds in intensity as your workout progresses — like a personal DJ to push you further," says Kai Karlstrom, VP of Operations of RUNAWAY Fitness, a boutique running and strength studio in Chicago, and a member of the Team USA Triathlon team.
"There are new songs and old songs, but the important part is that these songs all have little to no beat drops during them — something that can disrupt your run cadence — and something that most EDM songs have."
"Sixteen (99 Souls Remix)" by Ellie Goulding
"Famous (feat. Morgan St. Jean)" by Borgeous and Morgan St. Jean
"White Lies" by M-22
"Bingo Bango (Tom Staar & Kryder Remix)" by Basement Jaxx, Tom Staar and Kryder
"The Edge of Glory (Bare Noize Remix)" by Lady Gaga
"Get Down" by RetroVision
"What's Up Danger (Black Caviar Remix)" by Blackway and Black Caviar
"Sexy Back (Cevith and GUILC Remix)" by Justin Timberlake
"I Know U" by Dyro and LOOPERS
"Next Order" by Dog Blood
"Promise" by NERO
"Check This Out" by Toby Green
80s Rock Weightlifting Workout Playlist
Why It Works: "These were some of my favorite bands growing up so I can remember working out to them in my high school and college days," says Allison Jackson, a NASM-certified personal trainer, certified nutrition coach and figure competitor.
"It's a combination of nostalgia and being able to really push through my workouts with the heavy bass and guitar riffs in many of these songs. The high energy and intensity and even some of the lyrics help me get through even my toughest workouts! #longlive80srock"
"Welcome to the Jungle" by Guns N' Roses
"T.N.T." by AC/DC
"Thunderstruck" by AC/DC
"Kickstart My Heart" by Motley Crue
"Girls Girls Girls" by Motley Crue
"Final Countdown" by Europe
"We're Not Gonna Take It" by Twisted Sister
"Bad Medicine" by Bon Jovi
"Any Way You Want It" by Journey
"Cum on Feel the Noize" by Quiet Riot
"I Wanna Rock" by Twisted Sister
"Don't Stop Me Now" by Queen
"Paradise by the Dashboard Light" by Meatloaf
Latin + Pop Body-Weight HIIT Playlist
Why It Works: "This summer, I'll be spending six weeks traveling in Costa Rica and Ecuador, so my playlist has a strong Latin party and Reggaeton influence," says Shannon Mullen, a certified RPM group fitness instructor and contributor on FitRated.
"Since I'll have very little access to a gym, I'll be doing lots of body-weight HIIT workouts that I can do anywhere: push-ups, squats, jump lunges, burpees, mountain climbers, bicycle crunches, jumping jacks and triceps dips."
"Con Calma Remix" by Daddy Yankee, featuring Katy Perry and Snow
"Woman Like Me" by Little Mix, featuring Nicki Minaj
"Heads Up" by Jain
"Juice" by Lizzo
"Walk Me Home" by P!nk
"Old Town Road (Remix)" by Lil Nas X, featuring Billy Ray Cyrus
"Buscando" by GTA and Jenn Morel
"ME!" by Taylor Swift, featuring Brendon Urie
"I Don't Care" by Ed Sheeran and Justin Bieber
"If I Can't Have You" by Shawn Mendes
"Sorry Not Sorry" by Demi Lovato
"The Middle" by Zedd, Maren Morris and Grey
"Taki Taki" by DJ Snake, featuring Selena Gomez, Ozuna and Cardi B
"Danza Kuduro by Don Omar, featuring Lucenzo
"Happy Now" by Kygo and Sandro Cavazza
Dance/Pop Power Yoga Playlist
Why It Works: "Get toned and energized for your summer with this dance-inspired yoga playlist that focuses on pairing melodic beats with quick movements," says Ava Johanna, a Los Angeles-based yoga and meditation instructor and host of the wellness podcast The Alchemized Life.
"Start from the top and add in your favorite yoga poses, squats, core section, and don't forget to cool down at the end with Trevor Hall and inspiring Savasana tunes."
"Journey Into The Unknown" by Amber Mark
"Vibin' Out with ((( O )))" by FKJ and ((( O )))
"I Just Wanna" by Big Wild
"DRIFTER" by Hippie Sabotage
"Quick Musical Doodles" by Two Feet
"Woop Baby" by leatherette
"Up In Flames" by Laszewo, featuring KEEVA
"Memories That You Call (feat. Monsoonsiren)" by ODESZA, Monsoonsiren and Golden Features
"In My Mind" by Dynoro and Gigi D'Agostino
"Ready 2 Wear" by Geographer
"If You Want Me To" by Zachariah
"Burgs" by Mt. Wolf
Country Interval Training Workout Playlist
Why It Works: "I love this playlist for summer workouts because these songs are upbeat, fun and energizing!" says Lindsay Bennett, NASM-certified personal trainer in Nashville, Tenn.
"It's hard to stay still to any of these songs, so you know you'll stay moving throughout your workout and the energizing beats will keep your mood lifted, pushing you to the end!"
"Look What God Gave Her" by Thomas Rhett
"Take It From Me" by Jordan Davis
"One That Got Away" by Michael Ray
"Hotel Key" by Old Dominion
"Good Vibes" by Chris Janson
"What Ifs" by Kane Brown, featuring Lauren Alaina
"There Was This Girl" by Riley Green
"Nothing to Do Town" by Dylan Scott
"Miss Me More" by Kelsea Ballerini
"Simple" by Florida Georgia Line
Pop Pilates Workout Playlist
Why It Works: "My hands-down #1 summer shape-up strategy is to do intervals of Pilates moves between sets of medium-weight upper body work," says Andrea Marcellus, personal trainer, developer of the workout and fitness app AND/life. "For that, I pop on music with a moderate pace, great beat and if it has an inspiring message, even better!"
"Broken & Beautiful" by Kelly Clarkson
"ME!" by Taylor Swift, featuring Brendon Urie
"A Million Dreams" by P!nk
"Let You Love Me" by Rita Ora
"Burning" by Maggie Rogers
"Reflections" by MisterWives
"All I Am" by Jess Glynne
"Bad Guy" by Billie Eilish
"Cloud 9" by Jamiroquai
"Shame" by Elle King
Indie Chill Vinyasa Yoga Playlist
Why It Works: "I love this playlist for summer because all of the songs are about freedom and joy," says Samantha Attard, a Vinyasa yoga instructor and Ayurvedic coach living in Washington, DC. "It's a reminder to take things a little less seriously and enjoy the weather and just being human."
"Morning" by Francis and the Lights
"Wild Roads" by Ella Grace
"If It Feels Good (Then It Must Be)" by Leon Bridges
"Glorious" by Macklemore, featuring Skylar Grey
"Feels Great" by Cheat Codes, featuring Fetty Wap and CVBZ
"Free" by Why Don't We
"I'm Good" by GRiZ
"Bird Set Free" by Sia
"Fallingwater" by Maggie Rogers
"Get it Together" by India.Arie
"Blowin' in the Wind" by Bob Dylan
"Indigo" by Trevor Hall
"Best Part" by Daniel Caesar, featuring H.E.R.
"Wildfire" by SYML
"Breathe Into Sound" by Jim Donovan
Rock 'n' Roll Strength Training Playlist
Why It Works: "I love all genres but my favorite music to listen to while working out is rock and roll," says Jamie Hickey, a certified personal trainer and nutritionist. "This particular playlist keeps my emotions high and my heart rate up making it easy to stay motivated. I use this hour-long playlist for when I'm weight training to keep me going strong to the end."
"Natural" by Imagine Dragons
"GET UP" by Shinedown
"Zombie" by Bad Wolves
"Whatever It Takes" by Imagine Dragons
"Cut the Cord" by Shinedown
"The Sound of Silence" by Disturbed
"Slither" by Velvet Revolver
"Show Me How to Live" by Audioslave
"Dead and Bloated" by Stone Temple Pilots
"All in the Family" by Korn
"Control" by Puddle of Mudd
"Last Resort" by Papa Roach
"Voodoo" by Godsmack
"Wake Me Up When September Ends" by Green Day
"Ride" by Twenty One Pilots