We have a fiber gap in America! Although most Americans have access to enough fiber-rich foods, many are not choosing them wisely.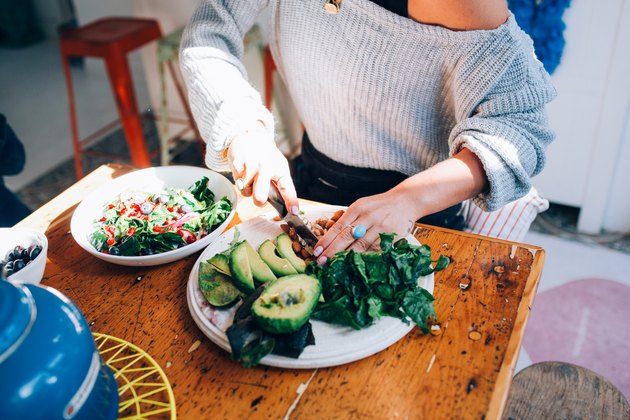 The average American adult eats about 16 grams of fiber a day. That's far short of what's advised. If you're an adult who's 50 years old or younger, the National Academy of Sciences recommends getting 25 grams of total fiber per day for women and 38 grams for men. If you're over 50 years of age, total daily fiber recommendations are a little bit less (21 grams for women and 30 grams for men).
Getting enough of the macronutrient is associated with a lower risk of diabetes and heart disease. What's more, fiber slows the speed at which food passes from the stomach to the rest of the digestive system, which may help you manage your weight and stave off digestive issues, according to the Academy of Nutrition and Dietetics.
To help you close your personal fiber gap, try these 10 sneaky (and not-so-sneaky) strategies and swaps.
1. Be a 'Blenditarian'
If you're a meat eater, make beef recipes less beefy and more nutritious. "When making homemade burger patties, meatballs or meatloaf, replace half of the ground meat with minced mushrooms," Cynthia Sass, RD, CSSD, a Los Angeles- and New York City-based performance nutritionist, tells LIVESTRONG.com.
Try it with either raw or cooked (then cooled) chopped baby Bella mushrooms. "You won't notice the difference due to their meaty texture." And you'll get more fiber than the zero grams found in meat, plus you'll get vitamin D and health-protective antioxidants, Sass adds. Mushrooms provide umami (a savory sense of taste), so you'll still get 100 percent tastiness. It's more sustainable, too.
2. Do a Flour Drop-and-Swap
Drop all-purpose flour and swap it with whole-wheat pastry flour. This sneaky substitution is a 1:1 ratio — so use exactly 1 cup of whole-wheat flour instead of 1 cup of all-purpose flour in your baked goods or any other recipe that calls for flour. You'll get as much as four times the fiber in whole-wheat pastry flour as from all-purpose white flour, since a quarter cup of whole-wheat flour provides 3 grams.
And you'll get the wholesome benefits of whole grains, including more iron and slightly more protein. As a bonus, foods made with whole-wheat flour taste a slight bit nuttier while still offering a desirable texture.
3. Get Extra Satisfaction from Your Smoothies
"It might sound unconventional, but white beans make a fantastic addition to smoothies," Sass says. Plus, a mere half-cup of cooked white beans provides 6 grams of fiber.
Sass suggests blending in about a half-cup of drained no-added-salt white beans, such as cannellini or Great Northern beans, to significantly boost your intake of fiber, along with plant protein, antioxidants, vitamins and minerals. "(White) beans don't have a strong flavor on their own, so they blend well with fruit and spices like ginger," Sass says. The thick, creamy result can up the satisfaction factor of your smoothie, too.
4. Rethink Your Rice
Prepared white rice offers less than 1 gram of fiber in an entire cup. Luckily, there are other rice options that offer more fiber and more flavor. A better bet is to go against the grain (pun intended!) by choosing cauliflower "rice" or a pulse-based "rice" when in search of dietary fiber.
Riced cauliflower cooks speedy fast — and can be deliciously caramelized when sautéed. It's got about 2.5 grams of fiber per cup. You can also try pulse-based "rice" made of lentil and chickpea flours like Right Rice and Banza rice, which pack in 5 grams per a third-cup dry and 5 grams per a quarter-cup dry, respectively. Plus, they're prepared like rice in just 10 to 12 minutes and can be served as a highly satiating rice replacement along with its significant punch of plant protein.
However, if you prefer traditional rice, go for brown, red or black rice — all of which offer more fiber (and more color and cuisine intrigue) than their white counterpart.
5. Pick Pasta With a Pulse
Plain white pasta is a classic. But lentil penne, chickpea rotini or black bean spaghetti are way trendier — and way richer in fiber and protein. In fact, 2 ounces of uncooked lentil pasta provides about 6 grams of fiber while the same serving sizes of chickpea and black soybean pastas boast 5 grams and 11 grams, respectively.
While you can still simply toss these pulse-based pastas with sauce, use your noodle to be a bit more creative. "Transform pulse pasta into an easy, fiber-packed, make-ahead meal," Sass says.
Here's what she likes to do: Cook and cool a half cup of pulse pasta; combine with a handful of chopped leafy greens and a quarter-cup each of finely chopped cucumber, bell pepper, grape tomatoes and red onion; and then toss with a four-ingredient vinaigrette made with extra-virgin olive oil, balsamic vinegar, Dijon mustard and Italian herb seasoning. After refrigerating overnight, it's ready for a grab-and-go meal the next day.
6. Bake With a Better 'Butter'
Avocado isn't just for smashing, serving on toast and posting on Instagram. Consider it your new favorite swap for butter in baking, too. "Avocado is sometimes referred to as nature's butter, and the title truly fits," Sass says. In baked-good recipes, she suggests trading each tablespoon of butter for half a tablespoon of nutrient-rich avocado.
Doing so slashes calories while providing satisfying texture, boosts antioxidants and supplies heart-healthy monounsaturated fats, Sass adds. Plus, you'll get significantly more fiber since butter has no fiber at all. In fact, a half-cup of pureed avocado provides about 8 grams of fiber. "You'll especially want to use this trick in recipes with cocoa, which masks avocado's green hue," Sass says.
7. Keep the Skin On
Give them a good scrub, but don't discard that potato peel. It offers potassium, vitamin C and about half of the potato's fiber content. One large skin-on baked russet potato provides about 7 grams of the macro. So, when you're digging into a baked potato for supper or roasting them for meal prep, keep the skins on to get an extra fiber boost while saving peeling time.
Make oven-fried or air-fried (yep, in an air fryer) potatoes or mashed potatoes with their skin on for a homestyle taste. In the mood for a quiche? "The next time you make a quiche, line the bottom of the pan with sliced, skin-on potatoes instead of a crust — they'll add a layer of hearty satisfaction from a whole food that's naturally gluten-free and nutrient-rich," Sass says.
8. Make Your Leafy 'Bed'
Sure, leafy greens are awesome in salads or sautéed as a healthful side. But there are more inventive ways to get your greens — and, in turn, more fiber.
"I love to start the day with a smoothie made with a large handful of leafy greens, along with fruit, plant-based protein powder, almond butter and fresh ginger," Sass says. Need an even easier tip? "Another trick that helps my clients eat more greens is to place a generous handful of leafy greens on any plate as a 'bed' for anything else you eat, from cooked veggies to beans, seafood or whole grains." With this foundation you'll get a bit of greens with each bite of food, Sass adds.
9. Go Nuts
Keep a variety of nuts on hand and in plain sight so they're in mind. "You can sprinkle nuts onto nearly anything you eat, from oatmeal to garden salads, soups and stir fries," Sass says.
She recommends pairing of a quarter-cup of nuts with a cup of fruit for a daily snack. Try grapes with pistachios, which provide 3 grams of fiber per ounce; a peach with pecans (about 3 grams per ounce) and pineapple with macadamia nuts (2.5 grams per ounce). "Making this duo a daily staple steps up your fiber game and upgrades your overall nutrient intake," Sass says.
10. Choose Chia 'Eggs'
Chia seeds are just about the coolest edible things on our planet. They form into a gel in liquid, creating an intriguing base for puddings and a textured thickener for drinks. And they act as a plant-based stand-in for eggs in baking. Just combine 1 tablespoon of chia seeds with 3 tablespoons of water, let it stand for 15 minutes to allow seeds to gel, and swap the "chia egg" in place of a large egg in baking.
Plus, the seeds are packed with fiber — 10 grams per ounce! — as well as calcium, magnesium and iron. Now that's one way to have your cake and eat it, too.
Tip
As you get a little more fiber in your daily diet, try to drink a little more water to make sure everything moves along properly through your digestive system.