Oh, if I could just take a nap! you say, as you practically drift off at your desk. Well, why don't you? Turns out, napping — in the right circumstances — is linked to a host of health benefits.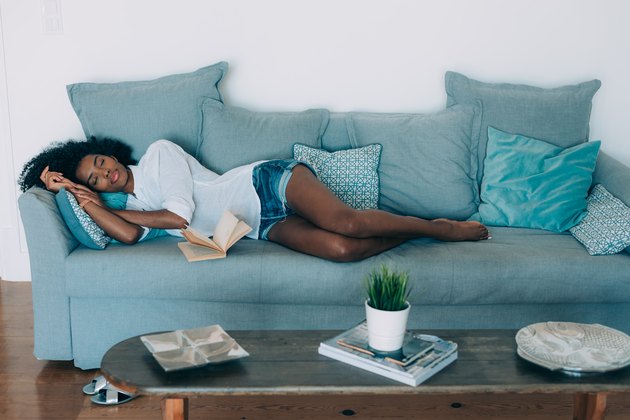 Let's break down what we mean by the "right circumstances."
"We tell patients that napping is appropriate for people who are already efficient sleepers," says W. Chris Winter, MD, sleep specialist at Charlottesville Neurology and Sleep Medicine and author of The Sleep Solution: Why Your Sleep Is Broken and How to Fix It. Meaning, you typically sleep well at night. But, for whatever reason (an overnight plane ride, a day you had to work unusually late to meet a deadline), you missed out on your regular zzzs and are dragging today. In that case, a nap is for you.
Naps can work against you, though, if you typically struggle to fall asleep at night or have insomnia. If that's you, taking a nap during the day will likely make you less sleepy come bedtime (hello, vicious cycle).
How to Nap Like a Pro
But let's assume that, for you, naps are a go. Dr. Winter advises sticking to 20 to 25 minutes; any longer and you might come out of a nap with "sleep inertia," or that drowsy, where-am-I-what-day-is-it feeling.
If possible, when you do nap, lay down at around the same time every day, so that your brain knows when to expect sleep and when to wake up, he says. Scheduling a nap before 2 p.m., so as not to interfere with that night's sleep, is ideal.
Ultimately, though, a nap doesn't mean you have to sleep. In fact, sometimes forcing yourself to snooze at a certain time can feel like too much pressure. Instead, go into a dark room, turn off your devices, take your shoes off, lay in bed in a comfortable position, close your eyes and think about something pleasant and relaxing, says Dr. Winter. "If you fall asleep, that's awesome. If you don't, you can still be profoundly impacted by a period of rest," he says. Basically, no matter what happens in there, it's a win, and you'll likely feel recharged afterward. "This mentality is a great way to approach naps, and sleep in general," he says.
"If you fall asleep, that's awesome. If you don't, you can still be profoundly impacted by a period of rest."
Why You Should Schedule In a Siesta