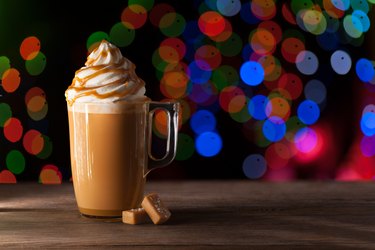 Colder temps are here to stay, the sun sets earlier and Starbucks has officially released its holiday menu with five delectable drinks that sound like dessert. Winter is basically here.
We have to admit, we love a peppermint mocha as much as the next girl; but, we're not fans of all of the added sugar and saturated fat that's served up in each cup.
To help you make better choices at the 'Bux, we ranked the coffee joint's five specialty holiday lattes from worst to best as well as included dietitian-recommended ordering tips to cut calories, added sugar and saturated fat from your cup of caffeine. Take note that we calculated each drink's standard recipe in a tall size (12 ounces).
5. The Worst Holiday Drink: Eggnog Latte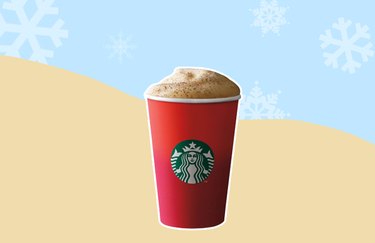 Per cup: 360 calories, 14 grams fat (9 grams saturated fat), 190 milligrams sodium, 45 grams carbohydrates (1 gram fiber, 42 grams sugar), 13 grams protein
This one isn't a shocker. For those that love eggnog, you know that the creamy, sweet and slightly spicy beverage is quite the indulgence. The surprising factor here is that, even though the standard recipe calls for low-fat milk and no whipped cream, the Eggnog Latte is still the highest in calories and saturated fat, and one of the highest in sugar. The first ingredient is eggnog, which is likely the driver for the poor nutrition offerings.
4. Peppermint Mocha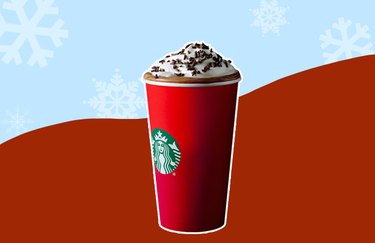 Per cup: 350 calories, 13 grams fat (8 grams saturated fat), 115 milligrams sodium, 48 grams carbohydrates (3 grams fiber, 42 grams sugar), 10 grams protein
The Peppermint Mocha is basically the winter holiday version of the fall Pumpkin Spiced Latte. The red cups of warm minty chocolate keep you caffeinated and might even provide a sense of comfort as you drudge through the dreary days of winter.
Unfortunately, this specialty drink is than healthy. Each tall cup has 42 grams of sugar — more than you'd find in a 12-ounce can of Cola. The good news is that you can still enjoy this warming drink — just check out our hacks below to make your order a little healthier.
3. Toasted White Chocolate Mocha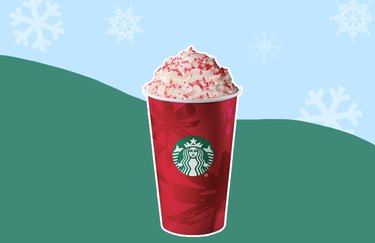 Per cup: 330 calories, 12 grams fat (8 grams saturated fat), 300 milligrams sodium, 44 grams carbohydrates (0 grams fiber, 43 grams sugar), 11 grams protein
From a nutritional perspective, there's not much we can say that's positive about the Toasted White Chocolate Mocha other than it provides 11 grams of protein. And anyone who's a fan of really, really sweet drinks will probably drool over this caramelized white chocolate latte topped with sugar sparkles.
The tall has 43 grams of sugar. To put that into perspective, that's about the same amount found in two regular-sized Butterfinger candy bars. It also has twice the sodium of any of the other holiday drinks providing, 13 percent of the Daily Value (DV).
2. Caramel Brulee Latte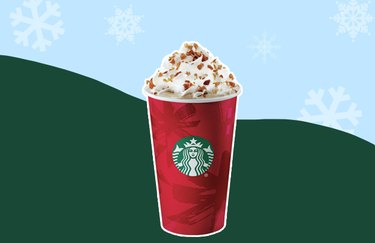 Per cup: 350 calories, 11 grams fat (7 grams saturated fat), 210 milligrams sodium, 54 grams carbohydrates (0 grams fiber, 36 grams sugar), 10 grams protein
The Caramel Brulee Latte is a slightly healthier option because it has a bit less sugar than the previous drinks but it's still not winning any awards at 36 grams. While some of the sugar is comes from the lactose found in the milk, the majority is a result of the three pumps of caramel brulee sauce, caramel brulee topping and whipped cream.
This drink would put you close to or over your daily limit of added sugars — the American Heart Association recommends 25 grams or less per day for women and 36 grams or less per day for men.
1. The Best Holiday Drink: Chestnut Praline Latte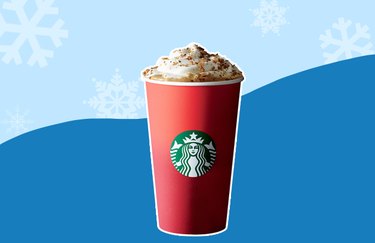 Per cup: 270 calories, 11 grams fat (7 grams saturated fat), 130 milligrams sodium, 33 grams carbohydrates (0 grams fiber, 31 grams sugar), 9 grams protein
Although we wouldn't necessarily deem this healthy, the Chestnut Praline Latte is the best choice of the five holiday drinks. It has significantly fewer calories and the least amount of sugar. That said, it still has 31 grams of sugar per cup.
Most tall orders from Starbucks call for three pumps of flavored syrup, which is what's literally pumping the sugar into your drink. Our tips below will show you how to get around that while still enjoying your beverage.
5 Tips for a Healthier Starbucks Order
Watch your portions: Order a short or tall size. You probably don't need the larger grande or venti size to enjoy the flavor, comfort, tradition or whatever else it is that you love about your holiday Starbucks drink.
Hold the whip: By cutting out the whip on your tall drink, you're shaving off 60 calories, 6 grams of fat and 1 gram of sugar.
Put the brake on the pumps: Remember, a tall drink can call for three pumps of syrup. To still get some of the sweetness and flavor, try cutting this to just one pump instead. Another option is asking for sugar-free syrups instead, but these contain artificial sweeteners, which come with a slew of potential dangers.
Customize your milk option: Most of the holiday drink orders call for 2-percent milk. You can cut down on overall calories and saturated fat by using non-fat or 1-percent milk. You can also opt for dairy-free milk, but many of the available options are already sweetened.
Go with a regular coffee: Try ordering a regular latte or coffee and ask for a pump of your favorite flavored syrup. Then, you can top it off with nonfat or low-fat milk.