While preparing a vegetarian-friendly Thanksgiving can be rather simple (just skip the turkey), you may find yourself at a loss for seasonal vegan recipes. After all, even mashed potatoes usually require milk or cream.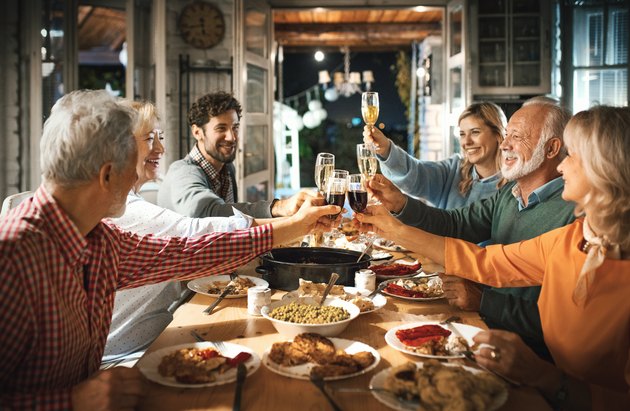 However, your guests following a vegan diet shouldn't miss out on the festivities — and with these vegan Thanksgiving recipes, they won't have to. As you prepare your Thanksgiving feast, try to incorporate some (or all) of these animal-free options.
A Vegan Thanksgiving Appetizer
Creamy Vegan Pumpkin Soup
Pumpkin-flavored foods are a necessity at Thanksgiving and this creamy soup is a great way to check that box. This seasonal soup is only about 104 calories a serving and requires just a little over 30 minutes to prepare. The hearty recipe calls for coconut milk, instead of dairy, to create a creamy texture.
Vegan Thanksgiving Main Dishes
Saucy Braised Root Vegetable Entrée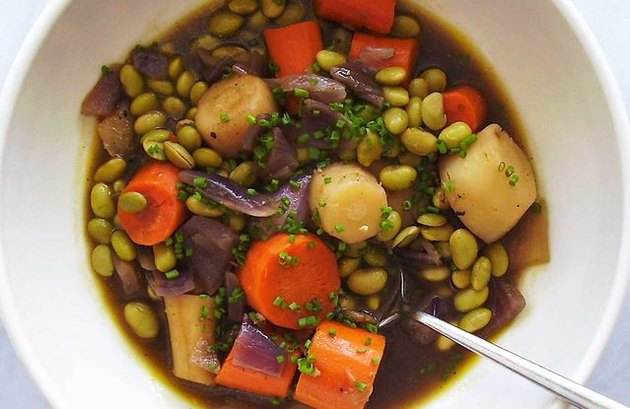 If you're looking to enhance your holiday table with a pop of color, this veggie-heavy dish will do the trick. Our braised vegetable dish is not only high in nutrients but also provides 9 grams of plant protein 7 grams of fiber per serving.
Especially for your vegan guests, it's important to provide some plant-protein-heavy and fiber-filled options. Protein keeps you full and fiber is a nutrient that actually slows the speed of your digestion, which can help keep you feeling full for longer, according to the Academy of Nutrition and Dietetics. Fiber can also help keep digestion regular and may even help reduce cholesterol.
Stuffed Pumpkin With Herbed Quinoa and Pomegranate Arils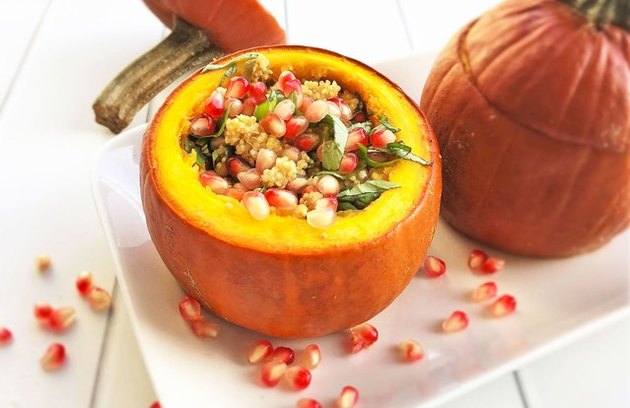 This decadent dish is sure to impress your guests, both vegan and not. These individual mini stuffed pumpkins pack 26 grams of protein per pumpkin and 25 grams of healthy, unsaturated fat.
This recipe is topped with pomegranate and may provide some heart-healthy benefits. Pomegranate has been known for its antioxidant content and anti-inflammatory benefits, however, the juicy fruit may also help lower blood pressure levels, according to a January 2017 study published in Pharmacological Research.
Vegan Thanksgiving Side Dishes
Smoky Maple Sweet Potatoes
Roasted Butternut Squash Salad
With few ingredients and only about 43 minutes of prep time, this vegan salad recipe will make an excellent side dish for all of your guests. Plus, it's low in saturated fat and packs only 269 calories per serving.
One cup of butternut squash provides 29 milligrams of vitamin C, which is about 33 percent of the daily recommended value. This vitamin is great for helping regenerate antioxidants in the body and it even helps you process protein, according to the National Institutes of Health.
Sweet-Tart Cranberry Sauce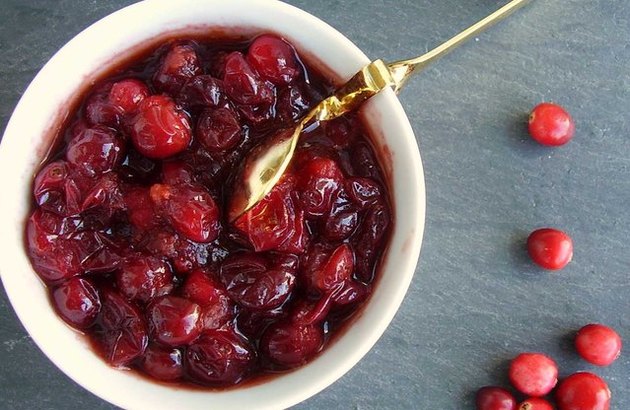 Although most cranberry sauces are already vegan, this recipe calls for coconut sugar, which contains a bit more vitamins and minerals than your standard table sugar. The tropical-fruit-derived sugar packs in small amounts of vitamin C and minerals like iron, potassium and zinc.
Coconut sugar is also lower on the glycemic index than standard white sugar, which means that it won't spike your blood sugar levels as much.
Cauliflower Mash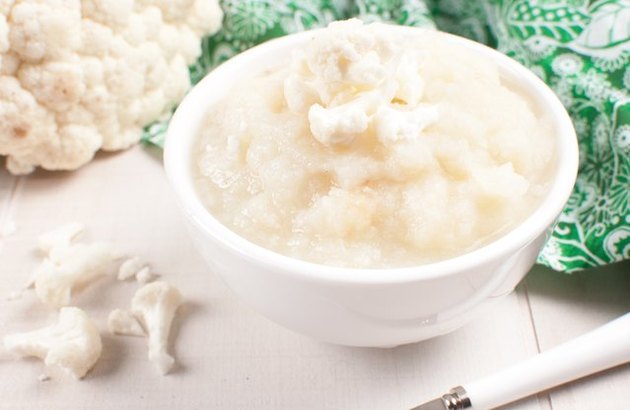 Although mashed potatoes can also be a vegan dish, this cauliflower mash is a great lower-carb alternative. With 3 grams of both fiber and protein, this decadent veggie mash makes a great side dish for all diets, whether your guests are vegan or keto.
Vegan Thanksgiving Desserts
Pumpkin Peanut Butter Cups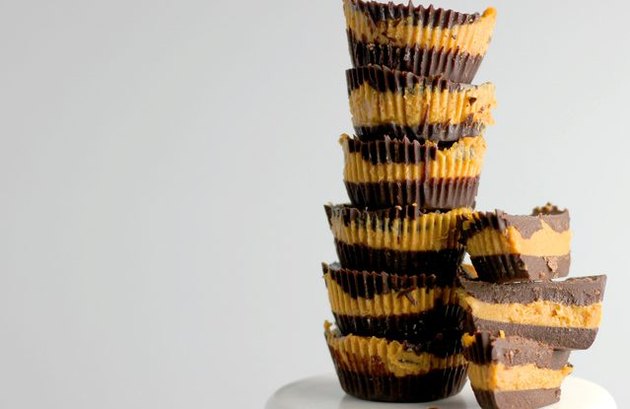 Who doesn't love the peanut butter and chocolate combo? This recipe even adds some pumpkin into the mix, giving your peanut butter cups a seasonal twist. These peanut butter cups are relatively low in sugar and even provide a little protein and fiber with each serving.
Although it can be a calorie-dense snack, peanut butter is high in healthy unsaturated fats, according to Harvard Health Publishing. While you're picking out your PB, go with an unsalted variety to spare your Thanksgiving dinner more sodium.
Pumpkin Pie Freezer Fudge